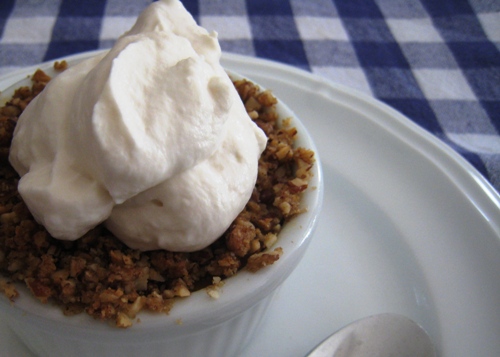 One of my very favorite fall desserts is Streusel-Topped Pumpkin Pie. I could eat the whole thing. Truly.
This recipe is so easy – open a few cans, an egg, some spices and whisk away. It comes together in minutes. Top it with a streusel topping and you're good to go.
Oh my, are you ever!
For years I've wondered about cooking the custard filling in individual ramekins. Not only does it look a little more elegant and make it easier to serve, but it's a little lower in carbs. If that kind of thing bothers ya.
This week I busted out and tried it. The result? Delicious, just-for-you, happiness in a cup! The ideal dessert for the mom who wants to hide in a closet with a little dessert without having to share.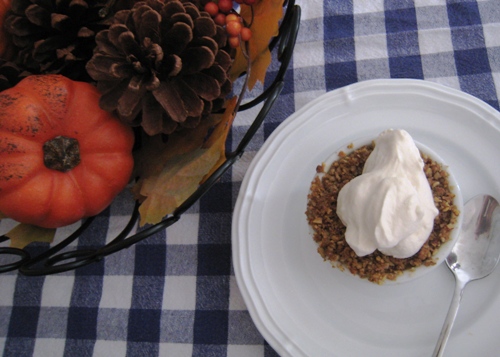 Streusel – Topped Pumpkin Custards
15 oz. can solid pack pumpkin
14 oz. can sweetened, condensed milk
1 egg
1/2 teaspoon cinnamon
1/2 teaspoon ground ginger
1/2 teaspoon ground nutmeg
1/2 t. salt

Streusel Topping
1/4 c. firmly packed brown sugar
2 T. flour
2 T. cold butter
3/4 c. chopped nuts
Preheat oven to 425°. In large mixing bowl, beat pumpkin, sweetened condensed milk, egg, cinnamon, ginger, nutmeg and salt. Pour into six 5 ounce greased ramekins. Bake 15 minutes.
Meanwhile, combine brown sugar and flour. Cut in butter until crumbly. Stir in nuts. Remove pie from oven. Reduce oven temp to 350°. Sprinkle 1/4 cup streusel mixture over each ramekin.
Bake 20 minutes or until set. Cool. Serve with whipped cream. This is delicious warm, at room temperature, or chilled. Store in the refrigerator.
For more pumpkin-y goodness, pop over to
Ultimate Recipe Swap
or visit
Tasty Tuesday
for more good eating.
P.S. I know that it doesn't yet fit the food goals. But, baby steps, baby steps.