Staycationing? Just visiting San Diego? Either way, here are some tips for enjoying the best of both worlds in San Diego.
One of my complaints about vacations is that the food is not always up to par. If you've never visited the destination before, every meal you eat is an experiment. You might find a gem of a restaurant, or you might find a total disaster. This wreaks havoc on your experience as well as on your budget.
This is not the case when you take a staycation. A staycation is a vacation where you stay at home, or thereabouts, but play the tourist in your own town. Not only does this give you a break from the monotony of your daily life, but it also allows you to see your city from a new perspective.
Since you're a local, it also gives you an advantage when it comes to good eating.
No matter where you live, there are some things you can do to make your staycation a tasty one. Check it:
1. Allow for a slightly bigger food budget.
Since you're staying close to home and saving some coin, allow a little wiggle room in the food budget for your staycation. By doing so you're giving yourself permission to eat out a little more, buy a few convenience items, or splurge on that steak dinner instead of eating rice and beans. Buy some fun food to enhance your vacation at home.
There are lots of ways to eat well and spend less on a staycation.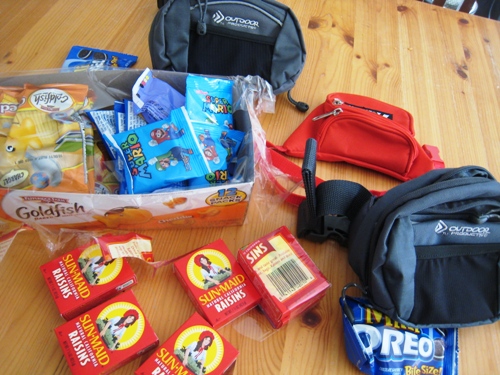 2. Pack snacks for outings.
When you're on the road, it's sometimes difficult to pack snacks. You might be wrangling with an unfamiliar grocery store or even foreign currency. But at home, you have all the advantages of familiarity plus your personal collection of coolers and ice packs is within easy reach.
You'll save a huge chunk of change packing snacks instead of paying the higher prices of eating out while you play the tourist.
3. Enjoy your favorite haunts.
If you're vacationing at home, you most likely have some favorite places to eat. So, do it! It's vacation. Plus, you have the added benefit of knowing that your dining experience will be successful since you already know the venue.
4. Take a risk or two.
That said, don't be afraid to try a new place or two. Since you're saving money in other ways and you know you'll have a chance to return to this new restaurant if you enjoy it, it's worth your while to take a risk and try a new restaurant.
Don't forget to review these tips in Saving Money on Spring (or Summer) Break Eating.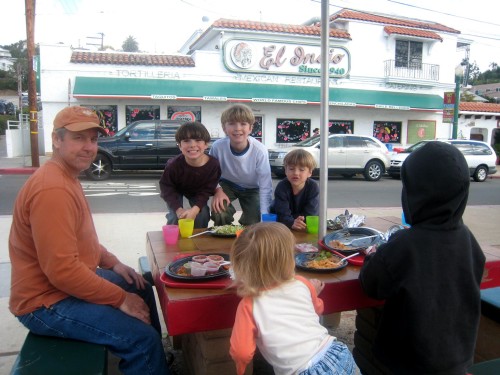 Good Cheap Eats in San Diego
We've lived in San Diego for almost five years. Our budget hasn't allowed a ton of fancy dining, especially with eight mouths to feed. But, we've found some places that we enjoy that don't break the budget.
Mexican Food
Obviously with our close proximity to Mexico, we have a good supply of Mexican food restaurants. Some of our favorites include:
El Indio – home of the Taquito
Chipotle – hey! it's consistent and good
Rubio's – locally established home of the Fish Taco.
Pub Grub
San Diego has made a name for itself when it comes to micro-breweries. If you're a beer connoisseur, this is the place for you.
Karl Strauss – another local brewery with many locations
Pizza Port – local brewery that offers a huge assortment of beers from other labels; the rootbeer is awesome for kids and those non-beer drinkers in your midst
Fox Sports Grill – their salads are fabulous!

Italian
I've yet to explore Little Italy, but it's on our staycation list for this summer. Here are some of our favorite Italian places farther afield:
Pizza Nova – great lunch specials
Rosina's – expensive, but yummy. Go on Wednesday nights for the pizza special. LARGE individual pizza and salad for $12.
Mediterranean
I'm a sucker for feta cheese — and thankful to have found at least three places to satisfy that craving for gyros.
Burgers and Fries
It's pretty easy to cook your own at home, but it's nice when someone else does it — especially on vacation. I'm really wanting to try Hodad's this summer.
Got a favorite Good Cheap Eat in San Diego?
I'd love to hear about it. Share your recs in the comments section.