This spinach salad will make you happy. It's easy to make and the chicken, strawberries, and other fruit just make it sing.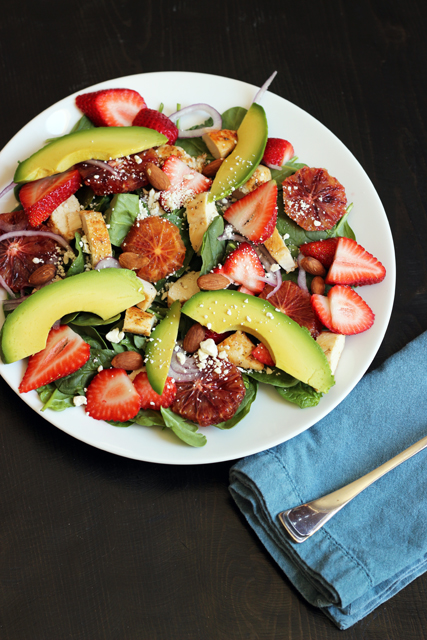 A few weeks ago I was feeling a little bored with my typical savory salad combinations and decided to play around with what I had on hand. Lucky for me — and you — I had some really FUN things that went great on a salad. I've made this again and again — and it's just so good!
I top a simple bed of baby spinach with chicken seasoned and cooked quickly in a skillet. Add strawberries, oranges, avocado, red onion, and almonds — these toppings take spinach salad over the top!
I love to buy the ice-glazed chicken tenders at Trader Joe's. They help my lazy-tendencies. It's so quick and easy to pull a few out of the bag and cook them quickly on the stove.
This dressing is out-of-this-world good. I found that it tastes best with homemade jam, but if you've got a favorite commercial jam, that's good too. When you get to the bottom of the jam jar, mix the dressing in the jar to get every last bit.
Now is a great time to make this salad with strawberries going on sale and oranges and avocado still easy to get. Obviously, it's gorgeous with blood oranges, but you can use plain old orange oranges, too.
If you want to make this for the Whole 30, it's a great recipe for that. Just omit the cheese and use fruit-sweetened jam. This will make anyone on the Whole 30 sing with joy. Promise you.
Spinach Salad with Chicken and Strawberries
This spinach salad will make you happy. It's easy to make and the chicken, strawberries, and other fruit just make it sing.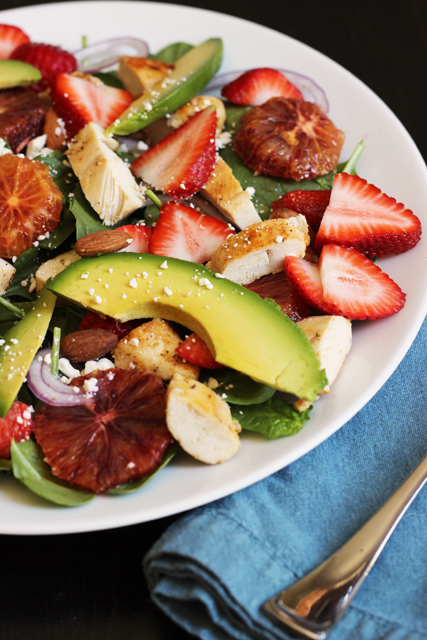 Preparation Time:10 minutes
Cook time:15 minutes
Total time:25 minutes
4 servings
Ingredients:
1 tablespoon cooking oil

1 pound chicken tenders

1 to 2 teaspoons favorite seasoning blend, like FishMama Spice or Jamie's Spice Mix

6 ounce bag baby spinach

12 strawberries, sliced

4 blood oranges, or regular is okay too, peel and pith cut away and sliced

2 avocados, peeled, pitted, and sliced

1/4 cup feta cheese crumbles

1/4 cup roasted almonds

sliced red onion

1 tablespoon strawberry jam

1/4 cup white wine vinegar

sea salt and freshly ground black pepper

1/3 cup olive oil
Instructions:

In a large skillet heat the oil until shimmering. Add the chicken and season them to taste. Cook until golden and cooked through. Transfer to a cutting board to cool slightly before chopping.
Divide the spinach, strawberries, orange slices, avocado, feta crumbles, almonds, and red onion among four plates. Top with chicken.
In a small bowl or jar, combine the jam, vinegar, salt, and pepper. Stir well and slowly add the olive oil. Mix well and serve the dressing with the salads.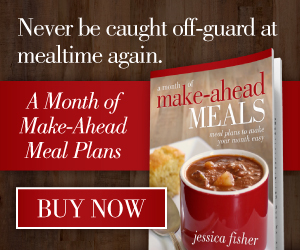 Make-ahead meals can make your month! Grab this month's meal plans to take it easy and enjoy great home-cooked meals.