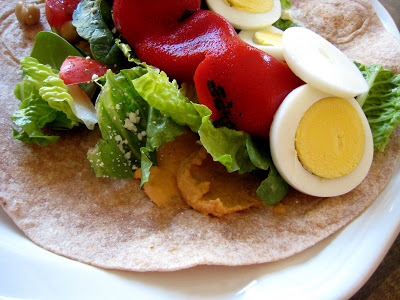 I'm not one to order a wrap when I'm out to eat. But over the last year, it's proven to be a tasty lunch. This Super Secret Sub is great! This week I experimented with what was in the fridge and produced another delicious way to combine tortillas with healthy fillings.
As you know, we're trying to improve our overall diet by increasing whole grains, reducing fat, and adjusting our processed sugars. Today's experiment involves whole wheat tortillas, storebought hummus, hard-boiled egg, and whatever veggies I had on hand. The tortilla was a little flimsier than its white flour counterpart, but it was still good.
Spicy Hummus and Veggie Wrap
whole wheat tortilla
2 Tablespoons spicy hummus
small handful romaine lettuce and baby spinach
1 Tablespoon chopped tomatoes
1 Tablespoon diced green onions
1 roasted red bell pepper
1 hardboiled egg, sliced
1 Tablespoon feta cheese crumbles
1 Tablespoon garbanzo beans
Spread hummus down the center of tortilla. Layer vegetables. Fold and eat as you would a soft taco or burrito.