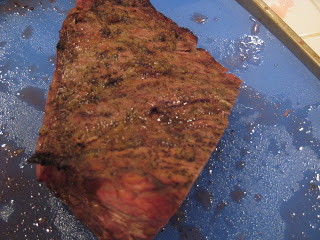 We've used a spice rub for grilling twice this week with great success. I love it because it doesn't take the advance preparation that a marinade does, it's lower in calories, and it is packed with flavor. The following mixture is really versatile. I made it with thyme for chicken and with cumin for tri-tip. Both were delicious!
Here's the basic recipe. You can vary it however you like.
1 teaspoon black pepper
1 1/2 teaspoon kosher salt
2 cloves garlic, pressed
one lime, zest and juice
1/2-1 teaspoon dried herb or spice
1/2 Tablespoon olive oil
In small bowl, combine pepper, salt, garlic, lime zest, herb and olive oil until a paste is formed. Drizzle lime juice over meat or chicken. Rub paste all over meat. Refrigerate if not ready to grill within 30 minutes. Grill as desired.
To make ahead: Store the spice mix, minus the lime juice and olive oil in a small plastic bag in the freezer.