Yesterday we talked about ways to be more efficient in the kitchen. Efficiency, I clarified, as being tasty and nutritious results without a lot of waste. One of the ways that I save time in the kitchen is by using the slow cooker.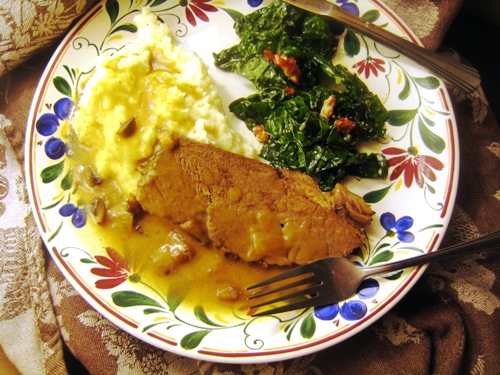 One of the things that I love about a slow cooker is that you can do your prep work in the morning and then not have to spend much time or thought about dinner later in the day when tummies are starting to rumble. Sure, there might be some last minute futzing, but generally speaking, you're good to go.
Currently, I own three different sized slow cookers that I use on a weekly basis. And during a freezer cooking session, I always have at least one, if not two Crockpots, going at the same time. (Yes, mine really are Crockpots.)
I find that by using the slow cooker, I have delegated a large portion of the meal prep to one of my kitchen "servants" and I can spend the time on something else. I particularly appreciate the slow cooker for braising large cuts of meats, like these:
And the slow cooker is great for making broth with the drippings. Simply get it going as soon as dinner is done and let it simmer all night. Beautiful broth when you wake in the morning.
Talk about efficiency! The slow cooker does the work for you!
What do YOU like to make in the slow cooker?