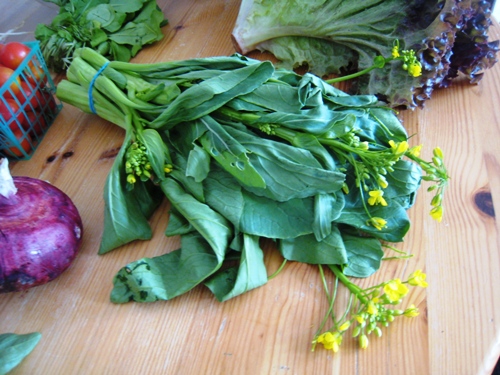 As you know, most of my produce is coming from an organic produce co-op. For about $38 each week, I get a huge delivery of fresh fruits and vegetables. While I don't have a ton of "choice," the amounts are generous and have made for some fun meals in the month or so that we've been doing it. I also love it that I'm finally able to work organics into our budget at a fair price.
Since I don't have a lot of choice as to what comes in my basket, I've been experimenting a lot. Lately, it's been bok choy and yu choy, two greens previously unknown to me.
The other night, I needed not only to clean out the fridge in anticipation of a vacation but also to cook up a large bundle of yu choy. In my investigations of the inner fridge depths, I found half an onion, some baby squash, and a package of mushrooms to add to the yu choy.
I was stunned at what a delicious pan of veggies I ended up with. Sauteed quickly with oil and some soy sauce, seasoned with pepper, and served with grilled Mustard Chicken, this was a fabulous, nutritious dinner. The spicy chicken was a perfect accent.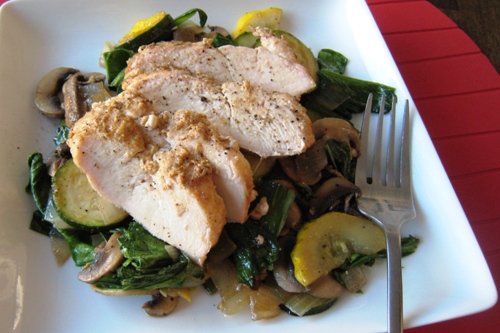 Sauteed Yu Choy with Mushrooms, Onions and Squash
Sautéed quickly with oil and some soy sauce, seasoned with pepper, this yu choy dish is accented with mushrooms, onions, and squash.
Ingredients
2

tablespoon

neutral oil

½

onion

chopped

8

oz

mushrooms (sliced)

3

zucchini

or patty pan squash, sliced

1

bunch

yu choy leaves

chopped into 1-inch pieces

soy sauce

to taste

black pepper
Instructions
In a large skillet over medium high heat, heat the oil until shimmering.

Add the onion and mushrooms and cook over medium high heat until the onions start to turn clear and the mushrooms lose their liquid.

Add the squash and continue cooking until tender.

Add the yu choy leaves and cooking, stirring until they start to wilt.

Season to taste with soy sauce and black pepper.
Notes
Promptly store leftovers in an airtight container in the refrigerator, for up to 2 days.
Nutritional values are approximate and based on ¼ the recipe.
Nutrition
Calories:
132
kcal
|
Carbohydrates:
12
g
|
Protein:
7
g
|
Fat:
8
g
|
Saturated Fat:
1
g
|
Sodium:
152
mg
|
Potassium:
1113
mg
|
Fiber:
4
g
|
Sugar:
8
g
|
Vitamin A:
9677
IU
|
Vitamin C:
123
mg
|
Calcium:
247
mg
|
Iron:
3
mg