Lynn and I have "known" each other for almost two years. She was one of the first LifeasMOM readers which I think is super cool, especially as she wasn't related to me. Last month we had the chance to meet in real life and be roommates at a conference. So fun to talk food in person! I love Lynn's passion for food, especially food your family will eat. My tastes lean toward what my husband calls, "froofy food," but no one else will eat it. I'm thankful for Lynn and her kitchen adventures to inspire me toward foods my family loves. Today she shares a favorite breakfast that makes a great dinner.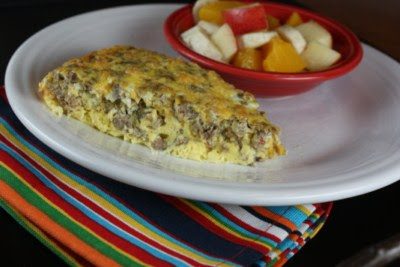 We love to eat breakfast for dinner at our house. Breakfast is usually a quick and easy meal to make with ingredients that I already have in my pantry or refrigerator. Not only does it make for a quick and easy meal from pantry ingredients, it is usually a frugal dinner to serve
.
Most breakfast dishes contain eggs and eggs in general are an inexpensive way to eat protein. Eggs make a meal more frugal and filling than just about anything else. Yes, eggs have increased in price quite a bit over the last few years, but they are still inexpensive when you consider what you get.
We love to eat pancakes and waffles when we make breakfast for dinner, but we also enjoy frittatas. Frittatas cover a wide range of recipes and ingredients from potato frittatas, to pasta frittatas. One of the easiest frittatas I make is basically an oven omelet. It is so versatile. Sometimes I change the meat and use bacon instead of sausage. Other times I change the cheese and use what I have on hand. You can even add a vegetable like cooked spinach to a frittata. Part of having a frugal pantry is using what you have, and this recipe easily adapts to what you have on hand.
This is also one of those dishes that I make for breakfast, lunch, or dinner. In fact, when I make it for dinner, I often double it so that we can have the leftovers for breakfast the next day.
Sausage and Cheese Frittata
1 lb of sausage, I usually use a breakfast type ground sausage,
12 eggs
½ cup milk
½ teaspoon salt
¼ teaspoon of pepper
1 cup of shredded cheddar cheese
Brown sausage, drain grease, and set aside. In a large bowl beat eggs, and then add remaining ingredients, and cooked sausage. Pour into a greased pan. I usually use an 8×8 pan or a deep dish pie plate. Bake at 350 for about 25 minutes or until eggs are set.
–Lynn is a homeschooling mom of three. She loves to cook and try new recipes. She blogs at Lynn's Kitchen Adventures, sharing recipes, tips, and ideas to help you meld a love of cooking with a busy life.
What's YOUR favorite breakfast dish to serve for dinner?
Want the dish on delicious ways to act your wage? Subscribe to GCE in a reader or via email.