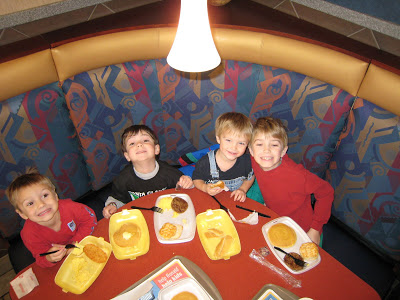 Our family loves to eat out, but with eight mouths to feed, our restaurant adventures can be rather expensive — or simply limited. Attempting to establish healthier eating habits this year as well as to use what we have in the pantry, fridge, and freezer have been natural controls on how much restaurant or take out food we have had this month. Our two meal tickets this month totalled $14 for me and the kids at In-N-Out Burger and $26 + tip for all eight of us at I-Hop.
How in the world did we eat so inexpensively at restaurants?
1. We only drink water. Milk flows freely at home and I splurge occasionally on juice or sodas when they're on sale. But at restaurants, we stick to ice water, shaving at least $8 off the bill.
2. We don't do kids' meals. Talk about the biggest rip-off known to man. Tiny portions and plastic junk toys for a high price? No thanks. Our kids know not to expect them. The big ones do the math and know that they're likely to eat out more often if a kid's meal isn't on the menu.
3. We look for coupons. We purchase an Entertainment Book when we know there are restaurant coupons we will use. The kids have trained themselves to keep their eyes peeled for newspaper or mailer coupons and often set them aside in the hopes of a meal out.
4. We are happy to share. We've made it a habit to get the biggest bang for our buck. That may mean buying several adult meals and splitting them or sharing fries instead of getting everyone his own order.
5. We sometimes order a la carte. Sometimes ordering menu items separately can be a great way to reduce the bill. You'd be surprised to know that a baked potato and a side salad will cost only a few bucks compared to the double digit price of a larger meal. Be creative and make your own combinations for a fraction of the cost.
Perhaps your family is used to paying a high tab when eating out. Many people do, that's just part and parcel of restaurant dining. But it doesn't have to be. If you're looking to reduce expenses, know that you can still enjoy a night out without overspending.
What's your trick to spending less at restaurants?