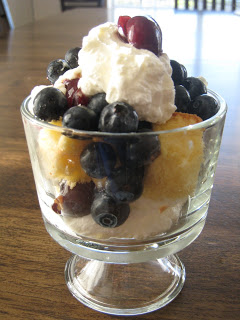 If you have leftover pound cake for an earlier dessert — or a cake pop activity, save the scraps. They will make a delicious sweet dish when coupled with whipped cream and fresh fruit. What a fine thing it is!
Per serving
1 slice poundcake or other cake
1 cup fresh fruit, like pitted cherries, blueberries, sliced strawberries, raspberries
3/4 cup whipped cream
In an individual trifle bowl or ramekin, layer the ingredients.