Dejunking your kitchen can make it more fun to cook in as well as prettier to look at.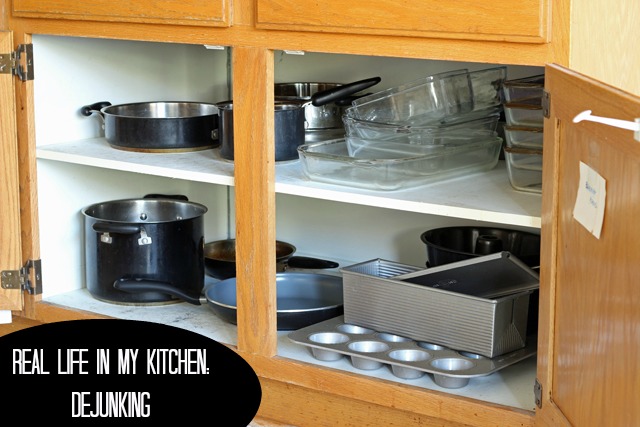 A few weeks ago, I bared all. Or at least, bared my kitchen in real life for you. You had some excellent suggestions, some of which I was able to implement right away, some of which make me feel wonderful.
The biggest most immediate change was when I emptied by pots and pans cupboard and discarded the pieces I didn't love or couldn't live without. No, I don't need to keep the Paula Deen pie plate when I don't like and I have FOUR other pie plates besides.
Freedom, I tell ya. Freedom.
That is the pots and pans cupboard now. I didn't get rid of duplicates. I have three 9×13 Pyrex pans but sometimes they are all in use. But, I did get rid of a nonstick one that I don't love. The muffin pans that stick? Why should they take up space when I have USA pans that I love?
Here's what I got rid of that very day when ya'll were breathing down my neck in the comments section: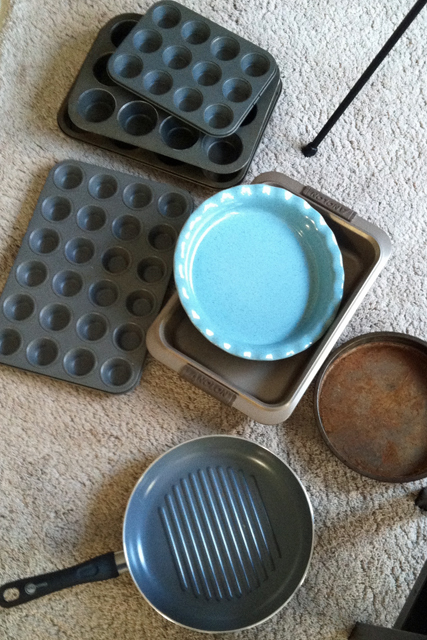 Later that week FishPapa and I went to Bed, Bath, and Beyond in search of a knife magnet, a tower of baskets, and a mat for drying dishes on. We came home empty handed except for this drying mat. The jury is still out on the mat. We use it for overflow dishes, but are not sure we're ready to ditch the dish drainer entirely. You probably don't know how many pots I go through in a meal, do you?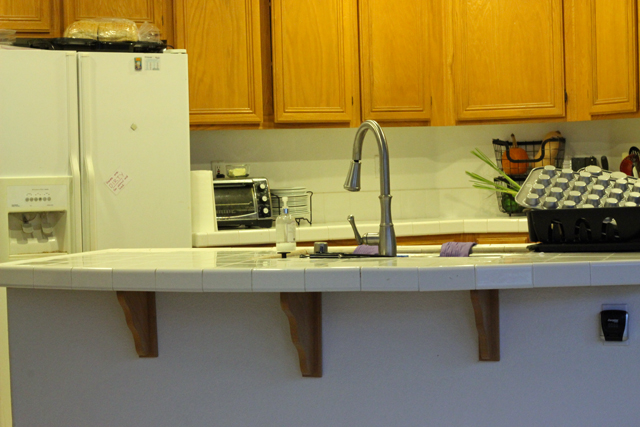 Instead of getting a knife magnet, I put one knife block in the cupboard. It's been a little over a week or two. The boys are bummed that they have to wash knives more frequently, but I'm not sure that we're at a disadvantage. I also consolidated some utensils in a drawer and narrowed us back down to one utensil crock.
Last weekend I found two stacking baskets at Costco that we're trying out. This is what the corner counter looks like now: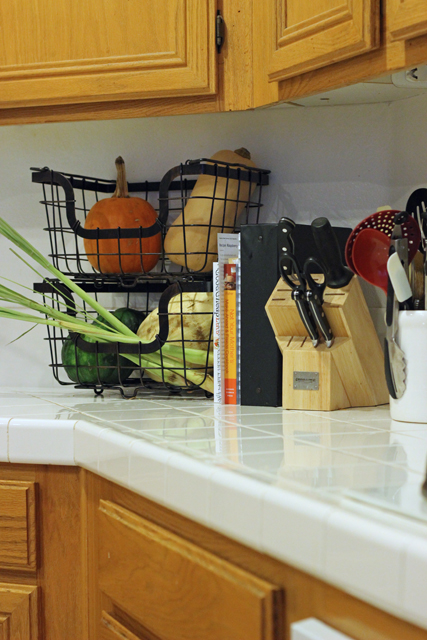 That's lemon grass that probably isn't supposed to be stored at room temperature. But, I'm at a loss for what to do with it. Obviously, we have lots of squash to eat up as well.
We've been making a better effort at clearing the counters, closing cupboards, etc. It's hard not to sound like a broken record when you're instructing six children, but I'm learning to live with myself on repeat.
We still need to finesse a few things. We actually like having the dishes on the counter. It makes it easier for the littles to help themselves and we use the small plates for snacks which is better than washing big plates or using up paper ones.
We go through a lot of kitchen towels and washcloths in a day. I'm still trying to figure out that one. One child wipes the counters after each meal and another wipes the table. That makes for six washcloths if they aren't sharing, etc.
It's not perfect, but the kitchen as a whole, is starting to improve.
Have you made changes to your kitchen that you love?