This is part of my Real Food We Love series. It is not a sponsored post.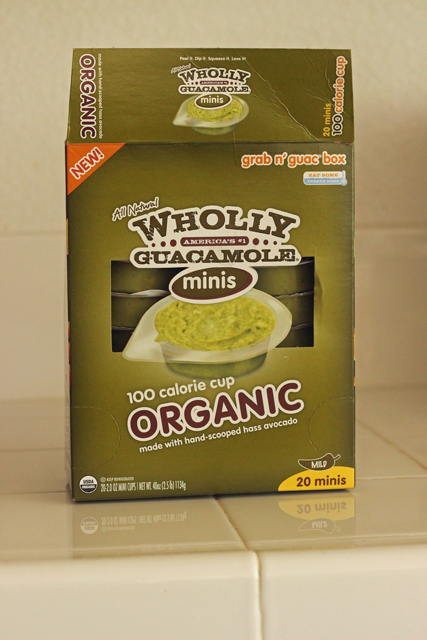 Until this month, I'm not sure I had ever purchased prepared guacamole. I'm sure I've eaten. Typically I can find avocados pretty cheaply here in California (between $0.59 and a dollar, usually), so I make my own guacamole.
Lately, I've been pretty frustrated that the avocados I'm getting at Sprouts or Ralphs are icky inside. Not sure if it's them or me, but bleach — I'm chucking too many.
I'm doing a Whole 30 this month trying to shake the shakes and hopefully get my blood sugar regulated. When I was shopping at Costco, these Wholly Guacamole mini packs jumped out at me. I love it when I can find real food in a convenient form, particularly when I know things might be busy or I might need to pack food for the road.
These little guacamole packs are perfect! Check it:
Ingredients: Organic Avocados, Organic Dehydrated Onion, Organic White Vinegar, Salt, Organic Granulated Garlic
The ingredients list contains all the things that I regularly cook with in my kitchen. I have frozen the packs to use as TSA-approved coolant in my cooler bag. Oh, yes, I did. They taste just as good after thawing.
Are they as good as homemade? Not quite, but they're very decent. They're a little pricey compared to fresh avocados — the box was $10, making each pack 50 cents. It's certainly cheaper to buy fresh avocados, but for convenience, portability, and a packaged food with real ingredients? I'm sold for the occasional purchase.
Disclosure: Wholly Guacamole does not know I exist, so this is certainly not a sponsored post. But, I thought it would be fun to share some of the real food products that I've found. Stay tuned for more "real food products we love".