I love it when I find real food ingredients that are convenient and cheap! This is part of my Real Food We Love series. It is not a sponsored post.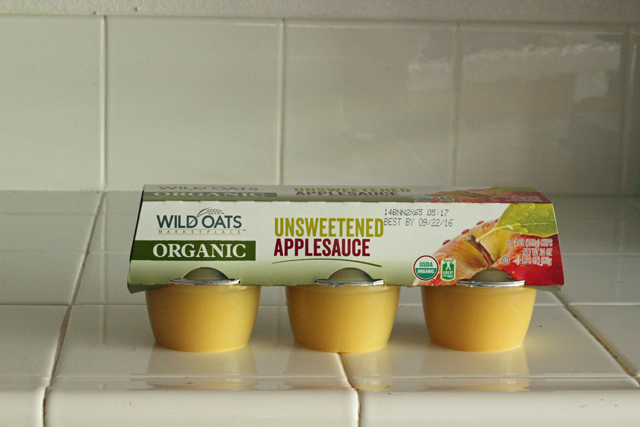 Years ago I started making my own applesauce in the slow cooker. It was so tasty and cheaper than what I could buy in a jar. In those days you could get apples for like $0.39/pound. Remember those days?
Well, then I learned that conventional apples are one of the worst fruits and veg for pesticides, you know part of the Dirty Dozen. And then the apple prices went up. Homemade applesauce became a thing of the past. At $2 or more per pound to buy apples, it just wasn't worth the time, effort, and utility costs to make homemade applesauce a regular staple at the table.
The ingredients: Organic apples, water, ascorbic acid (to maintain color)
Imagine my delight at finding organic applesauce for cheap at Walmart! These 6-cup packages cost $1.99 at my Walmart, though I imagine they might be less at other locations. Walmart is increasing their lineup of organic offerings, thanks in part to a partnership with Wild Oats. In many cases, the organic version is cheaper than conventional competing products.
While I would prefer to make homemade — and will do so whenever I get a great price on apples — I'm thrilled to find this convenient, organic option just down the road.
Disclosure: Walmart and Wild Oats do not know I exist, so this is certainly not a sponsored post. But, I thought it would be fun to share some of the real food products that I've found. Stay tuned for more "real food products we love".