I love to find real food products, just plain old ingredients, that taste great and fit the budget. This White Popcorn from Bob's Red Mill is one of them.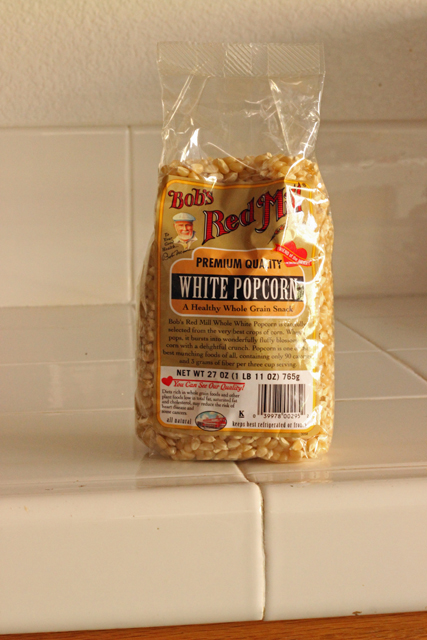 Over the last couple years, I've made a big effort to reduce our family's intake of processed foods. That means that I no longer buy a lot of things that were once commonplace in my cupboards. While I wasn't ever a huge fan of the stuff, my kids and husband loved the convenience of microwave popcorn. Personally, I think it tastes fake. I much prefer air popped popcorn doused with butter.
And since I learned what garbage is in microwave popcorn and found a great air popper AND keep butter and popcorn kernels on hand, I win.
For awhile it was pretty hard to find an air popper. I remember the first winter we moved to Kansas and a friend wanted a popper like we had. There were none to be had. We've had our current machine (similar to this one) for a long time, and I have no plans to part with it anytime soon.
At least once a week, we pop a couple batches of popcorn and enjoy them as a cheap and easy snack. While it makes more dishes than microwave corn, it tastes better, is healthier, and is super-duper easy to make. My six year old daughter can make popcorn for us.
I currently buy Bob's Red Mill White Popcorn via Amazon's Subscribe and Save. It always pops up perfectly. The best thing?
The ingredients list: white popcorn
There isn't any junk in this popcorn, unlike microwave popcorn that has all kinds of funky stuff in it. There are no GMO's either since Bob's Red Mill has always been free of genetically modified organisms.
How to Cook Popcorn in the Microwave
Take ⅓ cup popcorn kernels and dump them in a regular paper lunch bag. Fold the top over several times, creasing it with your nails or adding a piece of tape to hold it closed.
Place it in the microwave and hit the "popcorn" button (which is usually 2-3 minutes, in case yours doesn't have one) and then listen for the telltale pops. When the popping slows down, open the microwave (even if the time hasn't run out). Let it cool slightly then season with melted butter and salt and you're set!