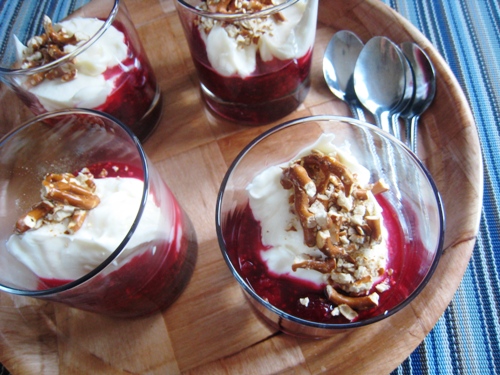 First some back story. You know that Pretzel Berry Dessert/Salad that is ubiquitous at the holiday season? I love that stuff. We eat pans of that in November and December, the only time I make it. Well, I have a problem with that dessert.
It doesn't look pretty. See?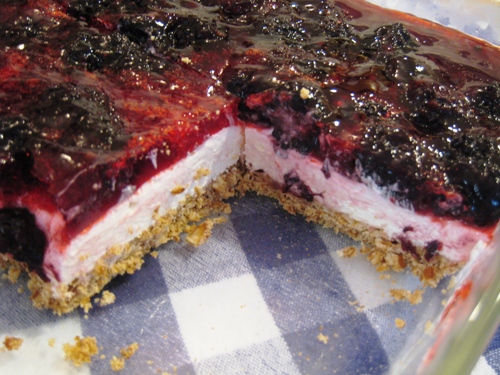 Yet, I love the flavor combinations of the tart berries, the cream cheese layer, and the pretzel crust. I played with those flavors earlier this year and created a cheesecake that we love. (Wait for the cookbook — you'll love it, too.)
But, I decided to go in another direction and focus on the berries. I came up with this: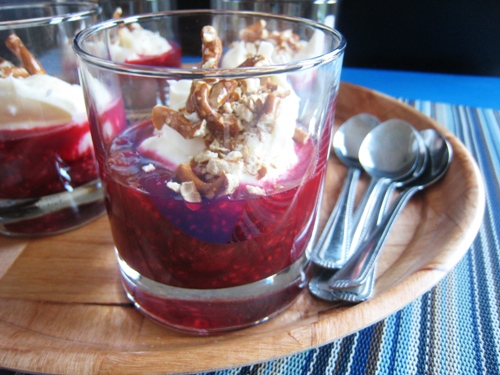 These Raspberry Cream Cups feature a raspberry compote (no Jell-O), a cream cheese -whipped cream concoction, and a pretzel topping. So good. Perfect to make ahead, serve at an elegant dinner, serve on a hot summer night, or save for the holiday season.

Recipe: Raspberry Cream Cups with Pretzels
Summary: An update on the classic "Strawberry Pretzel Salad"
Ingredients
3 cups frozen raspberries
1/2 cup sugar
1/4 cup water
8 ounces softened cream cheese
1/2 cup sugar
1 cup heavy whipping cream
crushed pretzels (regular or chocolate covered)
Instructions
In a medium saucepan, combine 2 cups of the raspberries, the sugar, and the water.
Bring the mixture to a boil, stirring constantly. Reduce the heat and continue cooking and stirring until the sauce thickens.
Remove from heat and stir in the remaining 1 cup raspberries. Allow the mixture to cool to room temperature.
In a large mixing bowl, whip the cream cheese and the sugar until well combined.
In another mixing bowl, whip the cream until soft peaks form. Fold the whipped cream into the cream cheese mixture.
Arrange 6 glasses and spoon 1/4 cup of the raspberry compote into each glass.
Divide the cream cheese mixture amongst the 6 cups evenly.
Top the cream cheese mixture with a small amount of crushed pretzels.
Chill for at least an hour before serving.
Preparation time: 1 hour(s) 10 minute(s)
Cooking time: 5 minute(s)
Number of servings (yield): 6

Chocolate Variation
Now, because he's a chocoholic all fancy, FishPapa suggested a chocolate covered pretzel variation. He said that it didn't make a huge difference, but if given the choice, he'd take the chocolate variation. You decide.