Can't stand the mess in the kitchen? Well, before you escape… do your future self a favor and give it a good tidy. Here are some easy tips for quick kitchen clean up.
They say that the kitchen is the heart of the home. What they really mean is that it's the messiest, most used place in the home. This is where your people congregate to share a meal, to unload their lunch boxes, to do their homework, to bake cookies, and yes, to make messes.
You and I both know that we should clean as we go when we're working in the kitchen. And we should always put things away as soon as we're done with them. And we should never go to bed with a messy kitchen. Your mother taught you all that, didn't she?
Well, sometimes life happens. And sometimes your kitchen gets to looking like a pack of wild hyenas had a field day with every box and bag spilled and every cupboard open, not to mention more dirty dishes than would take to feed a baseball team.
Or is that just me?
I think it's super easy for a kitchen to go from clean to Category 5 level disaster. Thankfully, there's a quick and easy process to get it ship-shape. And it really won't take as long as you think.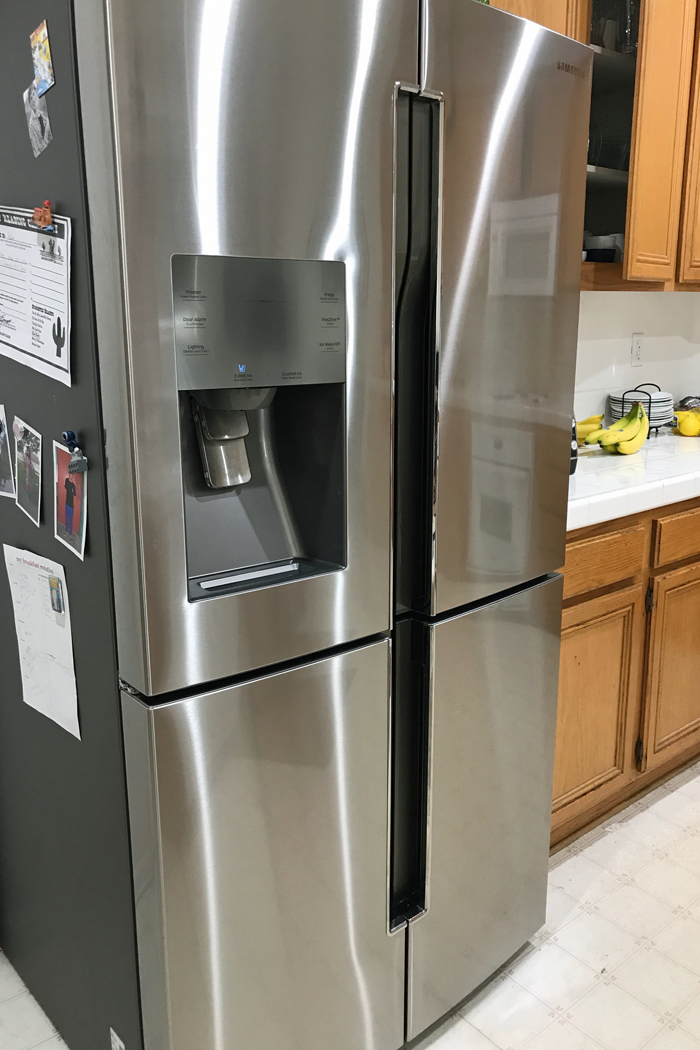 Easy Tips for Quick Kitchen Clean Up
Here's my formula for a quick kitchen clean up:
1. Pick a spot in the room as your starting point.
We're going to take a 360-degree tour of your kitchen, transforming it as we go. Find your starting point.
I usually go for the area to the right of the refrigerator. There's not much to the left anyway, so it's a natural starting point.
Find a clear starting point in your kitchen.
2. Move clockwise through the room.
I prefer clockwise, but you go with what you works for you. From your predetermined starting point, act like a steam roller, or a vacuum, or Mary Poppins — whatever visual makes this work for you.
In order to eliminate repeating your steps, you're going to move around the room, putting things in order, shutting cupboard doors, putting away appliances and ingredients, taking dirty dishes to the sink, straightening stuff on the frig, relocating Lego men, hair clippies, and all other sorts of hodge-podge to their appropriate locale.
In about 10-15 minutes you can get the basic surfaces cleared off. You earn bonus mom points for making the children cart the hodge-podge where it goes.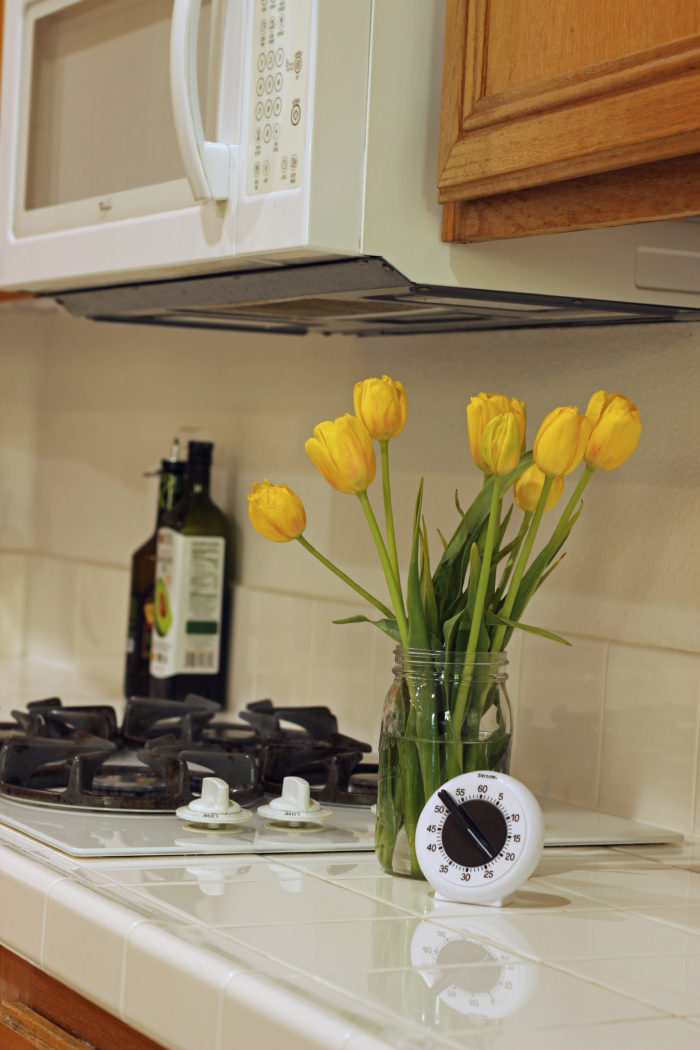 3. Clean your counters.
People have different definitions of "clean counters". My friend Jules and I have discussed this in great detail. You know what your standard is; I'm not here to change that.
Right now, put everything away that can be put away. Empty the dishwasher and dish rack. Put every dish and ingredient back in the cupboards. Get your counters to your definition of clean.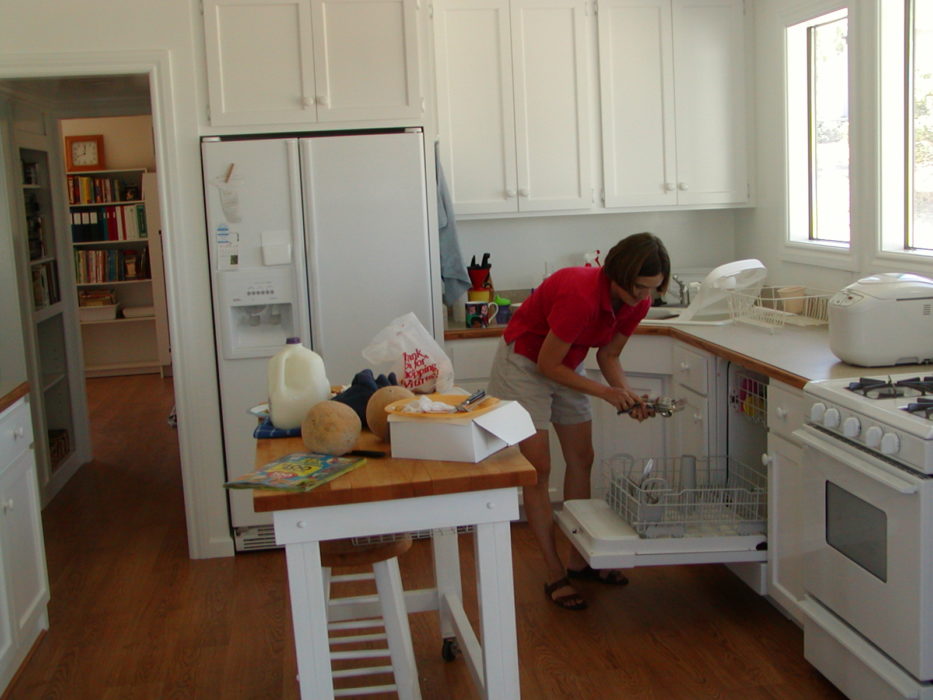 4. Load the dishwasher and get it going.
If you've got a dishwasher, we're in business. Get it loaded and running as quickly as possible. If things aren't completely baked on, go for the quick wash if you can. Remember, we're trying to get in and out of here as fast as we can.
I try to fit as many dishes in as possible. And, yes, I will redo someone else's efforts in order to squeeze as many dishes as can humanly fit.
Over the years I have found what works and what doesn't as far as economizing space. Experiment with yours. And cram it in!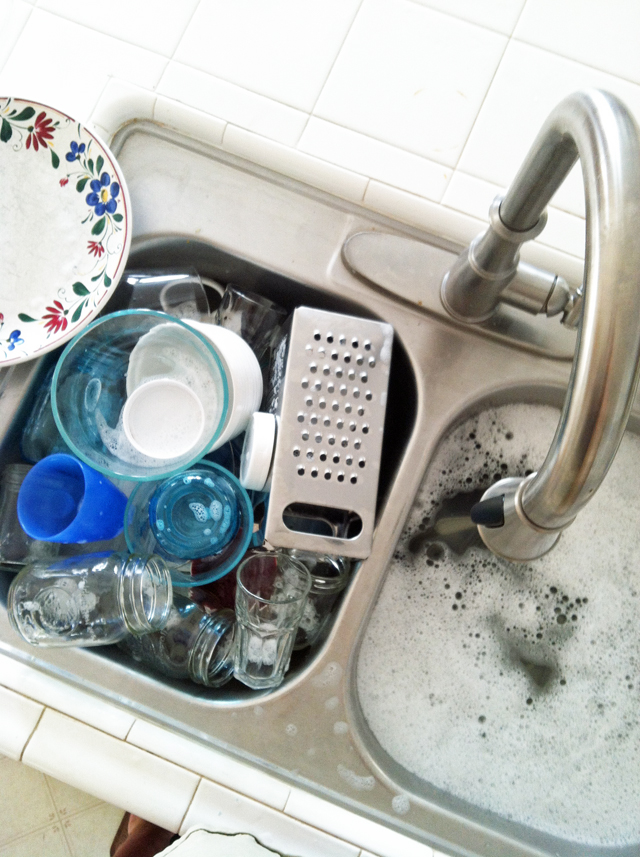 5. Hand wash the dishes that are left.
Hopefully, all you've got left is knives and pots and pans, which shouldn't go in the dishwasher anyway. However, I will go on record to say that we've sometimes been so backlogged that we've had a counter full of hand washing as well as a dishwasher jam-packed full. Ahem.
You do whatcha gotta do. And if hand washing your dishes is it, so be it. I like to use a bottle of hot, soapy water, rubber gloves, and a dish sponge.
I wash the remaining items by hand, rinse, and stack in the drainer to dry. I change the sponge weekly to eliminated bacteria.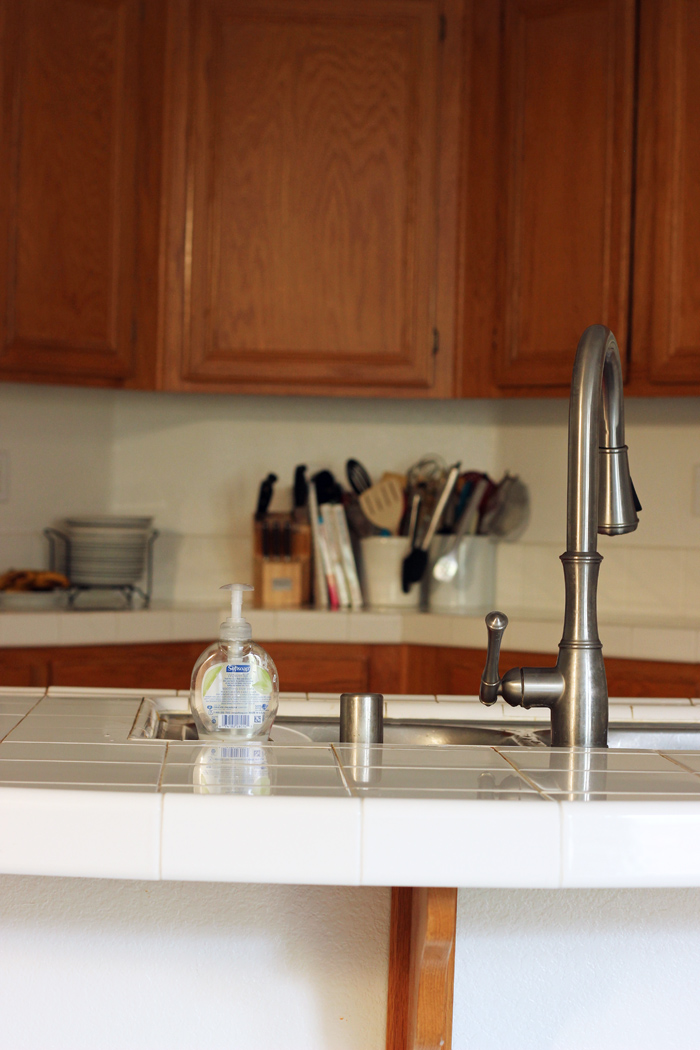 6. Wipe down surfaces.
While the dishes are drying in the rack, I scrub the sink with cleanser and wipe down the counters. I use a vinegar in a spray bottle for the counters.
If you power through, you can clean up the worst of kitchen disasters in less than an hour. Thirty minutes if you really focus and play some rocking tunes.
Obviously, the "quickest" way for kitchen clean up is to clean things as they get messy. But, let's be real. Sometimes things pile up. So find the quickest way to dig out and start digging!
If kitchen clean up (and being in the kitchen at all) is the bane of your existence…
then it may be time for a Kitchen Refresh. If the kitchen really is the heart of the home, how can you enjoy it more? How can you make your time in the kitchen feel like a simple, easy part of your day instead of absolute drudgery?
I'm not talking about remodeling. I'm talking about reforming your expectations of YOU AND YOUR KITCHEN.
With Kitchen Refresh, you will
determine what your BEST in the kitchen should look like.
learn how to organize your kitchen in ways that best suit your lifestyle.
develop strategies and schedules for keeping your kitchen clean.
take your meal planning to the next level of deliciousness and economy.
learn to grocery shop more efficiently.
simplify your kitchen prep.
AND ENJOY YOUR TIME IN THE KITCHEN.
Kitchen Refresh is a planner to help you be YOUR BEST in the kitchen and offers the ideas and worksheets to help you make it happen day in and day out.