Quick dinner ideas are life-savers! Not only do they help us make dinner quickly, but they also help us save money and help us eat more healthfully. Let's say no to take-out this month.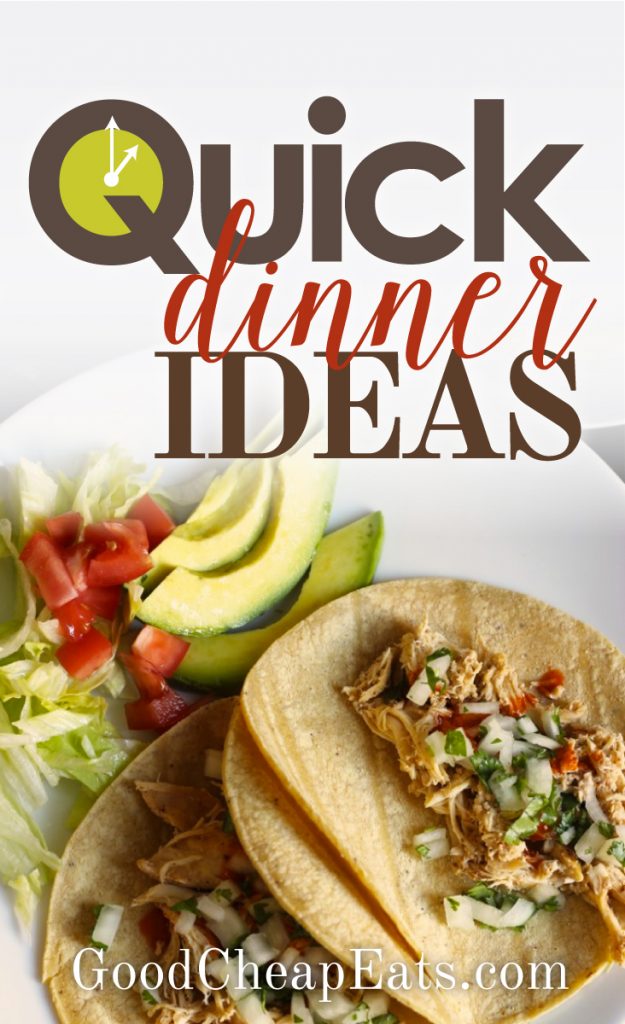 Don't you just love tradition? I mean, Cinnamon Rolls on Christmas morning, and eating whatever you want on your birthday, and making sure that the nut butter covers both slices of bread with the jam in between. Tradition is important, people.
I am a stickler for tradition. So as October is starting, so is another 31-day series on Good Cheap Eats. I've done this for quite a few years. It's fun, and it gives me a chance to unleash new ideas in quick succession.
In the past I've written these 31-day series:
31 Days of Quick Dinner Ideas
This year, in honor of my new cookbook and the idea that homemade dinners should be quicker and easier than running to Taco Bell, I'm going to be presenting 31 Days of Quick Dinner Ideas.
I hope you'll join me throughout the month, as I share guest posts, giveaways, and good cheap eats to help you make dinner quickly, easily, and economically.
Be sure to pin this post, as I'll be updating it with links to all the posts in the series. If you're feeling really pinteresty, you can follow my Quick Dinner Ideas Pinboard.
This introduction 😉
If there's one thing that I've learned over the years, it's that time always goes by more quickly than I think it will. I can have great plans to cook a long, leisurely meal, but inevitably, something gets in the way of my plan. Having a list of quick dinner ideas comes in handy at these times.
So, we'll be cultivating that list this next month. I hope you'll come ready to share your tips and tricks for getting a home cooked meal on the table without a lot of hassle.
What's one of YOUR favorite Quick Dinner Ideas?
P.S. I'm participating in 31 Days.