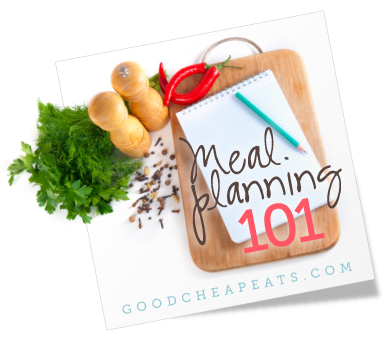 Want the full scoop on Meal Planning? Check out the series: Meal Planning 101.
Download these printables to help you.
Meal Planning Calendar – use this to track your meals to look for patterns or habits, to plan a month at a time, or to plan three meals plus a snack for each day of the week.
Eating Habits Worksheet – find out what meals work at your house and which are train wrecks. This worksheet will better help you plan successful meals.
Inventory Checklist – Take an inventory of what you already have so that you can plan meals based on your current supply. This will help you save money and waste less food.
Back Up Meals Worksheet – Create a list of your favorite easy meals to use as back-up. Check out this post to see some tasty examples.
12 Easy Dinners & Shopping List – We've done the work for you, and created a list of 12 recipes and the corresponding shopping list for you. Just print and shop.
Weekly Kitchen Prep List – (Get the blank form here) Make your week a bit easier by prepping certain ingredients ahead of time. This printable includes basic items that are nice to have on hand as well as extra space to add your own items. This post explains how I use the worksheet.
Weekly Meal Planner – all in one grocery list, meal planner, and prep worksheet
Pantry Staples Checklist – Make your weekly shopping easier by creating a list of the regular items that you keep stocked in your pantry.