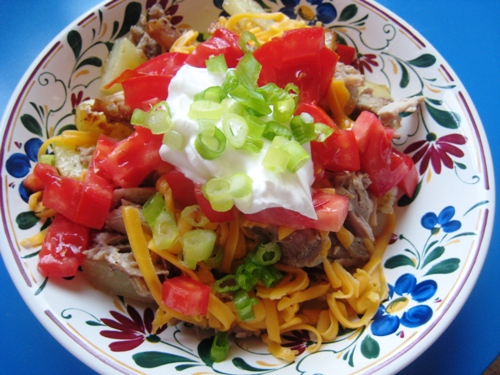 We love southwest flavors at our house. In fact, we probably eat more Mexican style food than any other flavor profile. Not everything is "authentic," but typically it's delicious. Homemade pico de gallo is a staple in our fridge.
Necessity is the mother of invention, particularly when it comes to dinnertime. Recently I found myself needing to use up potatoes from the pantry as well as some carnitas that I had made. I decided to combine them in a dish that looked a lot like nachos. Typically, nachos are corn based. So, I'm taking great liberties in replacing the tortilla chips with home fries and calling it nachos.
The gang declared this dish excellent and even said that they liked it better than with chips. It was a little heartier with the potatoes giving it a stick-to-your-ribs feel. You could easily serve it with your favorite taco filling.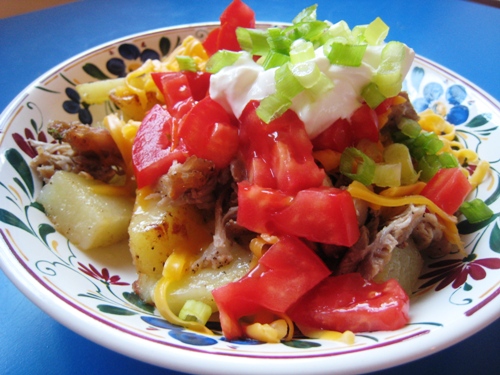 Recipe: Potato Nachos
Ingredients
one batch Seasoned Homefries
2 cups Carnitas or other seasoned meat filling
shredded cheddar cheese
chopped tomato
sour cream
chopped green onion
Instructions
Allow diners to layer the ingredients according to their preferences.
Preparation time: 20 minute(s)
Number of servings (yield): 4
What's on YOUR plate?
What's on Your Plate? is designed to be a conversation amongst good eaters.
Tell us about a recent meal. Did it meet with rave reviews? Or did it bomb? What side dishes did you pair with the star of the show? Did you try a new ingredient? Find the groceries at great prices?
What's on YOUR Plate?
Share with us a recent meal you prepared. Either link it up below or tell us about it in the comments. Please make sure that you link to www.goodcheapeats.com in your post so others know where the dinner party is.
And don't forget to visit the other good eaters participating today. I'm sure you will be inspired to make all sorts of Good Cheap Eats at your house.