You don't need to freak out or go broke when planning for Thanksgiving. Keep your priorities and these planning tips in mind so you can host a great Thanksgiving on a budget.
Thanksgiving is one of the few days when folks across the US take a break en masse to spend time with friends and family. While there are those who opt out of observing Thanksgiving, I'm not sure there's another day when we're so "unified," even across cultures and religions.
In honor of it's being a special occasion, Thanksgiving is a day of feasting across the board. People who rarely cook or even eat at home find themselves wandering the aisles of the grocery store and setting a nice table.
And for whatever reason, that raises the stakes when it comes to planning for Thanksgiving and hosting the holiday meal.
The good thing is that it's not that hard!
Sure, there may be some tricks to carving a turkey and making buttery, flaky pie crust, but that all comes with practice. Don't let that come between you and opening your doors this holiday season.
Instead follow these three simple tips:
Planning for Thanksgiving
1. Think through your Thanksgiving.
If you've never served up a Thanksgiving meal before, take some time to consider how you want to plan a big dinner and enjoy it. Resist the impulse to be so ambitious that you don't enjoy your day. Think about how to find that balance of creating a wonderful meal for your family without creating too much stress for you.
Several years ago, at the risk of sacrilege, I ditched the notion of roasting a whole turkey and bought a turkey breast and chicken legs instead. Everyone was happy; the oven wasn't tied up for hours on end; we didn't waste dark meat that we don't like. Triple win!
That was a game changer for us. Maybe there's some simplification that you can enact that will be a game changer for YOU.
What are your biggest priorities this year?
If cooking homemade is it, then make sure you plan out an in-depth plan so that you have ample time to pull it off.
If your priority is to make sure all your guests are comfortable, then maybe that means asking them their favorite traditions and planning for those.
If you just want to get food on the table, consider which short cuts you can take to make the holiday feast simpler.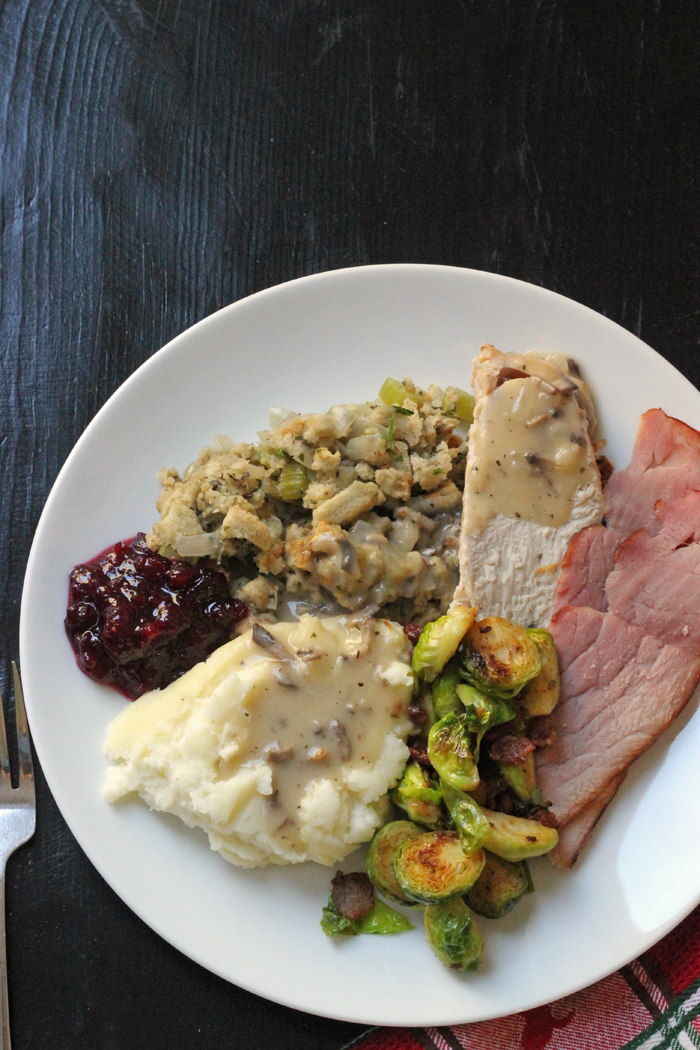 2. Keep your budget in mind.
Hosting a Thanksgiving meal doesn't have to break the bank. There are so many strategies to help you prepare a delicious Thanksgiving meal on a dime.
Take some time to plan ahead and see how you can save money while still creating a memorable meal for your friends and family.
Do you have a bunch of ingredients in the cupboard already? Does your grocery store offer specials on traditional turkey dinner ingredients? Can you eat down the pantry in the next few weeks to make space in the budget for feast food?
If you know what you want to cook early in the month, you'll be able to shop the sales in the coming weeks instead of paying full pop right when you need it.
The basics of the Thanksgiving feast: turkey, potatoes, vegetables, and rolls are not expensive, but when you trick things out with fancy ingredients, your bill will go up. That one meal can easily tally up close to the cost of a week's worth of groceries if you're not careful.
Set a budget, prepare your menu, and then prioritize which items get the lion's share of your grocery money. The must-makes get made, but you don't have to prepare every great dish that crosses your path.
3. Assemble your recipes.
Choosing what recipes to make for Thanksgiving can be so much fun! Will you choose the same items as every year or will you bust out something new.
What will be your main dishes?
I recommend Herb-Roasted Turkey Breast and Slow Cooker Ham. Both are simple, crowd-pleasing dishes that don't hog oven space.
How about sides?
There are lots of options here. I've found that these are the most popular at my table:
And of course, dessert!

4. Create a plan of attack.
Whether you make the same traditional recipes every year or like to mix things up with new ones picked from magazines or your favorite blog, you'll need to get just a bit organized to pull it all off on Turkey Day.
Here's a basic process to help you organize. Get out three sheets of paper:
Page 1: start your list of recipes.
Page 2: jot down groceries needed to prepare those recipes. Also note what special kitchen equipment and/or serving ware you need to prepare the recipes.
Page 3: Prepare a timeline of items you can create a few days or weeks in advance, things to prep the night before, things that need to be prepared right before serving.
Knowing what you're going to make, what you need to make it, and when you'll be preparing it will set you up nicely on Thanksgiving Day.
I'd love to know what tips and tricks work for you? Leave a comment below and tell us…
How are you planning for Thanksgiving?
Are you cooking or letting someone else do it?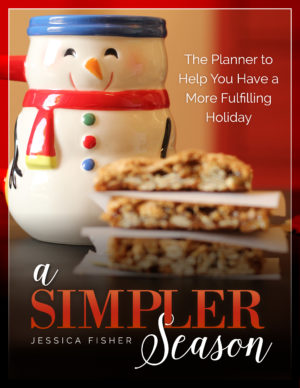 Want to plan a fabulous holiday? A Simpler Season holds almost everything you need to do just that. This guide to planning the winter holidays provides creative ideas, time-saving tips, and budget-minded inspiration for making the most of Thanksgiving, Christmas, and New Year's.
With the busy family in mind, this planner/guide provides recipes, to-do lists, children's activity sheets, planning pages, gift ideas, and step-by-step tutorials for creating homemade gifts.
Take it easier this year and celebrate a simpler season. Grab your copy today.