Want to eat well, save some money, and enjoy your time in the kitchen? Plan for it!
You can have a great week of healthy, economical meals. It doesn't happen with the snap of one's fingers. Only Mary Poppins can do that. But, it's within your reach.
Check out these 7 Steps to Set Up Your Kitchen for Success. You'll be so glad you did them. Your pocketbook will thank you, too.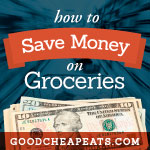 Save Money on Groceries
This is part of the How to Save Money on Groceries series. Scroll through the archives to get tips and tricks for reducing your grocery total at the checkout stand.