Bake up those prolific persimmons your neighbor pawned off on you into these delicious muffins, scented with lemon and cardamom.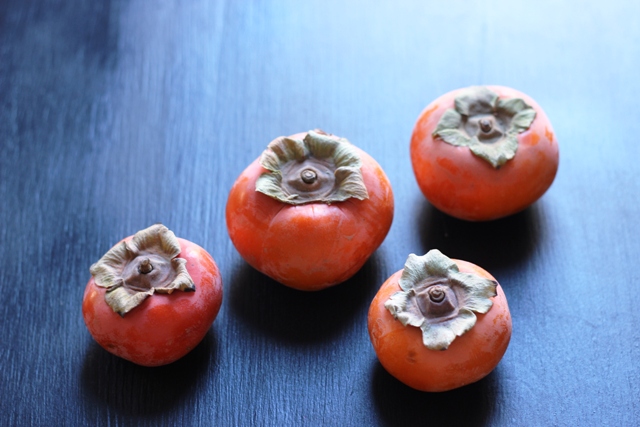 Know what these are? These flat, orange globes have been plaguing my produce box for the last three years. Usually, I just pawn them off on my friend Sharon. But, this year she left town — for three weeks — during persimmon season. So, I'm stuck with a lot of persimmons.
I found a taker at hockey, my friend Rosalie. But, then I forgot to take them to the rink on the last day of the season. So, I'm still stuck with a lot of persimmons.
Wasting food is a cardinal sin in my book, so this week I decided to finally try them. It's a very tasty, sweet fruit. I was really surprised. This variety of persimmons is called a Fuyu. These are meant to be eaten in the crisp stage, like you would an apple, topping salads with them or including them in baking.
(There is another kind of persimmon, called the Hachiya which is astringent. Don't eat those crisp; trust me.)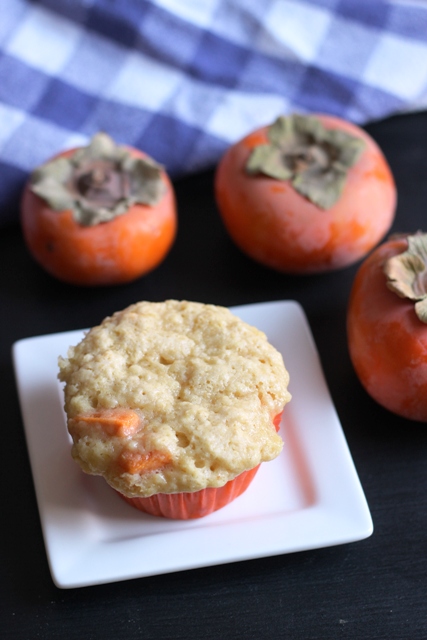 The easiest test for this fruit was to bake it into muffins using my Mix and Match Muffin Mix. This recipe is so easy and versatile. You can keep bags or jars of the mix in the pantry or freezer and just add whatever you like for flavoring: fruit, chocolate, nuts, extracts, citrus zest, you name it.
The chopped persimmons were great in this. Since they are a sweet fruit, I added lemon zest for a bit of tart and sprinkled in cardamom. You could use cinnamon if you don't have cardamom. It can be pricey, depending on where you get it. I found it very affordable at Sprouts, organic, even.
Since I have about 50 more persimmons, I'll be making quite a few more batches of muffins as well as testing it out in a crumble. I'll be sure to let you know how it goes.
Persimmon Muffins with Lemon and Cardamom
Bake up those prolific persimmons your neighbor pawned off on you into these delicious muffins, scented with lemon and cardamom.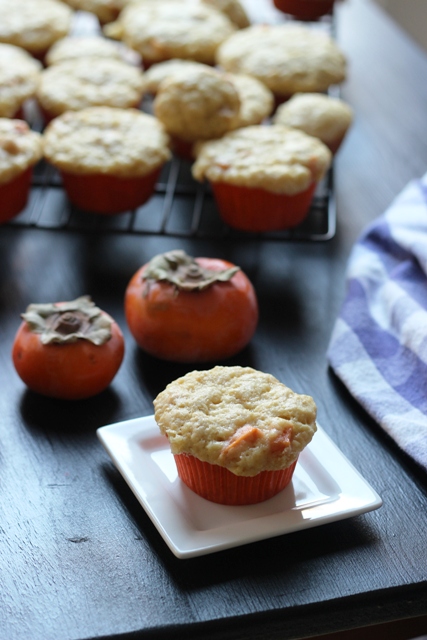 Preparation Time:10 minutes
Cook time:30 minutes
Total time:40 minutes
18 servings
Ingredients:
1 cup milk

1/2 cup oil

1/2 cup sour cream or plain yogurt

2 eggs

1 teaspoon vanilla extract

1 teaspoon lemon zest

3 cups unbleached, all-purpose flour

1 cup sugar

1/2 cup whole wheat pastry flour

4 teaspoons baking powder

1/2 teaspoon baking soda

1/2 teaspoon salt

1/2 teaspoon ground cardamom

1 1/2 cups peeled and chopped fuyu persimmons (about 2 medium)
Instructions:

Preheat the oven to 350°. Line muffin cups with papers.
In a large mixing bowl combine the milk, oil, sour cream, eggs, vanilla, and lemon zest. Whisk to blend.
Add the flours, sugar, baking powder, baking soda, salt, and cardamom. Fold to incorporate.
Fold in the persimmons. Do not over mix. A few bits of dry are okay.
Divide mixture among prepared muffin cups. This should make 18 regular muffins or 1 dozen regular muffins and 1 dozen mini muffins or 36 minis.
Bake until a tester comes out clean: the regular muffins for 30 minutes and the minis for 12 minutes. Cool on a rack before serving.
The whole family loved these muffins, making them perfect fall "fun". I'm not sure that Rosalie and Sharon are going to get too many persimmons from now on….
Ready to fall for fun?
This post is part of the DIY on a Dime: Falling for Fun series. Check it out for all kinds of budget-friendly, family fun ideas to celebrate one of the most beautiful seasons of the year.