Have you ever done a Pantry Challenge, where you focus on shopping your pantry and using up what you have? Here's how it's going for me, two weeks in.
Well, here we are, at the end of our family's second full week of the Pantry Challenge. It's been a super busy week for me with co-op and Bible study back in full swing as well as not one, but two doctor's appointments.
Surprisingly, this did not have an adverse reaction on our Pantry Challenge. So far so good!
I think the abundance of cookies and cakes in the cupboard is partially responsible. Dessert always helps!
My Pantry Challenge Plans
As I mentioned earlier, I plan do to this Pantry Challenge all the way through the end of January. I officially started my reporting the Sunday before New Year's.
My general plan is to spend only half of our monthly budget (currently set for $1000/month for the new year) by shopping my pantry and freezers before I go to the store. I've focused on making more things from scratch and making good use of leftovers.
How you can join in:
Here are some of the ways you can participate in the Good Cheap Eats Pantry Challenge for 2019: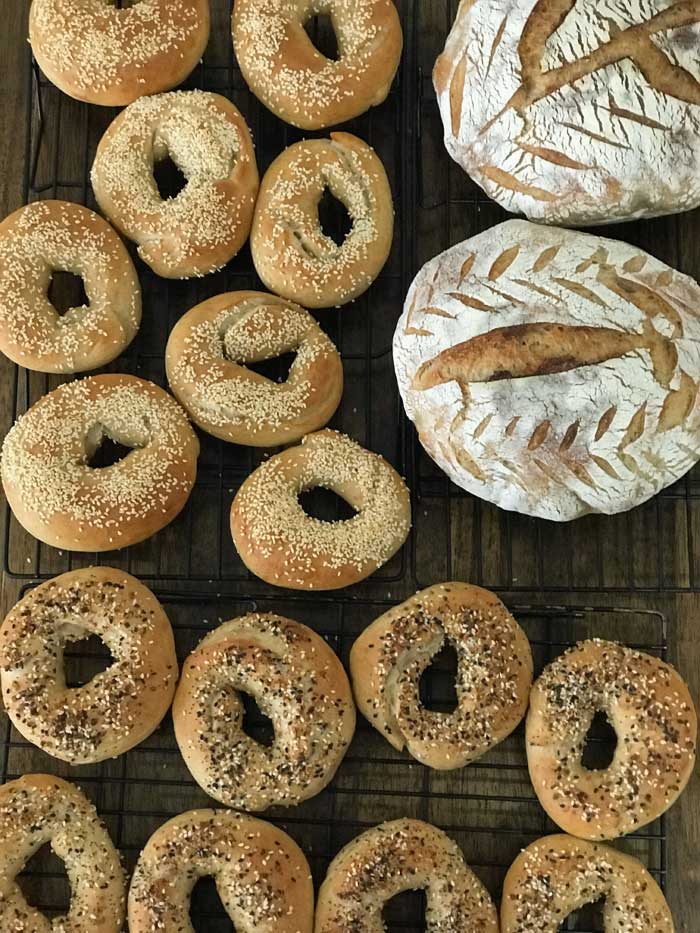 Pantry Challenge 2019: Week 2 Update
Like I said, it was a pretty good week. Part of what makes it easy is how I meal plan. I make sure to account for different events throughout the week as well as plan similar meals from week to week.
Another key difference to this pantry challenge compared to years past is that I have a good groove of weekend meal prep. This has really helped me front load the week with prepared food.
By the time it peters out on Thursday, it's time to make soup from leftovers and get ready for pizza night.
I usually do my grocery shopping over the weekend which gives us fresh supplies and a renewed energy to do it all again.
In case you missed it, here's our Week 1 Update. And here's what we ate this week:

Day 8
Breakfast: Homemade Sourdough Bagels, Cream Cheese, and Jam – These bagels are so good! Recipe is found in this book.
I've been using a natural sourdough starter for almost a year now. My friend Kate sent me some of hers when making my own starter without commercial yeast failed.
Not only have I kept Marilla alive — she, my starter, was born on an island in Canada — but we've learned to make all kinds of yummy things, including the boules and bagels from the aforementioned cookbook.
While I follow the dough recipe to a T, right down to weighing my ingredients, I don't use the same shaping method or the same poaching liquid. I follow the method explained here. I use this barley malt syrup.
The kids are generally thrilled with sesame and everything bagels. The consensus was that Trader Joe's everything seasoning was too salty. One of the kids got it in his stocking.
Next week I'll go back to making my own everything seasoning.
Lunch: Snacky Lunch with Tuna Salad, veggies, fruit, bread, and cheese – Normally I have all kinds of lunch meats for our Snacky Lunches, but this time I made do with what we had.
Canned tuna, instant pot hard cooked eggs, and a quick raid of the fridge did the job.
Dinner: Grilled Fish with Herbed Seasoning Mix, Sweet Potato Fries, Salad, and Homemade Ranch Dressing  – Our family has all kinds of preferences when it comes to fish, so we grilled three kinds: tilapia, ono, and salmon.
I buy the bags of frozen fish from Costco. Need to remember that I do not like Keta salmon. I keep forgetting that!
Day 9
Breakfast: Breakfast Bar – this is such an easy way to make breakfast. My kids are all at the age now  that they can make their own eggs. So, when I lay out granola, fruit, and baked goods, everyone is pretty self-sufficient.
This week I baked Banana Bread, the week before Cranberry. This next week I will do Carrot Bread or Pumpkin Bread. I've been baking three loaves a week and stashing at least one in the freezer. That last week of the month we should have a nice variety!
Lunch: Also part of my Sunday meal prep was to make a big pot of Cheesy Butternut Squash Soup with herbs. It is so good! (You can find the recipe in my freezer book.) The girls and I love it!
Lunch was soup and salad for me and the girls. Boys had sandwiches.
Dinner: Cheese Enchiladas, Black Beans, Rice – I had made the enchiladas the day before and refrigerated them, knowing I had the Pantry Challenge Master Class that night. It was so nice to let my people make dinner!
Day 10
Breakfast: Skillet Eggs, Leftover Sweet Potato Fries, Avocado (for me) – Eggs and Breakfast Bar for the kids.
Lunch: Grilled Cheese Sandwiches for the Kids, Soup and Bread for me.
Dinner: I made lots of tamales on Christmas Eve. Lots. I frozen at least half of them. So I divided my frozen stash into two meals and cooked one portion for this night's dinner.
It took much longer for them to cook, even though they were thawed completely. Not sure why this is. Will experiment when I cook the other portion later in the month.
Day 11
Breakfast: I didn't get a picture of our Breakfast Burritos this week, so we'll just pretend that we had Carne Asada to have in them.
We didn't.
But they were still good!
Lunch: Grilled Cheese Sandwiches and Salads again.
Dinner: Breakfast for dinner! Simple, easy day.
Day 12
Breakfast: Oatmeal Bar – love this meal for how easy and customizable it is!
Lunch: I was gone at lunch for a doctor's appointment, so I fired up two crockpots and grabbed two pots of soup from the freezer. Different kinds, different kids.
Thankfully, there was some of the Chicken, Wild Rice, and Spinach soup leftover from last week in the freezer and the kids saved me a bowl. I'm going to need to figure out how to make that from scratch; it was worth repeating!
Dinner: Some how I got away with serving soup twice in one day. I made Quicker Minestrone while the girls baked up some Buttermilk Cornbread. Very delicious!
Day 13
Breakfast: Flaky Buttermilk Biscuits and Jam – so good and so easy!
Lunch: I was gone at lunch so the kids made a Pantry Challenge version of these Italian Sub Sandwiches.
Dinner: Friday night is Pizza Night! I made five pizzas, each in some combination of pepperoni, mushrooms, and cheese. Per tradition, we had Homemade Ranch Dressing alongside.
We also had a bagged caesar salad I found on clearance at Ralphs.
Day 14
Breakfast: Mix and Match Muffins – FishChick10 baked these muffins up this morning. So great to have kids who cook!
Lunch: Simple Bean Tostadas – First thing in the morning, I cooked up a pot of Healthier Refried Beans. We topped the tostadas with shredded lettuce, cheddar, and chopped tomatoes.
This was one of our Get-outta-debt meals back in the day.
Dinner: Spaghetti and Meatballs – I had meatballs and sauce in the freezer so this was an easy dinner to end the week with. Lemon Broccoli made a nice side dish.
Okay, that's it for our week. It was good and cheap!
I ended up making a small handful of grocery stops during the week which brought our month to date total up to $309. So far so good.
I'm not positive I'll squeak under $500 at this point, but maybe can still do it if I put in some extra effort this week. We'll see!
If you'd like to up your game in the kitchen and get around-the-clock support for your pantry challenge, join the Kitchen Winners Circle, an online community to help you connect with fellow cooks and to equip yourself with resources and support to reach your goals in the kitchen.
Find more details here.
How's the Pantry Challenge going for you?
Give us an update in the comments section. I can't wait to hear about the progress you've made!