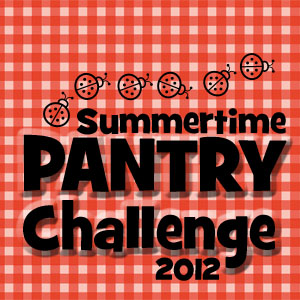 Since July 1st, I'll been making the most of what we have in the fridge, freezer, pantry, and produce box.
Throughout the month, I'll be posting daily updates of what we're really eating on this page.
Check out past challenges here.
My goals are here.
Join the challenge and share your weekly progress on Monday's check-in posts.
---
July 28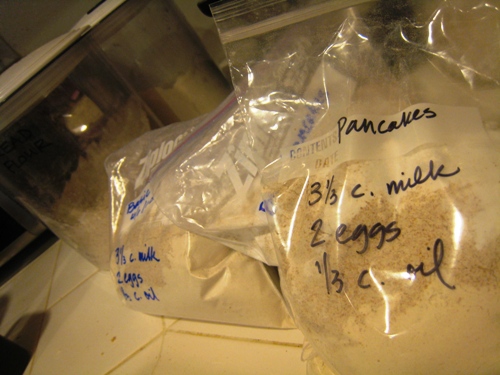 See these baking mixes? I made those at the beginnning of the month. They came in very handy, especially today on the last day of the challenge when we were running out of flour, out of milk, and out of eggs.
This morning I was stumped for a breakfast and remembered I had one bag of pancake mix left in the freezer. So, I mixed up some flax seed meal to act as an egg substitute and used the rest of the milk, mixed with yogurt for the pancakes. Instead of syrup I sweetened the cakes with chocolate chips.
Lunch was planned takeout as I knew it would be a busy day.
Dinner was Sloppy Fo's – an Italian inspired sloppy joe served on focaccia. Good stuff.
But, I'm glad the challenge is done. I'm ready to get back to business as usual.
Breakfast: chocolate chip pancakes
Lunch: In-N-Out Burger
Dinner: Sloppy Fo's
---
July 27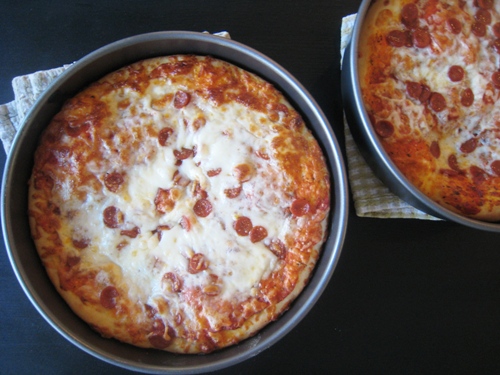 2nd to last day of the Pantry Challenge — and I'm so glad. It's been hard this last week. We've eaten well, but it's taken more work than I expected. A good reminder.
Breakfast: oatmeal with toppings
Lunch: BLTs were planned, but the kids wanted bacon, eggs, and toast
Dinner: homemade pan pizza
---
July 26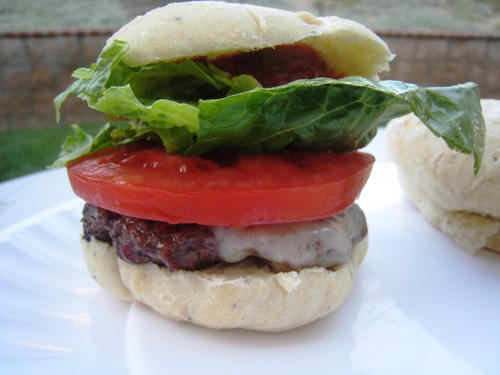 Breakfast: oatmeal, smoothies
Lunch: Salad Bar with Hard cooked eggs and beans for protein
Dinner: Hamburgers, Hot Dogs, and Pasta Salad
---
July 25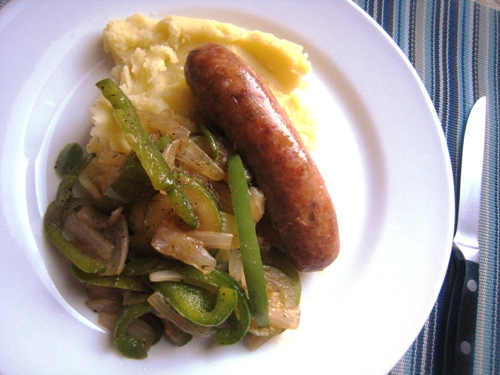 This week I'm getting into the groove of the Pantry Challenge, especially where dinners are concerned. Breakfasts and lunches haven't been that great, but dinners have been pretty okay. I'm realizing how lazy and/or preoccupied I am throughout the day. Good lesson to learn from all this.
Tonight I made browned Italian sausage, sauteed veggies from the produce box, and mixed up the Yukon potatoes from the box several weeks ago. There was nothing left!
I did an experiment with this meal in that I used no dairy in the potatoes. This is a great way to keep down the costs. Instead I mashed them and then stirred in olive oil and a little of the cooking water. A generous seasoning of salt and pepper was all it needed. I was amazed at the flavor; the potato really shined through. Not sure if this will work with the (usually) more economical russets, but I'm going to try.
Breakfast: Fend for yourself (oatmeal, smoothies, cheese and crackers)
Lunch: Leftover Chicken and Noodles from last night
Dinner: Sausages and Sauteed Vegetables, Olive Oil Mashed Potatoes
Dessert: ice cream
Snacks: popcorn and fruit
---
July 24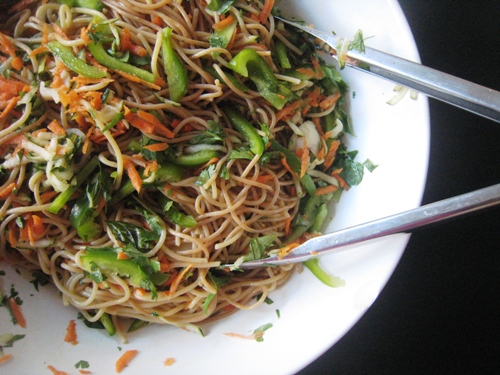 Tonight was another day of "Hmmm… What can I make since nothing goes together." There's no bread, no tortillas, and until noon no cheese or meat.
I spent the morning at the doctors for a muscle issue that's been going on for three months now. He said high protein and anti-inflammatories for a month would do the trick. Since it didn't sound like I was going to die from my ailment, I celebrated by getting the fixings for roast beef sandwiches for me and the kids at lunch.
Dinner was another experiment that worked out well: grilled chicken legs with a seasoned rub and an Asian-flavored noodle salad. I even snuck a zucchini in it and folks ate it up. Again, they're not loving the wheat noodles. Hopefully, we'll get used to them. I bought a lot!
Breakfast: zucchini bread, oatmeal
Lunch: roast beef sandwiches, fruit
Dinner: grilled chicken legs, noodle salad
---
July 23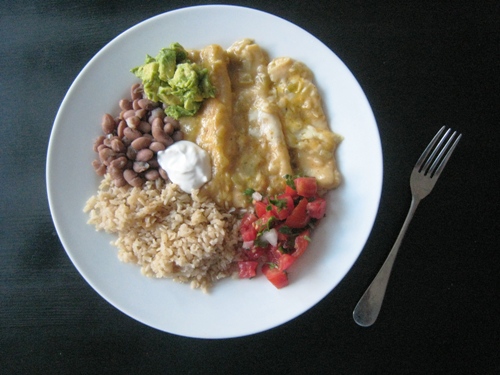 For whatever reason, my thawing capabilities are sorely challenged this week. I really want to go to the store, but I'm resisting. Hubs threatened to go for fast food on this night which put a fire under my belly to make something. Anything.
I was so pleased with the result. I didn't have meat or any enchilada sauce, but I did some puttering at the stove and I found success.
Our enchilada supper was entirely meatless, but oh! so good. Beans, brown rice pilaf, and an experimental enchilada recipe with homemade sauce, topped with sour cream, salsa, and avocado. THIS is why I love a pantry challenge — because great things come out of it.
Breakfast: toast and jam/sunbutter
Lunch: eggs and English muffins. English muffin grilled cheese for the babe with the egg allergy.
Dinner: Enchilada supper
---
July 22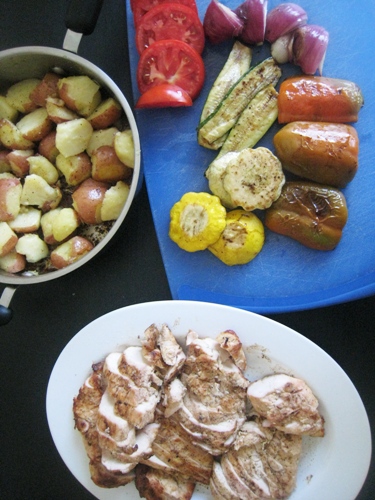 On Sunday, our one family day of the week, we went to the beach with donuts. Once the sand got hosed off, hubs took the kids to the pool. It was such a beautiful day, so we grilled chicken and vegetables. I made quick potatoes on the stove. Super yummy.
Dinner was leftovers from previous days; it was really a hodge-podge, a slice of lasagne here, a grilled chicken leg there. It wasn't all that great, but it did the job. Hubby used up most of the lunch chicken in quesadillas.
Breakfast: donuts
Lunch: grilled chicken, vegetables, potatoes
Dinner: leftovers
---
July 21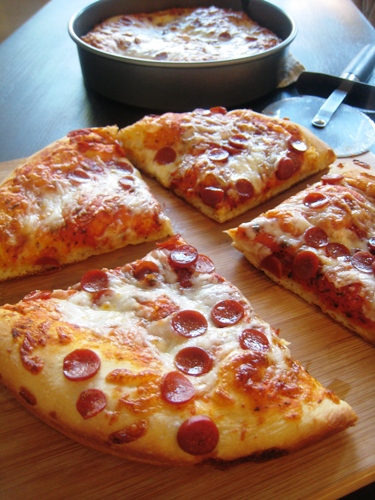 Saturday went by in a whirlwind. Hubs worked most of the day, and I was gone for half of it with a hair appointment and errands. We treated this as our pizza night and I made pan pizzas. Really yummy.
Breakfast: baguette and jam
Lunch: date with the hubby (took sandwiches), kids had cheese crackers, and fruit
Dinner: pizza night
---
July 20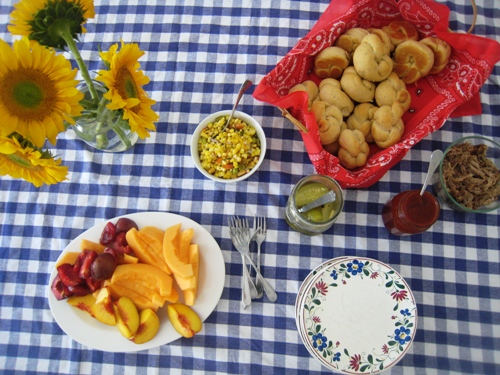 We had friends come for lunch today, so I made a pork roast in the crockpot overnight. I mixed up a corn salad with last night's leftovers and tested out a new BBQ sauce. We also cleaned out three jars of pickles and that big platter of fruit.
Did I mention that we fed two moms and NINE children?
Breakfast: pancakes and fruit
Lunch: pulled pork sandwiches, fruit, corn salad, pickles
Dinner: lasagna, salad, bread
---
July 19
I had a chance to do some experimenting today in the kitchen based on the things that we had leftover. It seems that my family is not consistent in its spaghetti consumption, so again, I had about 1/2 pound left of pasta to use up. I made this: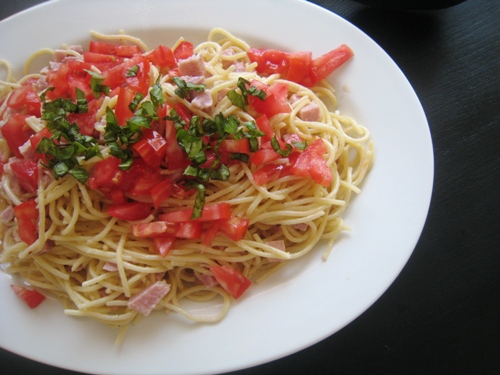 It was amazingly good. Recipe coming next week.
Dinner was some more experimenting. I had thawed a picnic pack of chicken legs and thighs and had intended on giving the kids those and hubs part of a pork tenderloin. He doesn't typically like dark meat, but we cooked the chicken on the grill with the same rub that I used on the tenderloin. It got rave reviews even from the husband.
Dark meat's back on the table, boys.
I'm so glad, too, since I regularly find thighs and legs for about a dollar a pound. Yeah!
Along with the chicken and pork on the grill, I also cooked corn and green beans on the grill. Yes, really. More on that later. The only thing to cook in the kitchen was the quinoa. I also used some of the last peaches in a salsa that was super yummy.
Breakfast: toast, granola, yogurt, fruit
Lunch: creamy noodles with ham and tomatoes for some, cheese and crackers for the picky folks or those who didn't move fast enough.
Dinner: grilled pork tenderloin with peach salsa, grilled chicken, grilled corn, grilled green beans (yes, really) and quinoa pilaf
---
July 18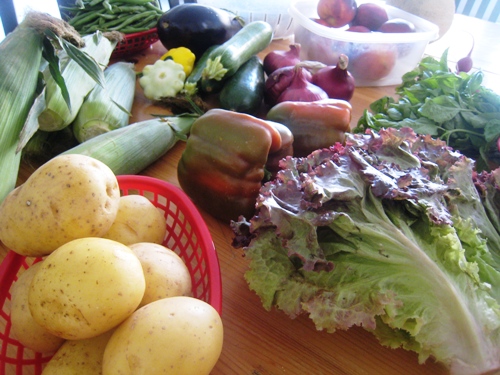 Well, today was a tasty day. The produce box always makes me smile. We are rich is all kinds of earthy goodness.
So much so that I decided to put next week's box on vacation. It will save a chunk of change that maybe I don't need to spend and give me time to catch up on some of these things.
They advertise that the large box to feed four people, but we're eight and have a hard time using it all up. Definitely "abundant".
Breakfast: banana bread from the freezer, milk
Lunch: sunbutter sandwiches for the kids, leftover spaghetti with vegetable sauce for me.
Dinner: Lawnmower Taco, green salad, sliced tomatoes
Dessert: Peach Sorbet (recipe coming soon)
Snacks: popcorn and rice cakes
---
July 17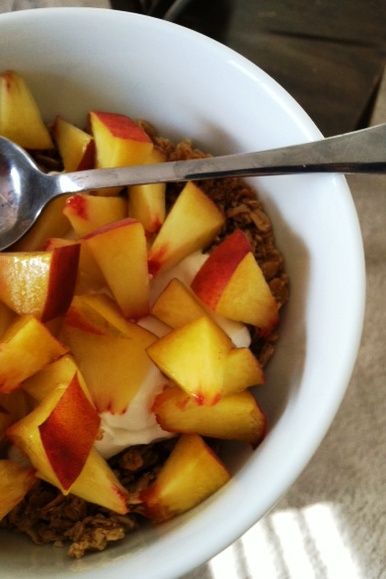 Breakfast: Oatmeal with toppings, Granola, Peaches!
Lunch: Pasta with Red Sauce, lots of peaches
Dinner: Quesadillas for the kids, date night for the parents
---
July 16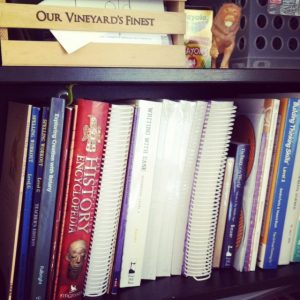 Today I tackled one of my goals for the summer: getting organized for the new school year. This meant physically touching every single book we owned as I moved last year's resources out to our long term storage, reorganizing what's out there, and then bringing in the new stuff. Ugh.
By the time I was done, I was hot, sweaty, and sneezing up a storm from all the dust. I wasn't ready to make the lasagne with bechamel that I had planned. So, I took some of my birthday money and ran to Chipotle. It was a beautiful night and we ate outside. Hubby and I shared a beer.
Twould have been quite nice if my burrito hadn't been cold and if it hadn't held not one, but TWO avocado stem knobby things. Thankful that I didn't break a tooth! And Chipotle is sending me a coupon for a free burrito as their apology.
Note to self: next time you plan a big cleaning project, make dinner first.
Breakfast: Denver Scramble
Lunch: leftovers
Dinner: Chipotle
---
July 15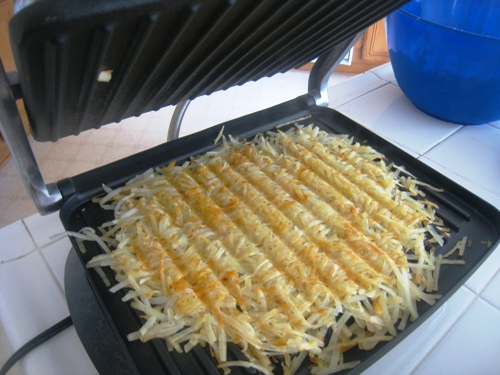 Sunday morning – five out of eight folks sick. We stayed home and mellow all day long. Only one of out three menu plans for the day worked out, but at least we ate at home.
Breakfast: full breakfast: pancakes, panini press hashbrowns (recipe coming this week), peaches, and scrambled eggs
Lunch: nachos with beans and leftover chicken, fresh salsa, and sour cream
Dinner: pasta with red sauce, green beans, leftover corn
---
July 14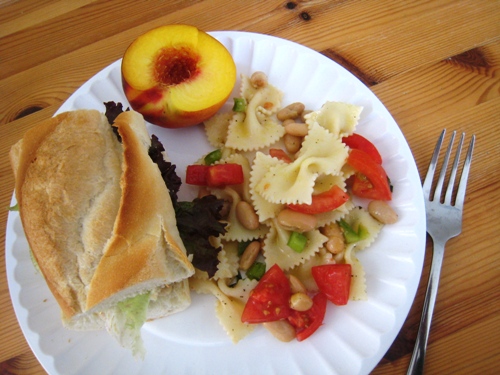 Today was a mellow day at home. Five out of eight Fishers are sick! We did some cleaning and then most folks vegged out. Sore throats, sneezes, and coughs. The worst I have at the moment is a cold sore, and I'm hoping it stays that way.
First thing this morning I put a chicken in the crockpot for lunch. Then I headed to the French bakery where I redeemed my frequent buyer card. They give you 15% back on your purchases after nine purchases. It takes a few months to fill the card, but then we have a free little feast. I got three baguettes and four pain au chocolat. We had breakfast that way.
There was enough baguette left at lunch to have sandwiches with pasta salad and peaches.
For dinner I made a quick pot of Arroz con Pollo, using the leftover chicken. There's still enough chicken for a pot pie on Monday. Whoohoo!
Breakfast: baguette and pains au chocolat
Lunch: chicken sandwiches, pasta salad, peaches
Dinner: Arroz con Pollo, peaches
Dessert: brownies
---
July 13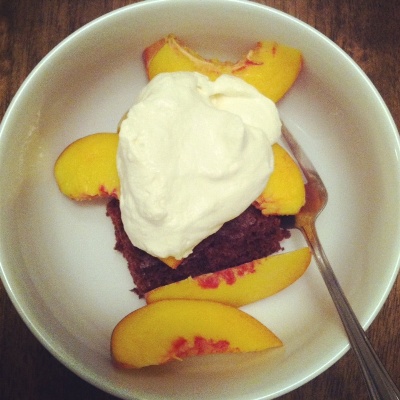 Today was an early morning getting Jacob to the airport. Breakfast was a little rushed. Not my best work.
Later in the day, the five younger kids and I dressed like cows and got free Chick-fil-A for lunch.
Dinner was pizza. I experimented with a new dough and baking it in deep dish pans. Needs more tweaking. We topped the night off with zucchini brownies, whipped cream, and fresh peaches. All the peaches are ripe, so I have my work cut out for me!
Breakfast: toast, cereal, fruit, smoothies
Lunch: free Chick-fil-A
Dinner: Pizza
Dessert: Brownies, Peaches, and Cream
---
July 12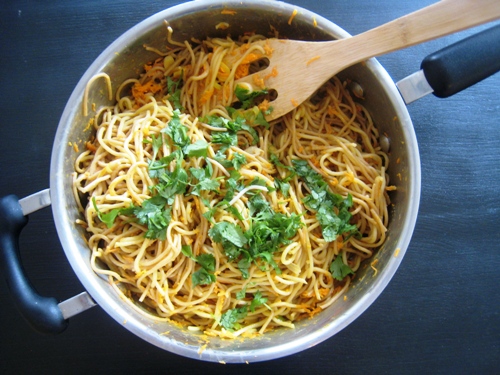 After a week of perfect temps, we had a weird bout of weather today. Rain, humidity, strangeness for this area at least. Through a few wrenches in my plans.
I had big plans for a beach extravaganza tonight with smores and everything. But that didn't happen. Rain and a sick husband weren't in my original plans.
So, I took the kids to the beach to play and then we came home and ate our picnic. I'm glad to be using up things that we have. I think we're starting to get in the groove of this challenge.
Breakfast: Banana Chocolate Chip muffins, with the bananas that were starting to go bad.
Lunch: Quick Sunbutter Noodle Stirfry, sunbutter sandwiches, popcorn, watermelon (yes, an eclectic mix!)
Dinner: Snacky dinner of baguette, salami, cheese, leftover chicken, pasta salad, tomatoes, pickles, olives, mustards, and various spreads.
Desserts: Cinnamon Chocolate Chip Cookies, Zucchini Brownies
---
July 11
We were bums around the house today. After five days of go-go-go, it was nice to veg. I got out to have a lunch date with hubby, but other than that, we just rested, did some chores, and vegged. It was also extremely hot and sunny, so it was a good day to rest, especially after having been out all day yesterday at Legoland.
Breakfast: pancakes and berries and cream
Lunch: Baked chicken, cheese sticks, veggies for kids, Panera for parents
Dinner: Quesadilla bar
---
July 10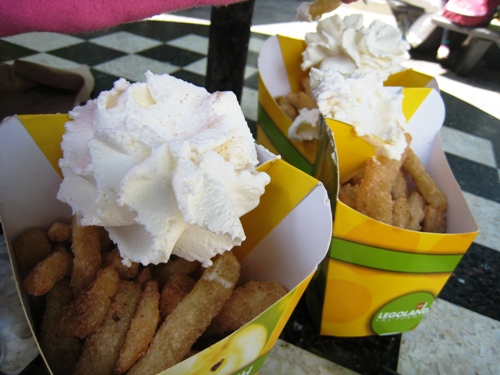 We went to Legoland today! With our KC friend in tow, it was me, my brother, and seven children. Whoohoo! It was a very full day.
And the planner in me seems to be on vacation. I didn't have every detail down, but it worked out okay anyways. Especially having my brother in tow. We brought snacks with us, and Uncle Jace walked to Costco and brought back two pizzas (as well as plates and napkins). And then we splurged on Apple Fries before we left the park.
I grabbed burgers for everyone on the way home. We were just all too tired to do much else.
Breakfast: Waffles, strawberries, whipped cream
Lunch: Costco pizza (it's a short walk from Legoland)
Dinner: In-N-Out burgers (so much easier at 7 pm)
Snacks: fruit leather, clementines, pretzels
---
July 9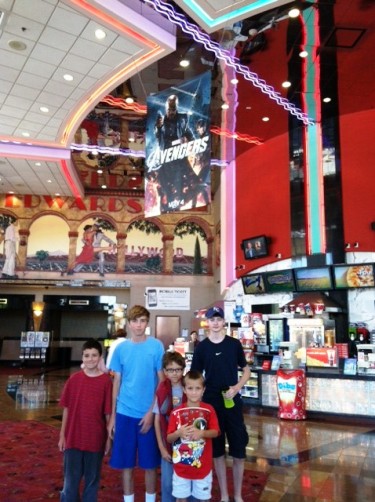 This morning when I looked at the calendar, I realized that we only had four days to spend with our friend Jacob who's visiting from out of state. That meant four days to plan fun things to do.
So, today, was a somewhat impromptu trip to the movies. We dropped the girls with friends and then headed to see The Avengers. The impromptu part was that I didn't have any quick-and-easy snacks to serve the kids on the way. And of course, the movie straddled lunchtime.
We ate popcorn for lunch and then came home to some snacks. Not my most brilliant move, but it worked.
Dinner, however, was a slightly botched affair. Even though I pulled the chicken (my original plan for lunch) from the freezer yesterday morning, it was not thawed by dinner time, where I had bumped it. So, I made omelets and bacon. We ate, even it if was in shifts, and not exactly what I had planned.
The kids ended their day with their daily dose of ice cream. It is summertime, after all.
Breakfast: Ham, hashbrowns, strawberries, leftover cornbread
Lunch: popcorn
2nd lunch: cheese, crackers, ham, and turkey
Dinner: Omelets, bacon, English muffins.
---
July 8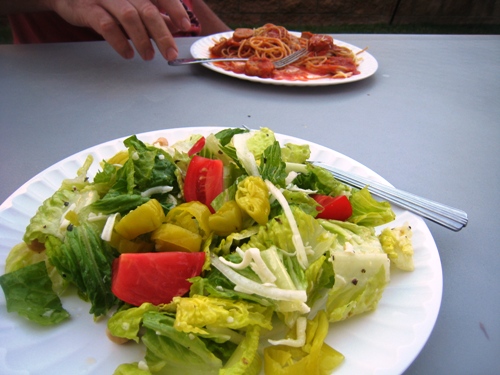 Since hubby had the day off and we have a house guest from out of state, we got out of the house early. We went for breakfast at the Broken Yolk and then walked along the pier. Getting out early in the morning is so nice because you still have a good chunk of the day to veg.
Lunch was the pizza that didn't get made last night. Easy.
I had planned to make a lasagna with this big vat of red sauce I found in the freezer. Once the sauce thawed, however, I found that there were TEN sausages buried in it. Meat's back on the menu, boys. We had spaghetti and sausage for dinner, a big salad, and cornbread. Hubs and I shared the last glass of wine in the bottle.
It was a good day.
Breakfast: The Broken Yolk Cafe
Lunch: Homemade Mini Pizza
Dinner: Red Sauce with Meats, Spaghetti, Buttermilk Cornbread, ChiChi's Salad
---
July 7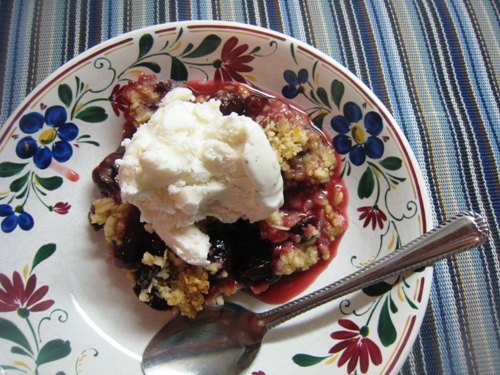 Today was a full day. Hubs worked in the morning; I took five kids to a birthday party at the Y. Then he and our oldest headed to the airport to pick up Jacob, our friend from KC.
On the way home, the guys picked up lots of baguettes from the French bakery. The one meal that baguette doesn't "go" with is pizza, the meal plan for the night. So, I switched it with Sunday's lunch and we had sandwiches, instead.
I didn't feel like eating a sandwich, so I salvaged a small mini round of Brie that was in the cheese drawer, smeared it with sundried tomato pesto from the freezer and baked it. It was yummy dipped on bread with a half glass of wine on the side.
Breakfast: Granola, Milk, Fruit
Lunch: at the birthday party
Dinner: Sandwich Bar, Cherry Crumble
---
July 6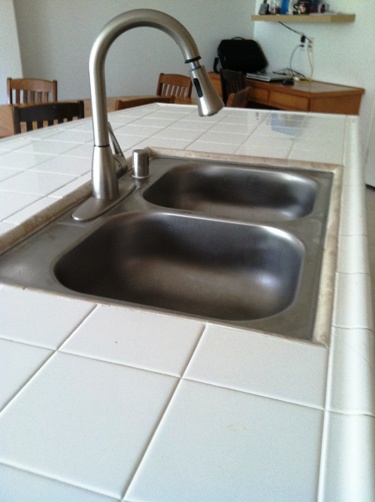 I had originally planned to make waffles this morning, and then I switched it to cereal and egg sandwiches. But we had a maintenance inspection for the rental we live in. We had spent the previous day getting things cleaned up so that the agent wouldn't be distracted by our "real life" and could focus on the property itself.
The kitchen was looking pretty spiffy. I didn't want to mess it up. And the kids had worked hard on their rooms, so I took them out to breakfast at Chick-Fil-A. It was empty and we had a very relaxed start to our morning.
We ran a few errands, had lunch with friends, and then I realized I hadn't thawed anything for dinner. I'd been too busy tidying up "real life". So we stopped at Target and grabbed a tri-tip. Not what I had planned, but I used up a lot of vegetables in the crisper for a chopped salad and made yummy mashed potatoes to go with. There was also a bottle of wine in the pantry, so we had a very nice Friday night supper, with only the roast thrown is as a last-minute effort.
Breakfast: Chick-Fil-A
Lunch: with friends
Dinner: Grilled Tri-tip, Mashed Potatoes, Chopped Salad
Dessert: ice cream cones
---
July 5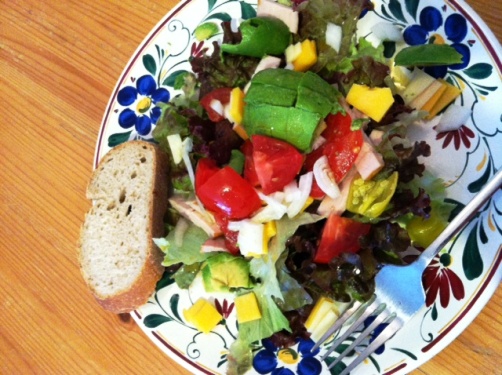 Today was extremely full. Spending it in the kitchen was not part of the agenda, so I didn't. I confess. It was pretty much fend for yourself day.
Breakfast: toast, smoothies, fresh fruit
Lunch: leftovers
Dinner: sandwich bar that my 15yo made. The bread ran out before I got to the kitchen, so I had a salad.
Snack: (confession) during an errand with my 8yo, we split a meal at Chick-Fil-A. Shhh, don't tell the others.
---
July 4
I planned some special meals for the 4th, so it feels like I've been in the kitchen all day. I ran out of time for our planned cherry pie to bake and cool, so I made ice cream and magic shell chocolate sauce instead.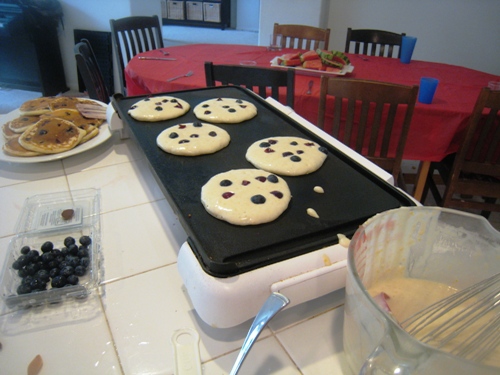 Breakfast: Cherry and Blueberry Pancakes, Scrambled Eggs, Bacon, Watermelon
Lunch: Grilled Cheese Sandwiches, Macaroni Salad, Fruit
Dinner: Hot Dogs, Cheeseburgers, and Fruit
Dessert: Vanilla Ice Cream, Chocolate Sauce
---
July 3
It's worked really well to have a plan for every meal of the day. I've been much more intentional than I normally have. And while my kids haven't always loved what was planned, it's worked out well.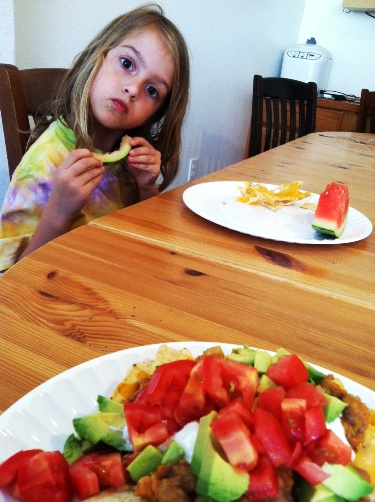 Breakfast: Rice with Toppings, Cantaloupe
Serving plain rice (instead of Creamy Rice) makes it a little more versatile. We can use the leftover rice for other uses besides breakfast. Though, in winter I have been known to stir creamy rice into chicken soup. It was one of the best soups my kids ever ate!
Lunch: Nachos with leftover Chili, Watermelon
The kids thought the chili was too hot. So, after lunch I froze what was left in lunch-sized portions. It's turning out that I'm doing a little freezer cooking for each of these pantry challenge days.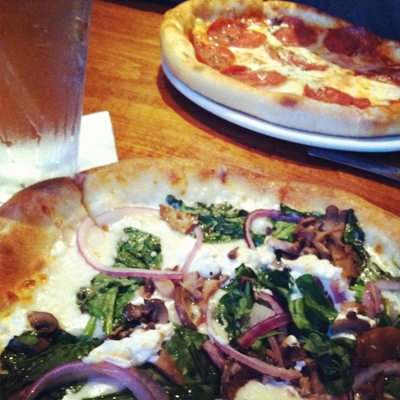 Dinner: Quesadillas and Nectarines for the kids, Pizza for the adults
---
July 2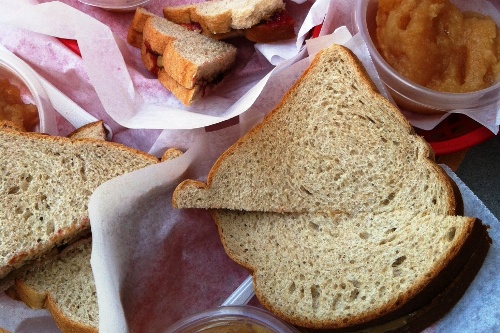 We had the carpets cleaned today which means that the kitchen was off limits for a significant part of the day. In the past that's meant a run for burgers or other fast food. Today I planned ahead instead.
Since I had meal plans for every meal of the day, I was able to do a lot of the prep work in advance, like chopping vegetables, thawing items from the fridge, etc.
I worked in some new freezer cooking by cooking three pounds of pinto beans in my crockpots. Half of that went into tonight's chili and the other half is going into the freezer for other nights this month.
I got a little creative with the chili, using up some of the vegetables I had in the crisper. I first made a vegetable sauce for it out of onions, peppers, carrots, tomatoes, and jalapenos. I blended that with the stick blender before adding in the beans and sausage and a few seasonings. It was a little too spicy for some of the kids, but hubby really liked it.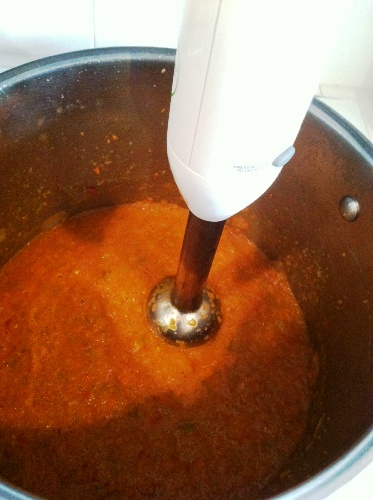 And he had no clue he was eating vegetables!
Breakfast: zucchini bread, yogurt, strawberries
Lunch: Sunbutter and jam sandwiches, applesauce (from the freezer), carrot chips
Dinner: Chili, Macaroni and Cheese, Caesar Salad
(From the freezer: zucchini bread, applesauce, mac and cheese.)
---
July 1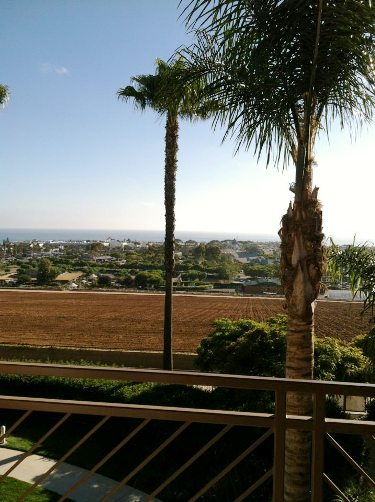 We awoke this morning at a nearby family resort, ending our little weekend hotel staycation. It was great to have a little R&R. Nice view, eh?
We set a little vacation food budget for the weekend, mainly so I wouldn't feel bad about indulging ourselves. We spent part of it at  Trader Joe's where we let all the kids pick whatever cold cereal they wanted. Oh they were happy! That's an easy breakfast!
We stopped for lunch at Daphne's and then came home to unpack, wash clothes, and veg out.
Per my weekly meal plan (watch for it on the blog tomorrow), there was an easy dinner to prepare: Pasta with red sauce, steamed broccoli, and cornbread. Easy peasy, right? But I decided to get creative with the cornbread, broccoli, and a second sauce for the pasta. What could have taken 45 minutes, took twice that. I'm not sure how I feel about that.
I worked in some freezer cooking by mixing up several batches of cornbread mix while I was making tonight's batch.
I purposely only cooked one package of pasta because I wanted to avoid leftovers and encourage the kids to eat the other items. Mission accomplished. I didn't get pasta, but that's a small price to pay for less waste all the way around.
We had very little parmesan to add to the mix, but my people were conservative and I even got a sprinkling on my dinner. Yeah!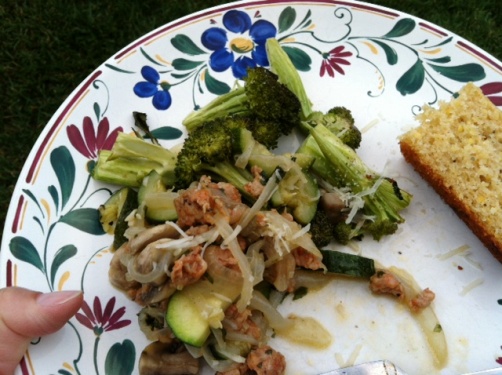 Obviously, not a fancy plate styling. But the pantry challenge is all about real life, isn't it?
Breakfast: cold cereal, milk, coffee for the adults
Lunch: Daphne's California Greek
Snacks: cheese, salami, and crackers
Dinner: Pasta with Red Sauce, Chicken Sausage and Sauteed Vegetables, Roasted Garlic and Broccoli, Herbed Cornbread
Dessert: popcorn
(From the freezer: red sauce)
---