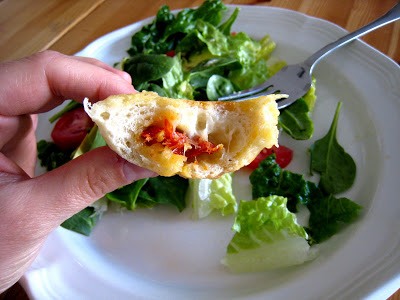 Inspiration hit this morning when I realized the kids ate a whole loaf of bread for breakfast. It was either bake more bread or let them eat crackers at lunchtime. I made focaccia again and this time stuffed it with salami, pepperoni, and string cheese. Super, super yummy and several requests to make it again. I also experimented with other stuffings, like Brie, tapenade, and sundried tomatoes – splurges since way before Christmas that were languishing in the fridge. Oh my! Talk about decadence.
Me thinks me likes this pantry challenge.
Breakfast: toast
Lunch: Stuffed Focaccia,apple slices, green salad
Dinner: Chimichangas
Want the dish on delicious ways to act your wage? Subscribe to GCE in a reader or via email.