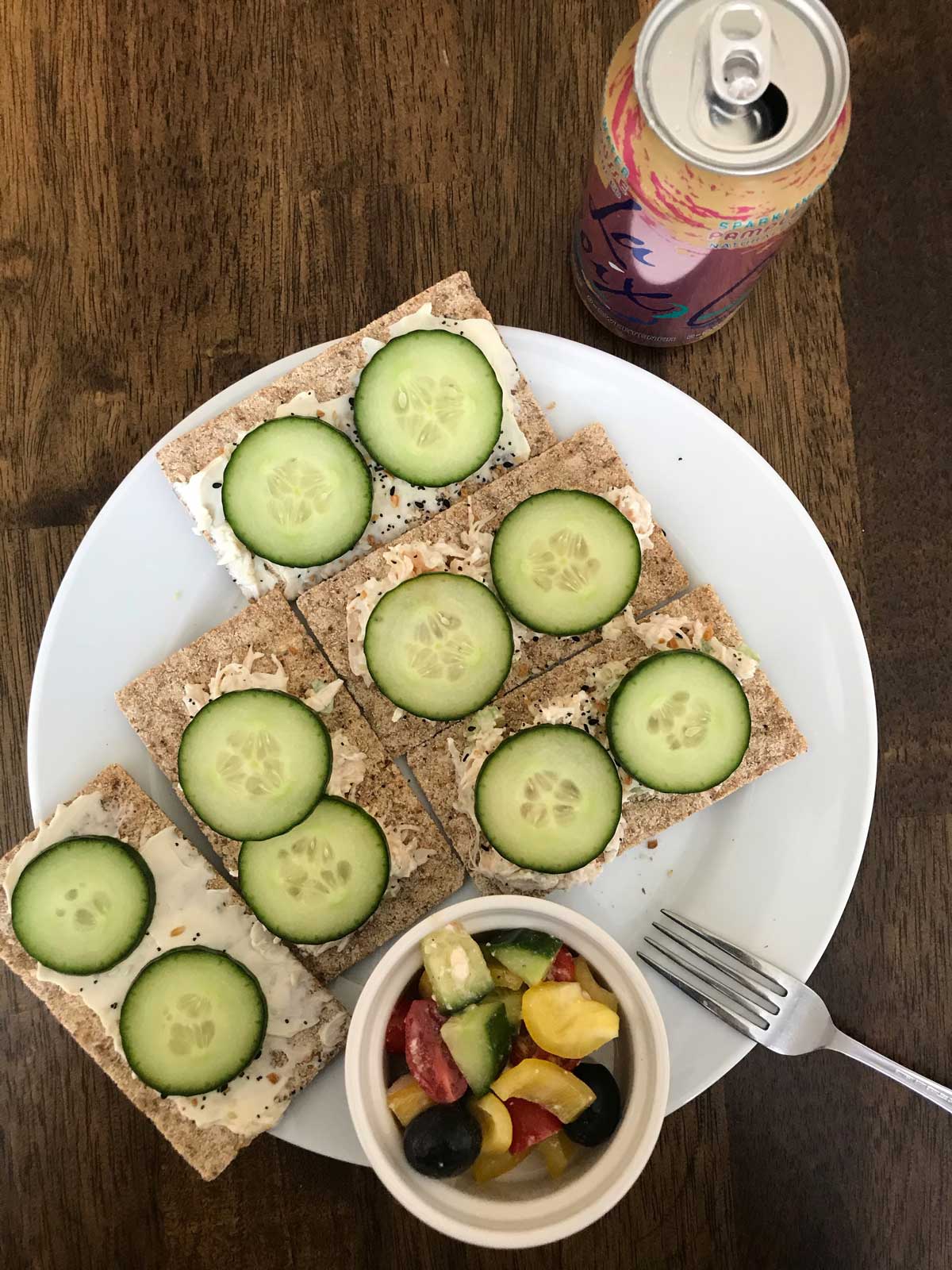 It was another quiet day at home. I know we're all feeling the wear of pandemic life. You are not alone.
Hopefully, it will make us that much more thankful for socializing and bare faces when that time finally comes.
Our meal for Day 12:
Breakfast – You know what I'm gonna say already, don't you? We have become creatures of habit around here. Breakfast = oats for some, eggs for others, Breakfast bar of Raspberry Baked Oatmeal and Sausage Egg Hash Brown Casserole for others, and my Goat Cheese and Leek concoction that I made on Sunday.
I do love Sunday breakfast prep for the week.
Lunch – Bryan had his Chicken Fajita Burritos, but you knew that already. I laid out all the stuff for Chicken Salad Sandwiches, making the salad with Kirkland canned chicken for most of the kids. I also made a Greek Salad.
I had some chicken salad on RyKrisp with EBB seasoning and sliced cucumbers as well as some Laughing Cow Cheese on RyKrisp with the same toppings.
Dinner – Tuesday is taco night or at least Mexican food, so I thawed 2 pounds of ground beef and cooked it up with Homemade Taco Seasoning Mix. I made a big Mexican Food Buffet with beans, cheese, taco meat, cabbage, tortillas, chopped jalapeños, tomatoes, cilantro, and sour cream.
That way everyone could make what he wanted. Some made burritos, some made quesadillas. I made a big taco salad.
FishBoy20 brought home two gallons of milk so that brings our monthly grocery total up to $236. That should also help me stay out of the store until the end of the week. Or close anyway.
We will run low on fresh veg, so I'll see how much I'm craving salads when we get to that point.
How's your Pantry Challenge going?