The end is in sight! We just completed week 4 of our pantry challenge. Here's how we're doing as we close in on the final stretch.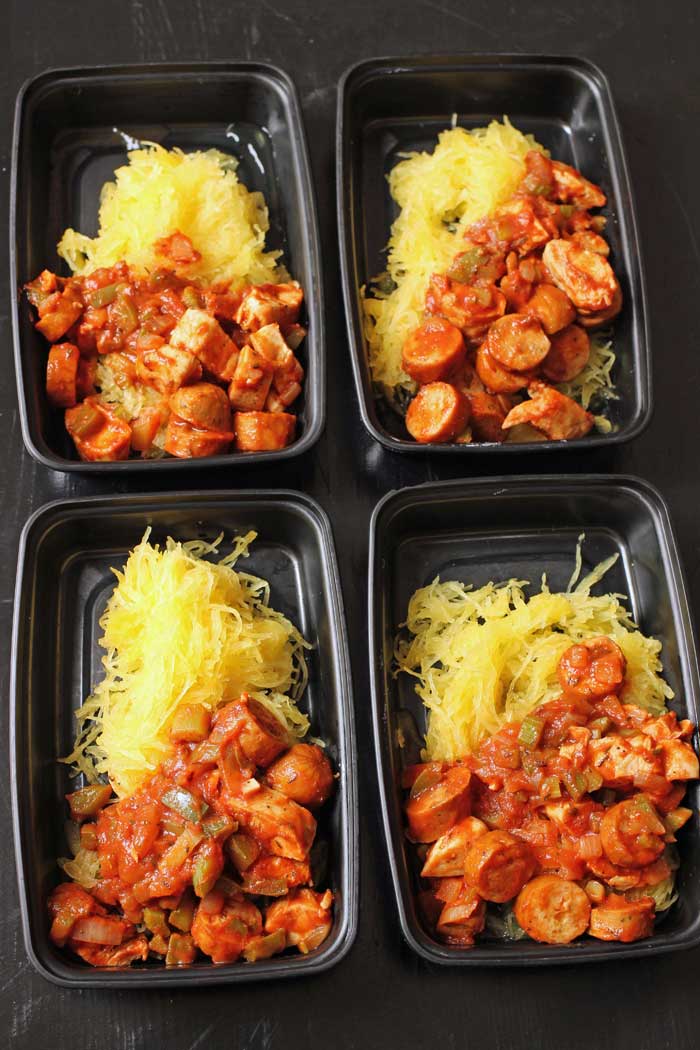 Pictured: Spaghetti Squash Jambalaya
Whew, one week of rain followed by a week (or more?) of sickness. Add in a Pantry Challenge, and I'm ready to kick January to the curb!
Only five more days to go!
It was a weird week with the holiday, so I'm looking forward to next week's return to normalcy and wrapping up the PC.
Maybe I'll even kick this cold.
My Pantry Challenge Plans
As I mentioned earlier, I plan do to this Pantry Challenge all the way through the end of January. I officially started my reporting the Sunday before New Year's, a whole four weeks ago.
My general plan was to spend only half of our monthly budget (currently set for $1000/month for the new year) by shopping my pantry and freezers before I went to the store. I've focused on making more things from scratch and making good use of leftovers.
I ended up going over my pre-alloted $500 but that is to be expected, especially since the $1000 was less than our monthly average last year. It could be tight this year.
It's not that we're out of food currently, but I'm running low on key things while I still have some outliers (barley? crackers? canned pumpkin?) that could get used up.
There may also be some randomness in the fridge freezer that I've been ignoring. Ahem.
How you can join in:
Here are some of the ways you can participate in the Good Cheap Eats Pantry Challenge for 2019:
Pantry Challenge 2019: Week 4 Update
In case you missed it, here's our Week 1 Update. And Week 2. And Week 3.
Here's what we ate this week: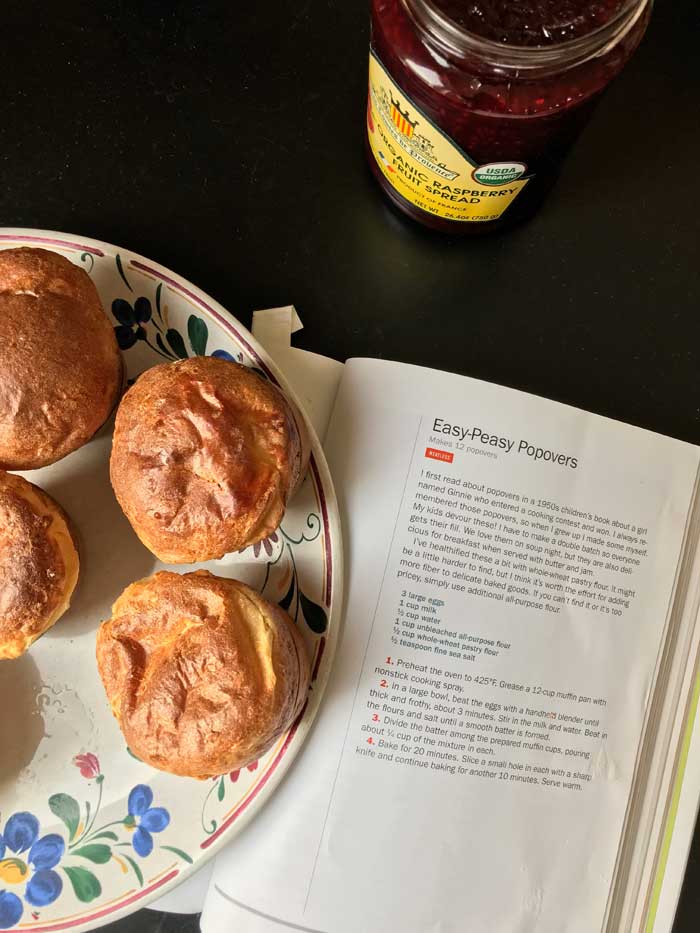 Pictured: The Good Cheap Eats Cookbook
Day 22
Breakfast: Popovers and Jam
Lunch: Spaghetti Squash Jambalaya
Dinner: Grilled Fish, Rice, Broccoli
I love being able to hand my girls (or boys or husband) a cookbook and walking away. I wrote my cookbooks with partners and children in mind so that you, too, could pass off the recipe and go do something else.
Sunday my girls made popovers and it was fantastic. The recipe is in The Good Cheap Eats Cookbook which is actually hard to find in paperback. If you find a copy, snatch it up.
Bryan and I also filmed a video of me making Spaghetti Squash Jambalaya (coming soon) so we had that for lunch and he packed it for work also.
For dinner, he grilled fish while the girls made rice and broccoli.
Day 23
Breakfast: Breakfast Burrito Bar
Lunch: Lunch out with cousins
Dinner: Asian Bowls
I love Asian bowls. So yummy and easy. I also packed a couple for my husband's lunches. While I was prepping I also baked up some Quinoa Frittatas (recipe coming soon) and cooked up a big batch of Tomato Soup for my breakfasts and lunches.
The kids are fine with sandwiches and eggs and toast, but I like to have more fun Mom Food.
Day 24
Breakfast: Banana Bread and fruit
Lunch: Soup and Grilled Cheese
Dinner: Tamales (from Christmas Eve)
It was a soup and bread kind of week as you will see. The kids all started getting sick by Tuesday so that at least six of us were sick by the weekend.
Also, I do not recommend freezing uncooked tamales. It was problematic to cook them. Not sure why, but not doing that again.
Day 25
Breakfast: Quinoa Frittatas, Yogurt, Fruit
Lunch: Soup & Cheese Toast
Dinner: Sausage Egg Hash Brown Casserole, Flaky Buttermilk Biscuits
The Quinoa Frittatas are super yummy. A few more tweaks and I'll be sure to share. I froze a few as well to see how their texture holds up. Wait for it….
Day 26
Breakfast: Quinoa Frittatas, Yogurt, Fruit
Lunch: Soup & Cheese Toast
Dinner: Chow Mein, Shrimp Stir-fry, Rice
I used real ramen in the chow mein and my people seemed to like it better than the noodles I've used in the past. This is the copycat recipe I use. I omitted the garlic and ginger this time and reduced the sugar, and like I said, they liked it better.
Day 27
Breakfast: Quinoa Frittatas, Yogurt, Fruit
Lunch: Chicken Noodle Soup & Bread
Dinner: Grilled Sourdough Pizza, Cocoa Brownies
Friday is our pizza night. Lately it's been all the same. Pepperoni and Pepperoni-Mushroom. No one has complained, so I call that good.
Good thing, since we're having it twice next week.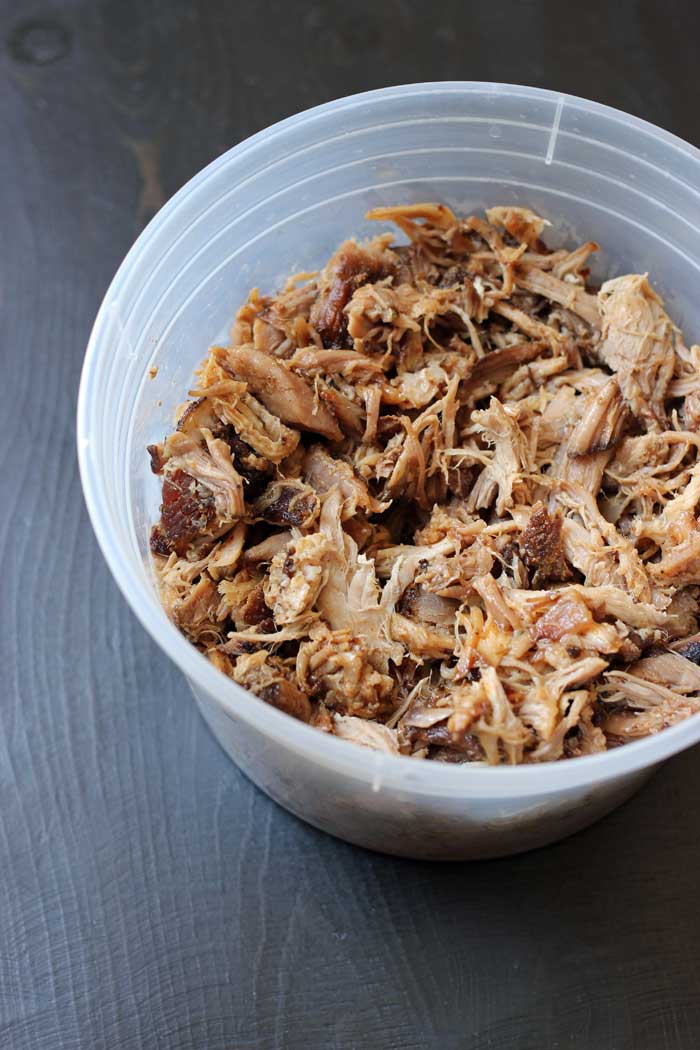 Day 28
Breakfast: Whole Grain Cinnamon Rolls
Lunch: Mac and Cheese
Dinner: Best Ever Slow Cooker Pulled Pork sandwiches and tacos
I've cooked four batches of pulled pork over the last week, for videos, so I got a pretty shot with the good camera. Video coming soon.
So, there you have it. It was a good week, but I'm looking forward to getting well and getting back to regular meal planning.
How is the pantry challenge going for you?