I can't believe we're already finished with Week 3 of the Pantry Challenge. So far, so good. Here's how we did this past week.
It rained almost the entire week. Not something we normally experience in San Diego. While I'm thankful for the precipitation, I am so thankful for the sunshine that finally broke through on Friday afternoon!
The weekend has been a weird one, being a holiday and all, so I am a little late in posting this report. But, since tomorrow is the Monday that will feel like a Sunday, I decided not to worry about it too much.
My Pantry Challenge Plans
As I mentioned earlier, I plan do to this Pantry Challenge all the way through the end of January. I officially started my reporting the Sunday before New Year's. Only ten more days to go!
My general plan is to spend only half of our monthly budget (currently set for $1000/month for the new year) by shopping my pantry and freezers before I go to the store. I've focused on making more things from scratch and making good use of leftovers.
I'm not sure if I will really squeak in under $500, but I think it will be close.
How you can join in:
Here are some of the ways you can participate in the Good Cheap Eats Pantry Challenge for 2019:
Pantry Challenge 2019: Week 3 Update
Despite the rain, it was a pretty good week. We were able to use up some more things from the fridge, make good use of leftovers, and keep our grocery spending fairly low.
I consider this the doldrums week of a Pantry Challenge, the time when I notice my kids are hungrier and I feel uninspired in the kitchen.
To combat this, I wasn't afraid to have my daughter bake up two batches of Gramma John's Crispy Chocolate Chip Cookies to get us through. I also gave my 14yo carte blanche on the crackers, one of his favorite snacks.
We also had a burger lunch out; something we've not done all month is eat out, so it was time.
In case you missed it, here's our Week 1 Update. And Week 2. Here's what we ate this week: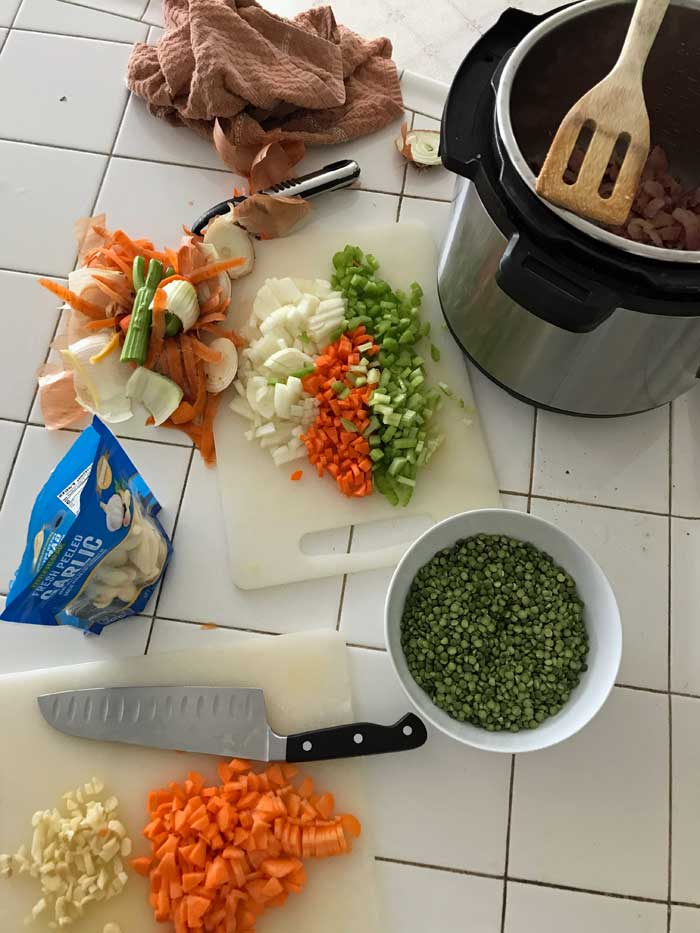 Day 15
Brunch: Breakfast Burrito Bar
Dinner: Grilled Chicken, Rice, Vegetables
Sunday lent itself to brunch. It was not by design, but it's how it worked out. I'm totally fine with that, particularly on a day when I do a lot of meal prep.
Somehow I didn't think to take pictures of breakfast or dinner, but I did get a shot of my Split Pea Soup that I prepped on Sunday. So yummy!
Day 16
Breakfast: Fried Eggs and Toast
Lunch: Soup and Bagels, Bagel Sandwiches
Dinner: Burning Love Mashed Potatoes with Sausages, Eggs, and Broccoli
Monday was rainy and full of school doings with the kids. I was busy all day and we didn't eat until almost 8!
Dinner turned out to be less than I had hoped. Somehow the kid I assigned to peel potatoes didn't peel enough, so when I was prepping dinner, I realized people would leave the table hungry. I cooked up a package of sausages and fried some eggs to make sure people left the table full.
I like Burning Love Mashed Potatoes without sausage, I think.
Day 17
Breakfast: Toast and Jam
Lunch: Wonton Cups, similar to Samosa Cups, but with different fillings, Salad
Dinner: Oven Tacos. I use a Homemade Chipotle Taco Seasoning Mix.
Tuesday was an at-home day, but it rained and felt blah. We had sourdough toast with the best raspberry jam. Costco has this French organic jam that is amazing. I stocked up over Christmas.
For lunch I used up the leftover wontons we had as well as some random meats from the freezer (cooked pork and breakfast sausage). I also baked up some frozen appetizers I had leftover from NYE.
At dinner time, I made a few pans of Oven Tacos. These are a favorite with the people here. 24 isn't quite enough for 8 people, however, so kids also ended up making quesadillas and burritos.
Day 18
Breakfast: Oatmeal Bar with Toppings
Lunch: Soup and Bread
Dinner: Burrito Bowls
Another busy, rainy day. We ate leftovers and fairly bland colored foods.
Though this wild rice soup from Week 1 is still amazing! Will need to recreate that again. I heated up the last container from the freezer.
Day 19
Breakfast: Eggs and Toast, Special Coffee Drinks
Lunch: Pork and Sauerkraut with Sausage and Boiled Potatoes
Dinner: Chicken Tikka Masala and Coconut Rice
By Thursday I was done with the rain and the sickness I've been fighting all week. I couldn't handle another bean or soup dish, so I dug out my 30-minute cookbook for inspiration.
Lo and behold! I had all the things for Chicken Tikka Masala. Soooo yummy and just what we needed to mix things up a bit.
I had to make my own garam masala but it worked out okay. Yay!
I had leftovers that I froze. The kids and I will have them for lunch this week.
Day 20
Breakfast: Oats and Toast
Lunch: Hamburgers out
Dinner: Grilled Sourdough Pizza and Caesar Salad
Friday was sunny and bright so we celebrated with an easy lunch out and then made our regular Grilled Sourdough Pizza.
I had found a few bagged salads on clearance at Ralphs, so that made for an easy side dish.
Day 21
Breakfast: Cereal and Fruit
Lunch: BLTs and salads
Dinner: Chicken Enchilada Casserole, Rice, Beans
Saturday, Bryan and I were filming some more cooking videos so the kitchen was busy all day. The kids had cereal while we worked.
Then we broke for lunch with BLTs on bread I bought on clearance.
Told you — doldrums week.
Dinner was a quick enchilada casserole. If you've got the chicken cooked — I poached chicken in the Instant Pot — the casserole comes together in less than 45 minutes.
So there ya go. All in all, it was an okay week. It wasn't the most stellar, but I think I took enough kitchen breaks to give me a little stamina to get through this last ten days.
How is YOUR pantry challenge going?