The Pantry Challenge is on! This month we're focusing on what we have, to use it up and save money.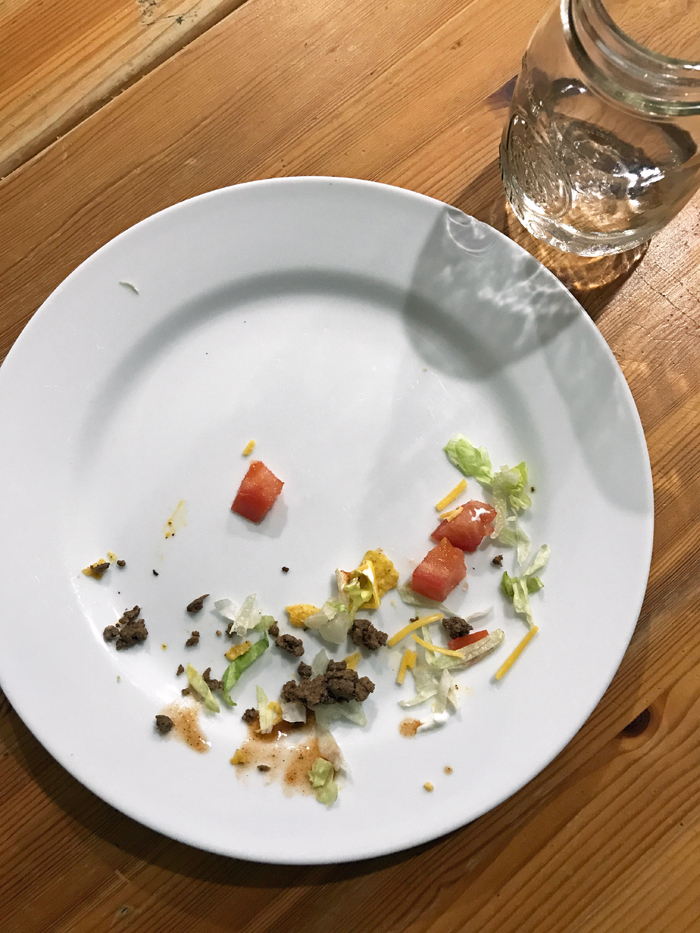 Winter problems for food bloggers are not that it's cold, but that the days are short, therefore the light is fleeting. Since it's dark and rainy outside, it didn't occur to me to take a picture of dinner until it was basically over. Hope it's not too tacky to show you my (almost) empty plate.
It was taco night, and it was delicious.
No, I didn't leave anything behind. I'm tracking my calories, so there's no way I was leaving those two bites behind. In case you were wondering, three homemade taco supremes are about 500 calories. And totally worth it.
In other news, no, you didn't miss yesterday's post. I was just too sick yesterday to think about opening my computer. I drank copious amounts of tea and worked on expanding my book list for the year. I feel a little better, at least not worse, today, so here's hoping yesterday was rock bottom.
The Challenge is going along fine, despite my being under the weather. We've done some buffet meals and some leftovers. The girls served breakfast this morning, and Bryan helped prep dinner tonight, so we're still eating homemade even though I'm not operating at full capacity.
I did run to ALDI yesterday for eggs, produce, dairy, and a few ingredients I knew would make the week easier. Our total for the month is well over $100, but that is still far below my target so I'm okay with it, especially being sick.
Here's what we enjoyed these last two days.
Pantry Challenge 2018: Day 7
Breakfast: Bacon Buns, Cereal, and fruit
Lunch: Burrito Bar (I had a salad)
Dinner: Grilled Chicken, Quinoa, Steamed Broccoli
Pantry Challenge 2018: Day 8
Breakfast: Mix and Match Muffins with ginger, apples, and cranberries; Chicken Sausages; Orange Juice
Lunch: Burrito Bar (I had Quinoa Salad)
Dinner: Tacos
As always, thanks for sharing the Pantry Challenge with your friends. The more the merrier!
What did YOU cook up?