The Pantry Challenge is on! This month we're focusing on what we have, to use it up and save money.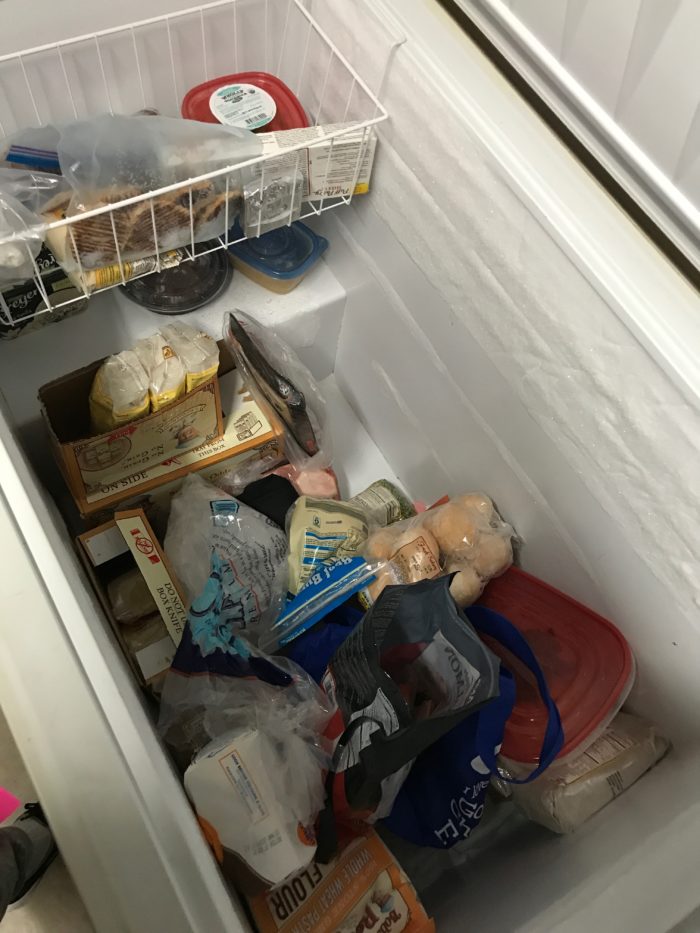 Whew. We are almost done, people! The pantry and the freezer are both looking fairly bare. I'm tempted not to buy too much right away just so we can clear away the little hodge-podge bits that are left.
The freezer contains mostly baking ingredients and whole grains as well as some desserts that I would really like to get rid of. Kids may have a sugar fest in the next few days.
The pantry is to the dregs, yet there are still some random bits, like the black eyed peas I never used in gumbo and never even opened, and the new bags of couscous and barley. I don't really want those items to get lost in a sea of new items, so I need to make a plan to use them.But, I'll admit; the natives are getting restless. My husband keeps asking when it's going to end. Not that he's been starving, but whatever.
Yesterday was Bryan's birthday, so he took the afternoon off to celebrate. We ended up having both lunch and dinner out which made it super fun and a nice little vacation day.
The weather was gorgeous so we went to one of our favorite burger restaurants. Most of the kids had never been there before since it's often a date night place.
Chipotle took care of dinner which is a good thing. My cold is not getting better!
So much so that I let the kids have birthday cake for breakfast. Yes, really.
At lunch time, I thawed the last bag of rolls and some Split Pea Soup I made awhile back. Not many of us like Split Pea Soup, so I also made a Bean and Rice soup for the kids.
This afternoon I popped into Ralphs for pasta, cream, and bread. I'm just not feeling well enough to be too creative. This cold is kicking my tail. Again.
So, dinner was a nice Italian pasta meal and Bryan will have cream in his coffee tomorrow. One of those small pleasure that helps you get out of bed in the morning. Know what I mean?
Pantry Challenge 2018: Day 29
Breakfast: Eggs, Yogurt, Granola, Leftovers
Lunch: Birthday Lunch out
Dinner: Birthday Dinner out
Pantry Challenge 2018: Day 30
Breakfast:  Birthday Cake
Lunch: Bean and Rice Soup, Split Pea Soup, Rolls
Dinner: Quick Meat Sauce for Pasta, green beans, Garlic Bread
Just one more day, people! As always, thanks for sharing the Pantry Challenge with your friends. The more the merrier!
What did YOU cook up?