The Pantry Challenge is on! This month we're focusing on what we have, to use it up and save money.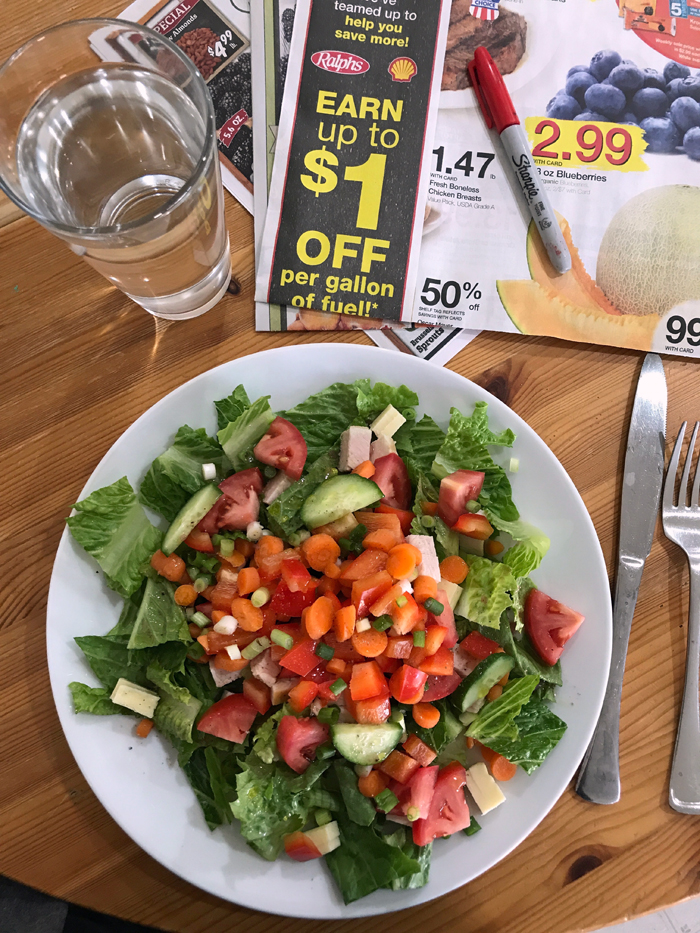 Yes, I ate my lunch while reading the grocery ads. During a Pantry Challenge. Let's call it window shopping, shall we? I didn't see any screaming deals, though Katy messaged me on Instagram to point out that the chicken was a good deal. Which it is! But, I bought five jumbo flats at ALDI last week for 99cents. Beat Ralphs by 48 cents a pound!
Technically, our Pantry Challenge started on the 29th of last month which was the last day I went grocery shopping, but I'll only be blogging the January days. Here's what we had today, using up what we have on hand.
I haven't yet done my food inventory; I got caught up with school planning for the new semester. Oh my. Gonna be a wild ride until June.
I also caught my husband's cold. So far it's remained a tickle in my throat. I'm hoping I can beat it back. Ain't nobody got time to be sick!
Here's what we've eaten the first two days of the challenge.
Day 1
Breakfast: bagels, cereal, fruit
Lunch: leftovers from NYE Mocktail Party
Dinner: grilled cheese sandwiches, leftover soup from Sunday lunch
Day 2
Breakfast: oatmeal, sauteed apples, fried eggs or Skillet Eggs
Lunch: for those away from home – leftover Bolognese and Spaghetti Squash from Saturday dinner; for us at home – nachos with ham (a teen boy's idea) and/or salad with deli turkey meat (my idea)
Dinner: pot roast with carrots and potatoes, green salad
I forgot about the pot roast until lunch time and then popped it in the slow cooker on high. Dinner will be late, but I'm hoping it will be good. Will report on how we use the leftovers tomorrow.
What did YOU cook up?