The Pantry Challenge is on! This month we're focusing on what we have, to use it up and save money.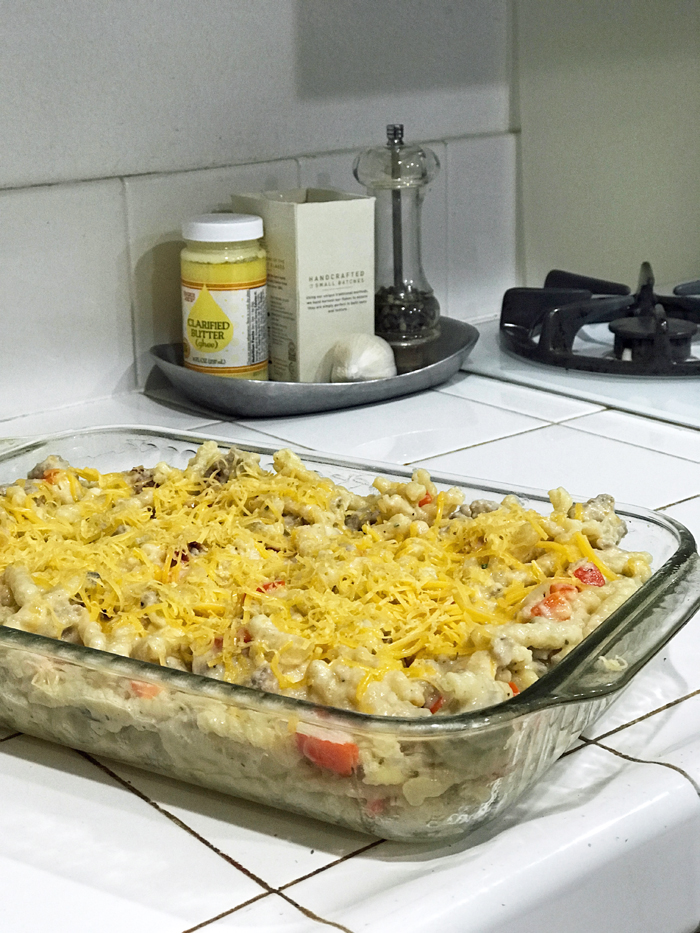 Today's update is going to be short and sweet since I have a Psych episode and half a glass of wine waiting for me. Also nursing a possible sinus infection.
Also, enjoying a full 24-hours of rain which you know Southern California could always use, except where the fires were. Which of course means landslides for those poor people. Sigh.
Anyhow, if you follow me on instagram, you already know that I broke the cardinal rule of freezer cooking. I have two containers of sauce that I *think* are either cream of chicken or chicken gravy. I'm not exactly sure, but I used 4 cups up tonight anyway.
After thawing and tasting, and with my compromised olfactory organs, decided it was close enough. My original meal plan was to make a pork loin or cut it into chops, but it still hadn't thawed since Saturday. Fridge must be cold.
So, I started digging in the freezer and found the aforementioned sauce and some sweet Italian sausage. I knew I had one package of small pasta and so I made this Sausage Noodle Casserole but with a bunch of substitutions, namely the mystery sauce, bulk sausage instead of links, and instead of mozzarella, I used a combination of cheddar and Boursin that I bought on clearance that needed to be used up. It was delicious!
Boom. Crazy dinner that could have been a train wreck, but wasn't. That's what I'm talking about!
Pantry Challenge 2018: Day 9
Breakfast:  Chocolate Chip Banana Bread and fresh fruit for the kids, Skillet Eggs for me
Lunch: Kids had Chicken Enchiladas from the freezer. I had a salad. Brown baggers in the family took leftovers
Dinner:  Sausage Noodle Casserole, Easy Garlic Green Beans
As always, thanks for sharing the Pantry Challenge with your friends. The more the merrier!
What did YOU cook up?