The Pantry Challenge is on! This month we're focusing on what we have, to use it up and save money.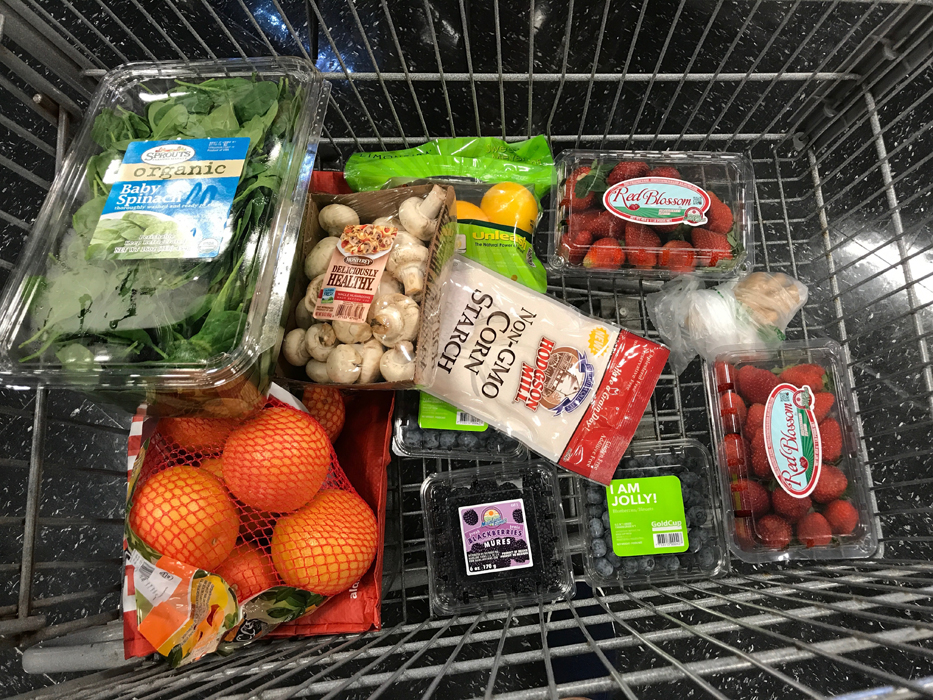 So, yes, I did end up going to the store today. But, I didn't spend that much, and I only bought fresh produce (like I said I would) and cornstarch (which I mentioned in today's live Q&A). We go through a lot of food and, therefore, a lot of fresh produce. My fridge is just not big enough for the amount of produce to last us any length of time. So…
I headed to Sprouts to get a few things: the berries that were on sale (3 or 4 for $5), lemons and ginger (because I'm sick), grapefruit that were 50 cents each (not sure that's great, but whatever), mushrooms and spinach because those are like staples here. They had other great things on sale, like red bell peppers for 50 cents, but I'll wait until we use up the 6-pack we have. Also: the cornstarch. 
We're set for milk and cheese, but eggs are down to less than a dozen. I don't pay Sprouts prices on eggs, so we'll see how long I can hold out before we need more.
I ended up spending about $20-something dollars at Sprouts. I need to check the receipt since I also bought some homeopathic cold remedies, too. Those don't count towards the grocery budget.
Using things up!
From the freezer: we've used up cooked steel cut oats for my breakfast and two loaves of marked down breads that I served for lunch today.
From the fridge: lots of leftovers. I think that with tonight's pot pie, we've eliminated most, if not all of the leftovers. I think I'll be ready to do an inventory.
From the cupboards: various half-eaten boxes of crackers, crispy rice cereal.
Pantry Challenge 2018: Day 3
Breakfast: For mom: fried eggs, oats, sauteed apples. For kids: cereal and eggs
Lunch: For those away from home – leftover Bolognese and Spaghetti Squash from Saturday dinner or leftover pot roast from last night. For those at home: Stone Soup and bread from the freezer.
Dinner: Date night for the parents; Beef Pot Pie made with last night's leftover pot roast for the kids; Stone Soup for the kid who doesn't like Pot Roast.
Snacks: cheese and crackers, rice crispy treats
As always, thanks for sharing the Pantry Challenge with your friends. The more the merrier!
What did YOU cook up?