The Pantry Challenge is on! This month we're focusing on what we have, to use it up and save money.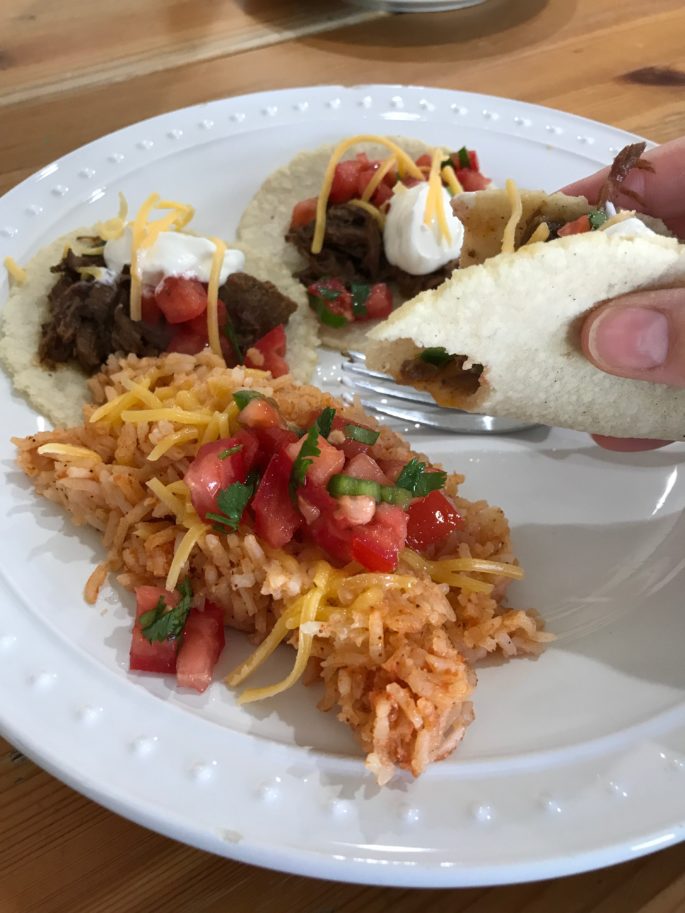 So, it's official. I'm sick for the second time this month. Not thrilled by that realization. I've drank a full quart of sparkling water and two quarts of tea. I've taken elderberry tablets. I've rested (sorta). Hoping this flees quickly.
That said, I also did some cooking. We are nearing the very end of our protein supply. I've got a few beef packages in the freezer yet and a pork loin. There are beans and tuna in the pantry. Should be an interesting three days!
Today I got the slow cooker going pretty early to make Barbacoa Beef. Later I cooked some very old broken black beans in the pressure cooker that remarkably turned out really well. Bryan made Homemade Corn Tortillas and I mixed up some Pico de Gallo while Mexican Rice cooked on the stove. So, basically lunch was really good.
I worked today knowing that if I get worse I won't be able to meet some deadlines, so it wasn't the usual chilled out Sunday.
For dinner, we had a Sausage and White Bean Stew that I'll be sharing soon. It was kind of like an Italian chili. Really yummy.
Coming up tomorrow will be soup an leftovers and Bryan's birthday dinner. I think we'll go out, but the Birthday Boy hasn't decided on that yet. Later in the week we've got stuff for Carne Asada and something with ground beef. Usually I do tacos or pasta with ground beef if we don't have enough for burgers (which we don't). However, we've had lots of Mexican food lately and we're all out of pasta, so it will be interesting.
Here's to the final stretch of the Pantry Challenge!
Pantry Challenge 2018: Day 28
Breakfast: Fend-for-yourself (toast, yogurt, granola, eggs, leftovers)
Lunch: Barbacoa Beef, Mexican Rice, black beans, Homemade Corn Tortillas, and Pico de Gallo
Dinner: Sausage and White Bean Stew, rice, vegetables
As always, thanks for sharing the Pantry Challenge with your friends. The more the merrier!
What did YOU cook up?