The Pantry Challenge is on! This month we're focusing on what we have, to use it up and save money.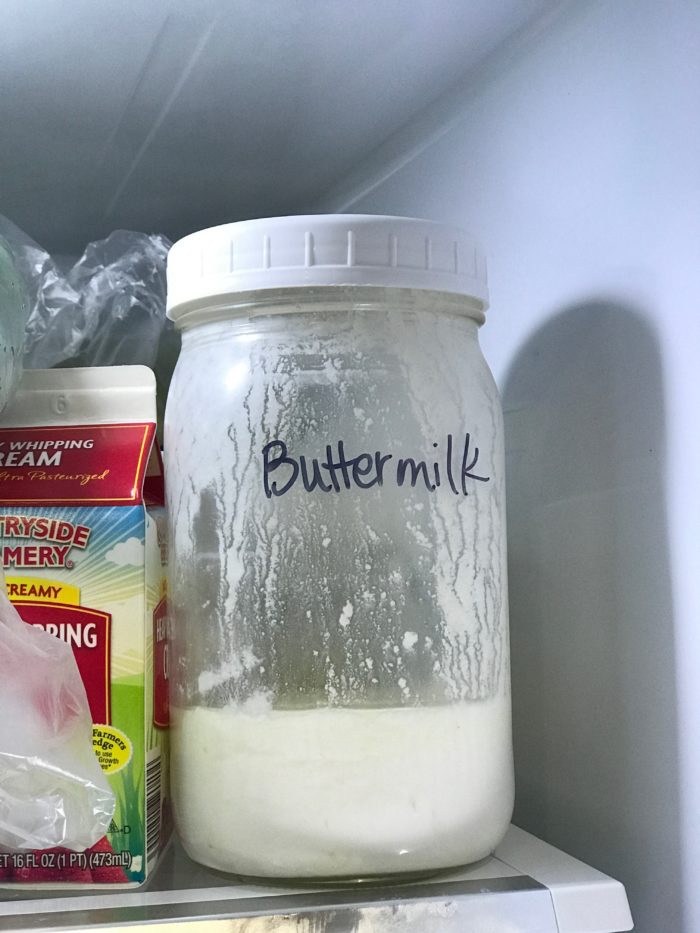 Today was another productive day. I didn't do a ton of cooking, but I feel like we made some headway with this whole challenge thing.
Jessica making buttermilk.
I am culturing my sixth batch of buttermilk tonight. This will be my 4th quart from the same packet of starter.
After doing a little reading I found out that heating the milk may not be necessary. The theory is that store-bought milk (at least in my neck of the woods) is already pasteurized.
I know that overheating will make it curdle slightly. That happened with batch #2. No likey.
The last few times I've heated the milk ever so slightly just to get the chill off it. Our house is incredibly cold, even with the furnace going, so I figure it needs a fighting chance. I pour it in a quart-size canning jar, add about 1/2 cup of buttermilk. (I honestly haven't measured, but eyeballed it.) Then I screw on a plastic cap and place it on the top of the fridge, wrapped in beach towels.
The next morning, I've got thick and luscious buttermilk!
If you buy buttermilk on a regular basis, you need to give this a try. Here is the starter I used for fresh batches, but my research says you can use commercial buttermilk as well. I do use whole milk because I like the texture, so I can't vouch for thinner milks.
Clearance shopping = adrenaline rush
After physical therapy today, I stopped at Ralphs. I wanted to pick up some more produce to get us through the next week and I had a coupon for $5 off. I also had a coupon for free yogurts.
Thursdays seems to be the day that Ralphs marks down items about to hit their dates. I bypassed the meats though there were lots to choose from; I've got meat at home! But, I did score on some baked goods. And none too soon!
I also got the veggie tray for free after the coupon I had. I ended up spending about $20 at the store.
Baking bread.
Tonight one of the boys asked when the Challenge was ending. He said he finds he's hungry more often. When I asked for what, he said: bread. So, I'm really glad I found breads for 50 cents and a dollar per package. Obviously, baking six loaves in the last two days, I can't keep up with the demand.
Am going to start another batch of dough tonight though, just to keep it coming.
Speaking of bread, my sourdough starter is not looking fabulous. I used some of the discard in a few loaves the other day, but it doesn't really seem to be taking off. Not sure what I did wrong. My friend Kate is going to send me some of her starter next week.
Pantry Challenge 2018: Day 25
Breakfast: Eggs and toast, berries
Lunch: Fend-for-yourself
Dinner: Oven-fried Chicken, Sweet Potato Fries, Veggies and Buttermilk Dressing with Dill
As always, thanks for sharing the Pantry Challenge with your friends. The more the merrier!
What did YOU cook up?