The Pantry Challenge is on! This month we're focusing on what we have, to use it up and save money.
We are a participant in the Amazon Services LLC Associates Program, an affiliate advertising program designed to provide a means for us to earn fees by linking to Amazon.com and affiliated sites.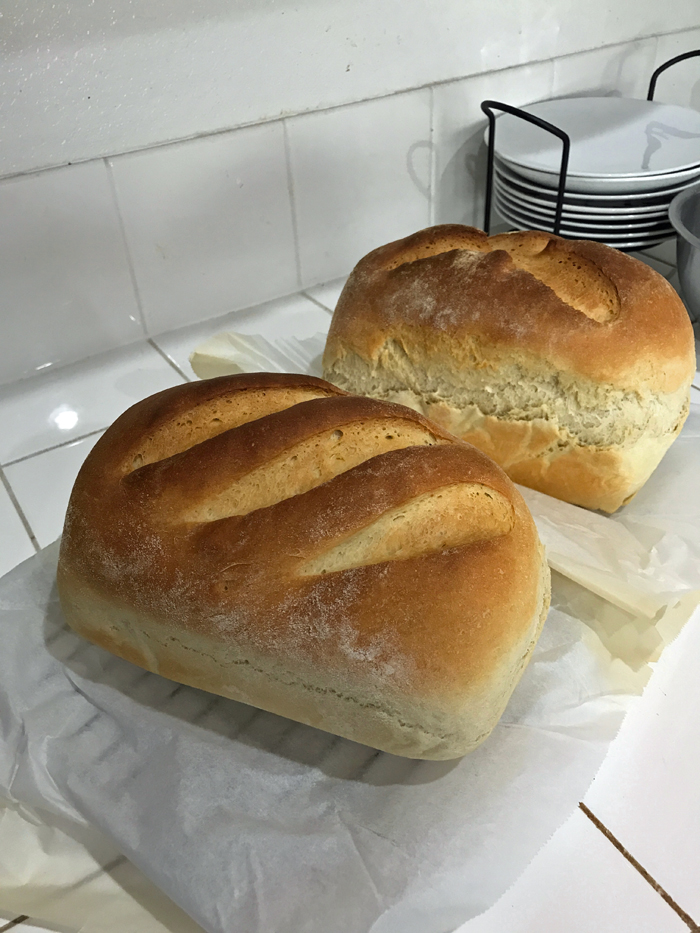 Today was a day of kitchen work and experiments. I realized after having take-out both Friday and Sunday that we were probably getting low on easy meals. Time to step things up!
I told you that I started a sourdough starter on the 17th. Six days in, it's not quite ready. Mainly because I chose to make a starter without yeast. My friend Kate is the Sourdough Diva and her starter and subsequent baked goods don't have commercial yeast, which I guess is supposed to be better for you.
But the work, people, to build this starter. Aiyiyi!
It takes some time. Last night I made a batch of White Mountain Bread dough (from this book) and stashed it in the fridge to slow rise. I also decided, after feeding the starter, that I wasn't going to discard the discard. I fed it and used it in a double batch of dough from a recipe in this book. Altogether I baked four loaves of bread today. Two are sliced and ready for tomorrow's lunches.
While I had two loaves of bread baking and more dough rising, I also pulled together a breakfast casserole using the pre-prepped ingredients from the other day. The girls sliced berries and my eldest praised the blueberries I bought from Sprouts on Sunday.
I was kinda on a roll. So next I prepped Tuna Macaroni Salad. Gosh that stuff is good. FishBoy17 wouldn't stop eating it! We had that and sandwiches on fresh bread for lunch.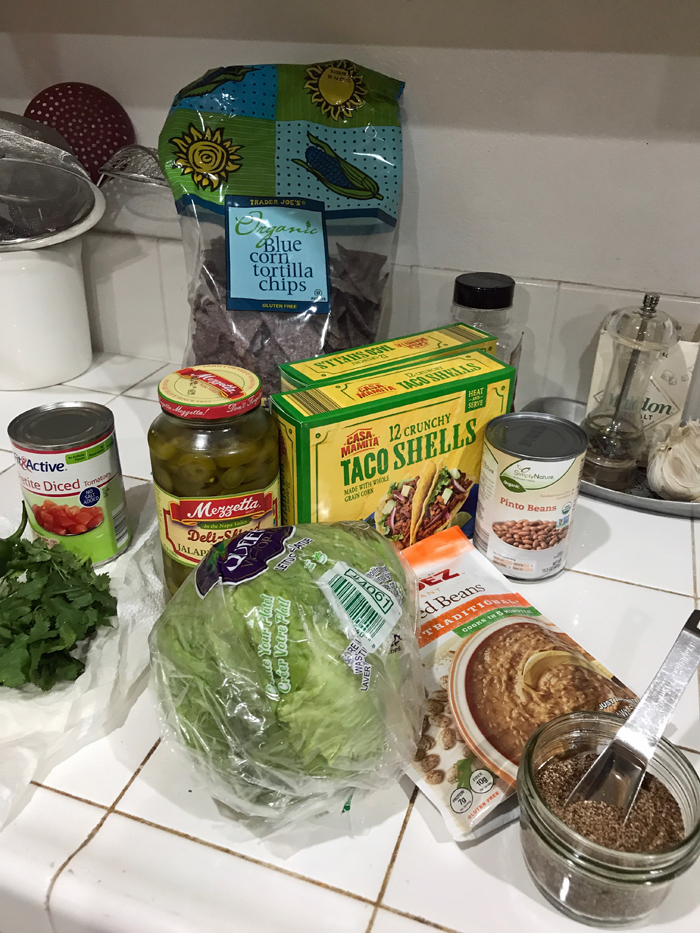 I made a taco bar for dinner, including the Oven Tacos we had last week. I made Super Easy Salsa in the food processor.
In fact, the girls and I gave my food processor a work-out. It comes with three bowls, so you can make three kinds of things (at least) before having to wash everything. We made salsa in the small bowl, shredded lettuce in the medium size bowl, and shredded cheese in the big bowl. Boom. Easy prep.
Bryan was thrilled with the Oven Tacos, so much so that he balked when I suggested he make Homemade Corn Tortillas. Usually I have to discourage him from doing so because I have other stuff in mind. Today he only had eyes for Oven Tacos! Ha!
We experimented with the "instant refried beans" I got free at Ralphs last month. I thought they were totally gross. One of the boys liked them. It's not a product I will buy again, though I normally love their products, particularly their chips and salsa verde.
You win some, you lose some. Mostly it was a winning day, though, so YAY!
The chicken and pork roast that I pulled from the freezer are taking a long time to thaw, so I'm not exactly sure what's on the menu tomorrow. Sandwiches is as far as I've gotten. We're low on lots of basics, so we'll see how far we can squeak by. As I'm typing, I think I'll go cook a pot of rice. Then I can make Fried Rice tomorrow and that will be pretty easy. Am I right?
Pantry Challenge 2018: Day 23
Breakfast: Potato Sausage Breakfast Casserole, fresh berries
Lunch: Sandwiches and Tuna Macaroni Salad
Dinner: Taco Bar
As always, thanks for sharing the Pantry Challenge with your friends. The more the merrier!
What did YOU cook up?