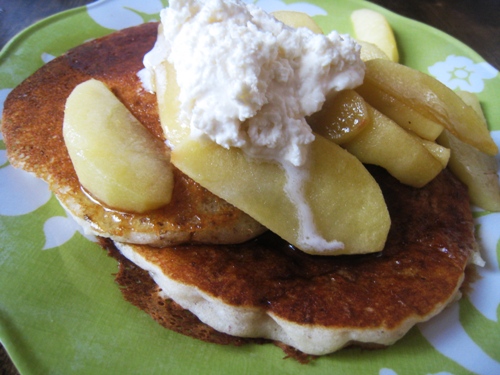 Breakfasts have taken a hit around these here parts since my youngest was diagnosed with an egg white allergy. I'm not cooking the morning meal in the same way and, truth be told, I've let it go to "fend for yourself" mode on a number of occasions.
While flax seed meal works incredibly well in most of my baking, certain members of the family aren't warming to it as quickly as I had hoped. I'm confident we'll work it out, especially if we have more breakfasts like this one.
This particular morning was rocking! We had a wealth of farm fresh apples as well as cream and maple syrup. How could you go wrong?
I sauteed sliced apples in butter and a little maple syrup while the KitchenAid worked on maple cream. My lack of good multi-tasking resulted in "a happy accident." Instead of whipped maple cream, we had whipped maple butter, and it was fantastic when paired with pancakes and cooked apples.

Recipe: Pancakes with Apples and Maple Butter
Ingredients
1 batch Basic Pancakes
2 Tablespoons butter
3 apples, peeled, cored and sliced
2 Tablespoons maple syrup (divided usage)
1 cup heavy whipping cream
Instructions
In large skillet melt butter. Add apples and toss to coat. Cook over medium high heat, stirring frequently until beginning to soften. Stir in 1 tablespoon maple syrup. Continue cooking until desired tenderness.
For maple butter, combine cream and 1 tablespoon maple syrup in large mixing bowl. Soft peaks will form, then stiff peaks, then a thick texture will develop, almost like butter.
Serve apples and maple butter with hot pancakes.
.
How do you like YOUR pancakes?