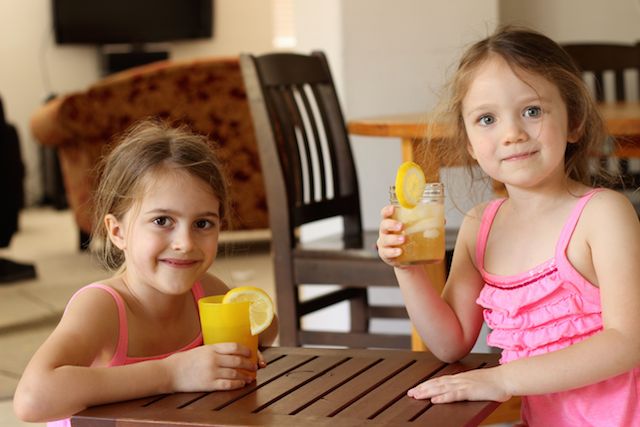 Growing up in Southern California, I enjoyed having a Meyer lemon tree growing in my backyard. This type of lemon is the typical home garden variety. They are super juicy and sweet, making them not so great for commercial distribution.
But oh are they good! As a kid, I ate them plain. They were that sweet.
Obviously, the fact that our backyard tree produced hundreds of lemons every year made it a very frugal food for our family. While you may not have a lemon tree growing in your backyard, lemons can still be a budget item. When we lived in Kansas City, I even found Meyers marked down for pennies at Walmart.
Just keep your eyes open for a good deal, then stock up. Lemon juice freezes wonderfully. Freeze it in small portions so that you don't have to thaw a gallon to make a batch of lemonade. And if you use fresh zest in your recipes, just freeze a bag of already-been-juiced lemon halves. When you need some for a recipe, just grate the zest off the frozen peel like you would fresh.
This is the recipe we made often in our family, right out of my mother's battered and worn Pillsbury Family Cookbook, circa 1971. It's probably the best lemonade I've ever had. My sisters and I have fond memories of making it together.
Old Fashioned Lemonade
Just 3 ingredients is all you need to make this refreshing old fashioned lemonade
Ingredients
4

lemon

washed and dried

3/4

cup

granulated sugar

4

cup

water
Instructions
Thinly slice the lemons and remove any seeds.

Place in large pitcher or bowl. Pour sugar over lemon slices. Let stand 10 minutes.

With potato masher or large spoon, smash the sugar into the lemon slices, squeezing out as much juice as possible.

Stir in the water and mix thoroughly, pressing fruit to extract more juice. Serve over ice, with a few of the lemon slices as garnish.
Notes
Store in the refrigerator if you have any left!
Nutrition
Calories:
176
kcal
|
Carbohydrates:
48
g
|
Protein:
1
g
|
Fat:
1
g
|
Saturated Fat:
1
g
|
Sodium:
15
mg
|
Potassium:
149
mg
|
Fiber:
3
g
|
Sugar:
40
g
|
Vitamin A:
24
IU
|
Vitamin C:
57
mg
|
Calcium:
36
mg
|
Iron:
1
mg