The following content is sponsored by National Milk Mustache "got milk?" Campaign: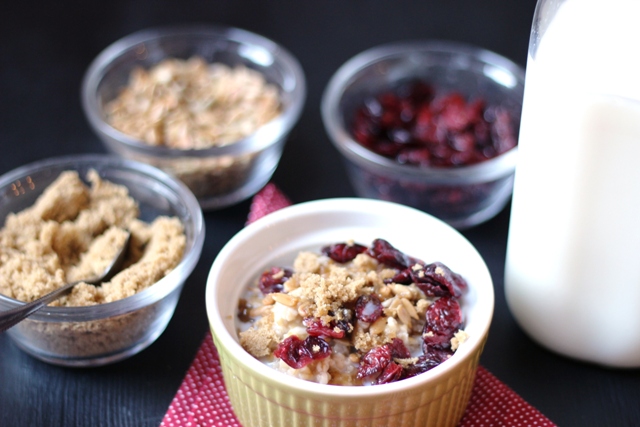 I welcomed my Saturday morning risers with an oatmeal bar. An oatmeal bar?! Are you kidding me? No, no, I'm not.
It is surprising, though, especially when you consider that I never had oatmeal as a child. My parents didn't like it, so they never served it. Instead they served wheat and malt hot cereals that shall remain nameless. Blech.
Thankfully, my children will never have to serve their children those hot cereals, because I have taught them to love oatmeal. In fact, my husband and kids are huge oatmeal fans making an oatmeal bar a total win. Not only is it super economical, but it's also super nutritious.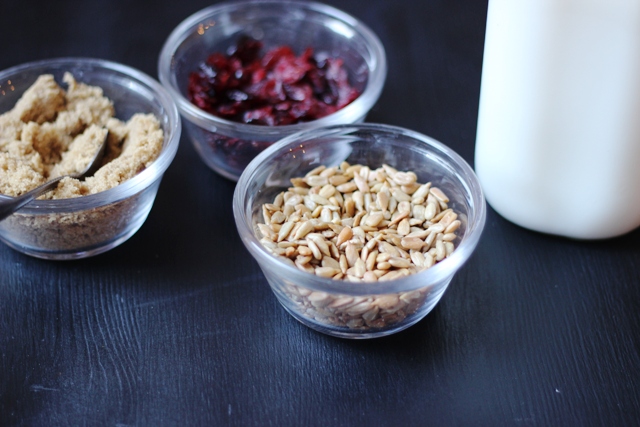 Serve an Oatmeal Bar
I make a big batch of oatmeal and then offer a variety of toppings. Those toppings include: milk, brown sugar, dried cranberries, and sunflower seeds. Since we're a mostly nut-free household due to my daughter's peanut and walnut allergies, I'm turning to seeds like sunflower or pepitas to add crunch to different dishes. It works quite well as a nut-free substitute.
While you can certainly serve this dish already assembled like they do at the cafes and juice bars, your kids may enjoy decorating their oatmeal themselves. Mine do. You can vary the dried fruit or use nuts instead of sunflowers, but this combination is pretty tasty. Trust me. (The recipe is at the end of this post.)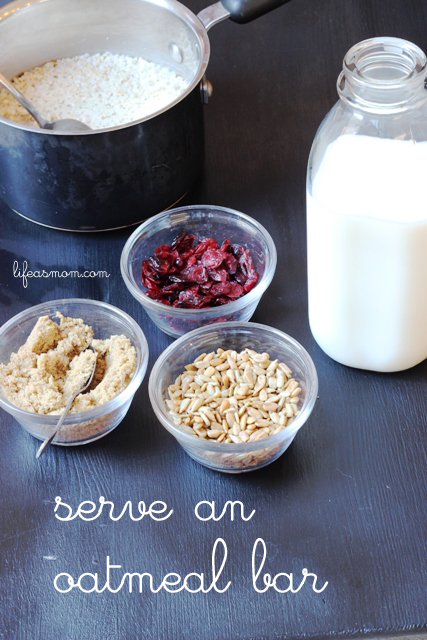 As you know, over the last few years, I've been taking baby steps to improve our eating habits and clean up our diet. Serving my family a whole grain breakfast is one way that I try to help them start the day off right as well as keep with our/my good eating goals.
Got milk?
Sure, we sometimes have donuts, but I try to include whole grains, fresh fruit, and some protein, like a glass of milk. I didn't know this until recently, but an 8-ounce glass of milk has 8 grams of protein – more than an egg has! That helped me erase some of the mom guilt I'd been feeling over not cooking eggs everyday. My kids go through gallons of milk every week, so I know they're getting their protein.
Yep, we're good.
Why does it surprise me still how often we run out? I think we're up to four or five gallons each week.
Here are some other things that surprised me. According to got milk?
Milk – including fat free or lowfat milk – is a breakfast powerhouse, packed with nine essential nutrients, including high-quality protein.
Research shows milk drinkers and breakfast eaters have more nutritious diets and tend to be leaner than non-milk drinkers and breakfast skippers.
Eating breakfast is an important part of maintaining a healthy weight. In fact, research suggests that eating breakfast, especially a cereal and milk breakfast, is an important strategy to maintain a healthy weight.
85% of Americans fall short of milk recommendations.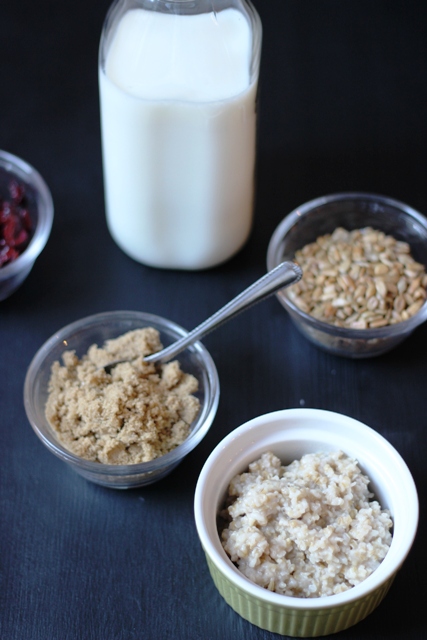 Currently, I'm testing out different ways to cook oatmeal. My husband has a favorite oatmeal that he gets at a smoothie shop. We're working to recreate it. The shop uses soy milk to cook the oatmeal, but since I'm trying to avoid soy in our diet, I'm happy to use milk for part of the cooking liquid. Yum!
Build a Better Breakfast
Walking the journey toward better eating is all about taking baby steps. First I cut out the pop. Then I worked on reducing our processed sugars. Next, I started buying organic produce and GMO-free items. It's definitely been a process over the last few years. I've done extensive reading and learned that we can improve some things about our food supply and how we produce it as well as how I shop and feed my family. I'm not where I want to be, but am constantly looking to improve my family's diet and make it good and cheap in the process.
If you're looking to audit your own family's eating habits, you can use MyPlate as your guide. When you include lowfat and fat free milk at breakfast, help bring your kids' actual intake closer to the recommended milk consumption. The USDA also has a fun My Plate Kids' Place which provides games, activity sheets, and information to help kids take ownership of their diets.
For more inspiring breakfast ideas, check out the Better Breakfast collection on Kitchen Play.
That's one area where I'm really proud of my own kids. [WARNING: Mom Brag Alert] After years of talking about healthy eating and changing our diet to reflect better choices and purchases, my kids are now exercising their choices well. My eldest makes a smoothie with milk, yogurt, and fruit every day after working out. My younger kids are constantly telling me why we should eat this thing instead of that, or explaining why they are making certain food choices.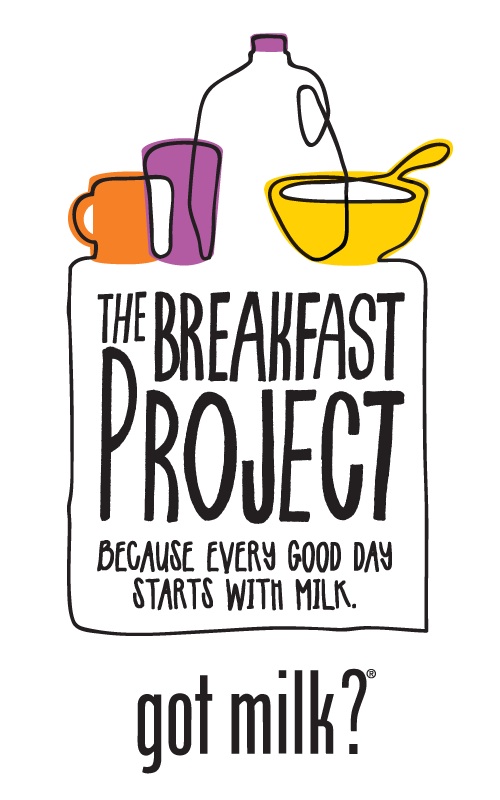 Don't give up heart, Mamas! You really can teach your kids to eat well. If you're not sure where to start, visit The Breakfast Project for more tips and recipes to build a better breakfast plate, following MyPlate, getting you closer to meeting US Dietary Guidelines for daily milk consumption.
Join me and the got milk? team for a Twitter party on November 19, 2013 at 7:00 PM ET. You can register for the party here. Follow me @fishmama. The party will be tagged #MyMilkMyPlate. I hope to see you there!
Cranberry-Sunflower Oatmeal
Ingredients
1 1/2

cup

steel cut oats

1/2

cup

milk

1/2

cup

dried cranberries

4

tsp

sunflower seeds

4

tsp

brown sugar
Instructions
Cook the oats according to package directions. Use a bit less water if you like a firmer texture.

Spoon the oatmeal into a small ramekin.

Top with 2 tablespoons of the milk.

Layer on the cranberries, sunflower seeds, and brown sugar.

Serve with milk on the side to drink with the oatmeal.
Notes
Nutritional values are approximate and are based on 1/4 of the recipe. Refrigerate leftovers promptly and use within 4 days.
Nutrition
Calories:
238
kcal
|
Carbohydrates:
45
g
|
Protein:
5
g
|
Fat:
6
g
|
Saturated Fat:
1
g
|
Cholesterol:
3
mg
|
Sodium:
20
mg
|
Potassium:
166
mg
|
Fiber:
4
g
|
Sugar:
25
g
|
Vitamin A:
49
IU
|
Calcium:
55
mg
|
Iron:
1
mg
What's YOUR favorite way to start the day right?
Disclosure: I have been compensated for my time spent writing. Scientific data and statistics have been provided to me by National Milk Mustache "got milk?" Campaign. Kitchen Play has played an integral part in our partnership. All opinions are my own.