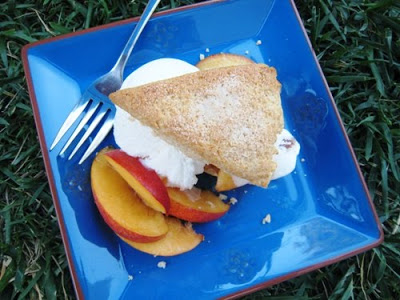 As you know I am a HUGE fan of buying in-season produce. The quality is the highest and the price is the lowest at that time. Talk about good and cheap eats!
Some fresh produce is easier for us to enjoy than others. Strawberries don't last long in our house. Either we eat them fresh or I freeze them for smoothies later on. Peaches and nectarines, however, are another story.
My husband and I both love to eat them fresh, but canned or cooked? Eww. Like a peach-scented slug. I'll pass, thanks.
But, come June and July, peaches and nectarines are in abundance. Recently I bought them for $0.49 a pound and then a co-worker gave FishPapa a big bag from his tree. Our fruit basket runneth over.
So, since we don't love peach pie or peach jam, two great ways to enjoy fruit, we've found some alternatives. One of them is this recipe.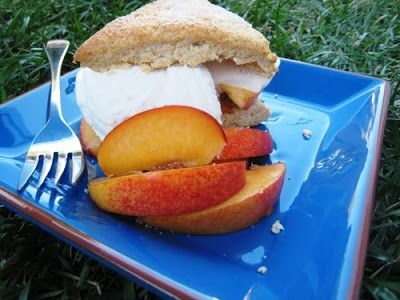 Nectarine – Peach Shortcakes with Butter Pecan Ice Cream
Shortcake
1/2 cup whole wheat flour
1 1/2 cups unbleached flour
1 Tablespoon baking powder
1/2 teaspoon salt
6 Tablespoons butter, cubed
3/4 cup half and half
sprinkling sugar
Topping
6 peaches or nectarines, sliced
1 Tablespoon sugar
juice of 1 lime
Butter Pecan Ice Cream
Preheat oven to 425°. Cover baking sheet with parchment or a silpat mat. In food processor, combine flours, baking powder, and salt. Add butter cubes and pulse until coarse crumbs are formed. (If you don't have a food processor, simply cut in the butter with a pastry blender or two knives.) Stir in half and half to form a stiff dough.
On a lightly floured surface, turn out dough and pat into an 8 inch circle. Cut into 8 wedges. Move wedges to prepared sheet, evenly spaced. Bake for 20 minutes or until golden. Cool on rack.
Meanwhile, combine fruit, sugar, and lime juice in a medium sized mixing bowl. Allow juices to mingle.
To serve: Slice shortcake wedge in half horizontally. Top bottom half with peach slices and a scoop of ice cream. Place top of shortcake over ice cream.
How do you like YOUR peaches?
Want the dish on delicious ways to act your wage? Subscribe to GCE in a reader or via email.