You can make your Pantry Challenge successful and save money on groceries when you take a pantry inventory and make a meal plan.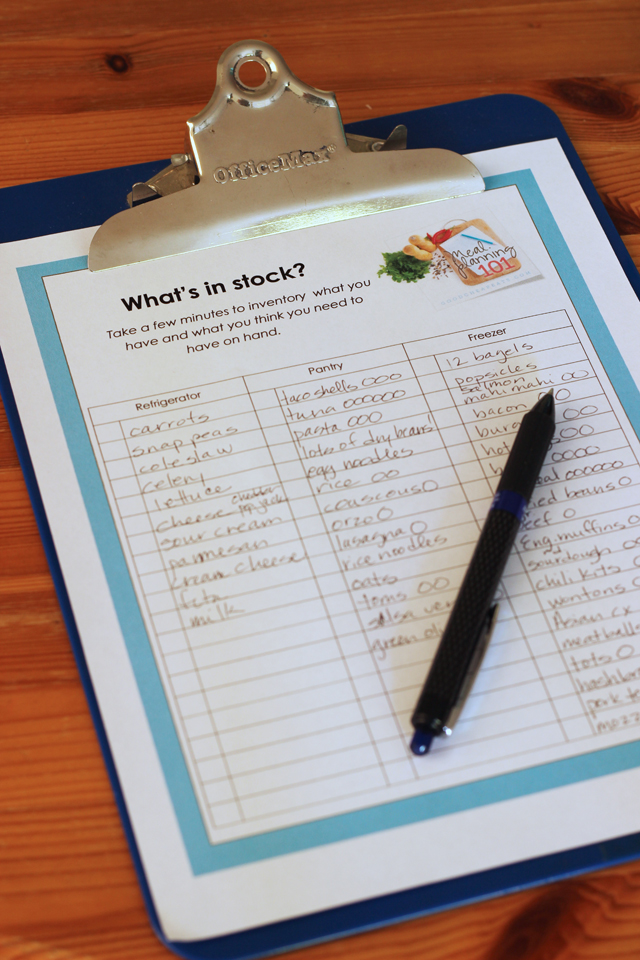 If you read yesterday's newsletter or last night's post, you know that my mad skilz with math told me that if we didn't do a Pantry Challenge for the rest of the month, we would go over budget. While we have got some wiggle room in our general funds, it's better just to buckle down, don't you think?
Honestly, once upon a time we were super strict with our finances. We had to be because Debt was breathing down our neck. Then we paid it off, and we relaxed. We've still been able to do big things, like pay off the Blue House and go to Europe, but if we buckle down once again, maybe we could do even bigger things.
So, a Pantry Challenge, it is!
This isn't my first rodeo when it comes to doing a Pantry Challenge. I know that I need to have four things to make it work:
an inventory of what we have
a meal plan
creativity
sheer determination
Yesterday afternoon, I took care of the inventory and the meal plan.
–> Get ready: Preparing for a Pantry Challenge
A Pantry Inventory
If you know what you have already, you'll most likely feel a lot better about relying on your stores instead of buying more. All too often we forget about things we've purchased and just buy more. Frequently doing a pantry challenge can help you make sure you use up those treasures.
Here's what I found in my freezer, fridge, and cupboards:
Freezer inventory
1 dozen bagels
lots of frozen lemon juice
popsicles and ice cream
salmon and mahi mahi
bacon
hamburger patties x2
hot dogs x2
butter x4
lots of oatmeal and popcorn
refried beans and plain cooked beans
ground beef
English muffins
sourdough rounds
chili kits x2
wontons and potstickers
Asian chicken x2
cooked rice
meatballs
tater tots and hashbrowns
pork tenderloins x 2
mozzarella cheese x3
pumpkin puree
–> Get set: Printable Pantry Inventory Sheet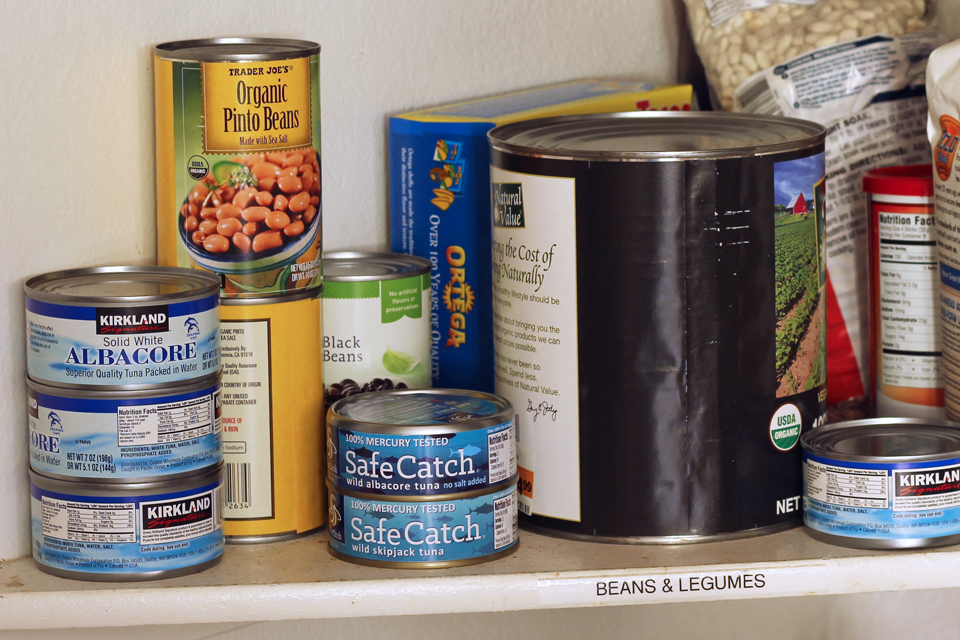 Pantry inventory:
taco shells x3
tuna x6
pasta x3
dried beans
egg noodles
rice (two kinds)
couscous
orzo
lasagna noodles
rice noodles
oats
diced tomatoes
salsa verde
green olives
pineapple chunks
English muffins
dried cranberries and cherries
chocolate chips
Refrigerator inventory:
various condiments
1 head lettuce
carrots
celery
snap peas
coleslaw
milk x2
whipping cream
buttermilk
feta
cheese: cream, feta, cheddar, pepper jack, parmesan
sour cream
A Pantry Challenge Meal Plan
Once I knew what we had on hand, I could make a meal plan. I'm thrilled that we can get through the next nine days pretty easily. I will most likely need to buy milk, eggs, and fresh produce. We can make the rest stretch if we're careful. We aren't going into this with a lot of cheap staples.
Here are the meals I've planned for the rest of June:
Breakfasts
English muffins with butter, jam, honey, sunbutter
Eggs and Bacon with Hashbrowns
Lunches
Potstickers, Wontons, and Vegetable Fried Rice
Chili Kits – Chihuahua Chili
Bagel Turkey Sandwiches
Alfredo Pasta
Tuna Casserole
Dinners
Are you doing a Pantry Challenge?
What's YOUR strategy for making it work?