What are your must-have kitchen tools? What helps you the most in getting food on the table quickly and deliciously?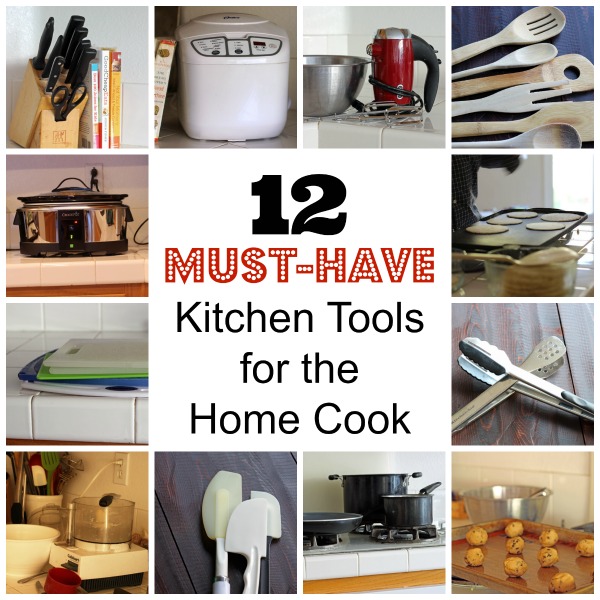 When we went on our big European vacation this fall, I got to do some cooking. In both Collioure and Paris, we had vacation apartments with small kitchens. While they weren't "fully equipped", they did the job for me to prepare home cooked meals instead of paying for pricier restaurant fare.
Whether home or abroad, there's a huge gap in pricing between home cooked foods and what you buy at a restaurant or even the drive-through. You can almost always make better for cheaper at home — if you have the right tools.
I married a man who believes in tools. He's a carpenter by trade and knows first hand how frustrating it can be to do a job with inadequate resources. What takes ten hours with a hammer and nails can take him less than two — with better results — with a nail gun.
The same holds true for the home kitchen. If you've got the right tools, you will do your job better and you'll enjoy it more. If you enjoy it more, you'll do it more often. If you do it more often, you'll save money on food costs.
In other words, if you give a cook a great mixer, you'll eat a tastier cookies more often!
It took a little reflection, but I narrowed down my twelve favorite, must-have kitchen tools. These are the ones that if I had to get rid of everything else, I could still enjoy all kinds of good eats and feel like my work in the kitchen was efficient.
I present these as my ideal kitchen tools, any of which I think would make a great gift for the fledgling cook or someone setting up housekeeping for the first time.
12 Must-Have Kitchen Tools for the Home Cook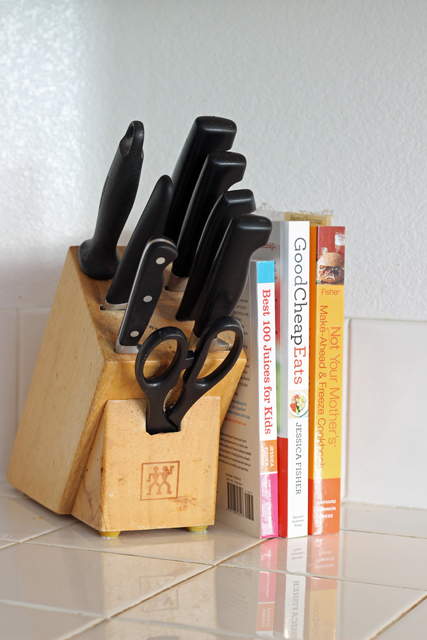 A good set of knives (with a knife sharpener)
We invested in a good set of knives when we got married, and they still serve us well. We have several JA Henckels knives as well as an Ergo Chef set I received to review years ago.
There's nothing more annoying than a dull knife to slow down your kitchen prep. My husband regularly sharpens our knives with this knife sharpener that we bought at Lowe's or Home Depot. You can also have them professionally done.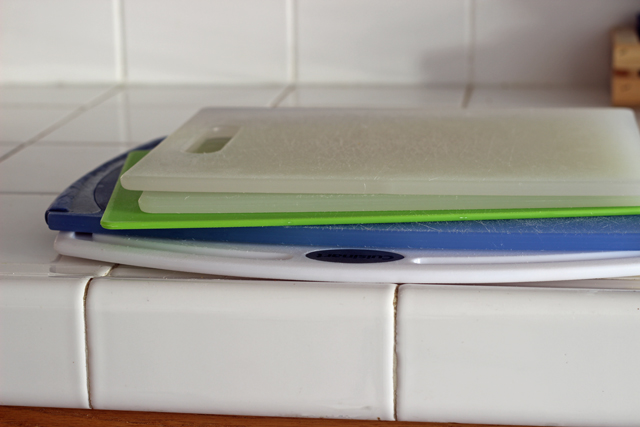 Different colored cutting boards
I use colored boards for produce and white cutting boards for meats. This helps me prevent cross-contamination. I sanitize them on a regular basis and replace them when they get funky.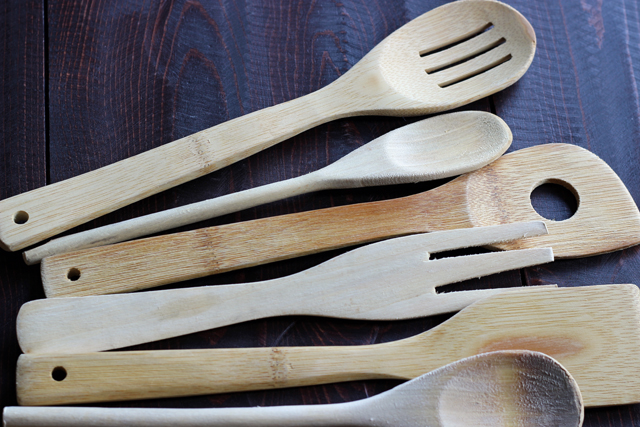 Wooden spoons
I love wooden spoons for stovetop cooking and hand mixing. They're durable, yet cheap enough that I don't mind chucking them with they get dull and worn.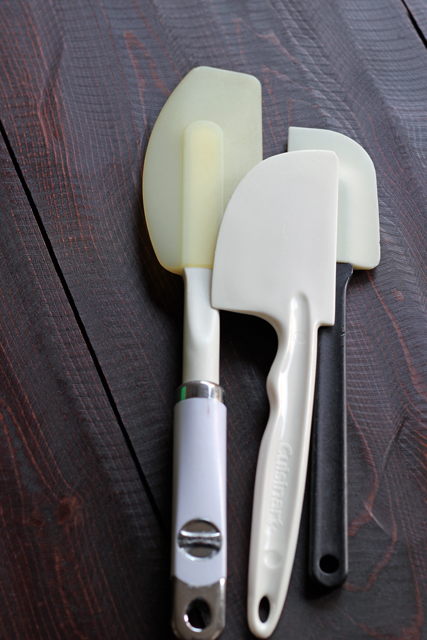 Rubber spatula/scraper
We always called this a spatula when I was growing up, but some folks call it a scraper. (I also call a pancake turner a spatula, so I understand the potential for confusion. I use rubber spatulas all the time to use up every last bit of something I'm mixing up. Waste not, want not.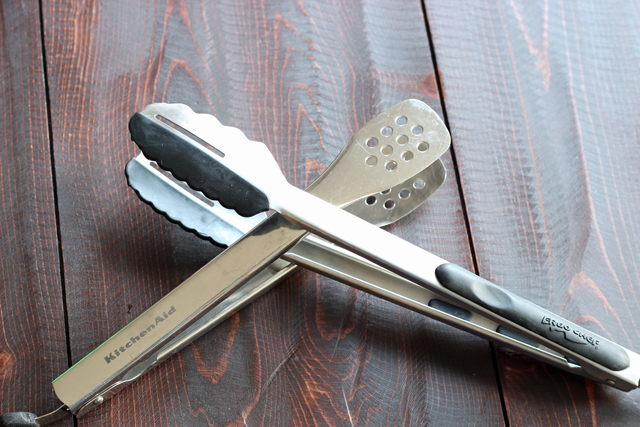 Tongs
I use tongs for turning meat in the skillet or on the grill, moving things around in a pan, and tossing salad. I have a few different ones, some heat-resistant rubber coated and some plain metal. I really like the Ergo Chef tongs.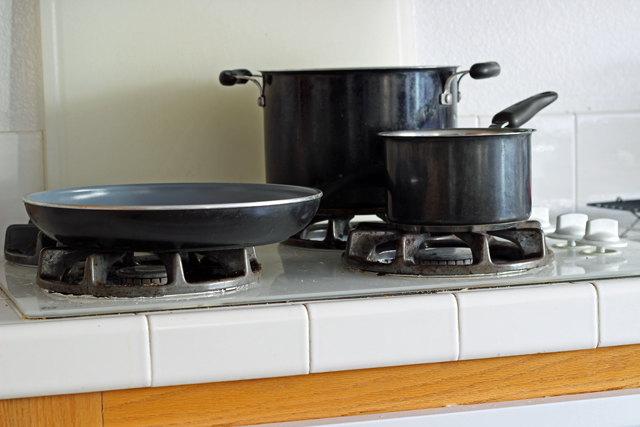 Decent set of pans: skillet, sauce pan, large stockpot
I didn't realize how important this trio was until we cooked dinner without two of them. Our hotel apartment in Paris only had a sauce pot. We made it work, but sautes or pasta were a challenge to pull off in a 3-quart saucepan. The skillet-sauce pan – stock pot trio is the way to go. The main pan set that we use is one we got free from KitchenAid when we bought our refrigerator 13 years ago. I've added a Green Pan to the mix for my nonstick skillet.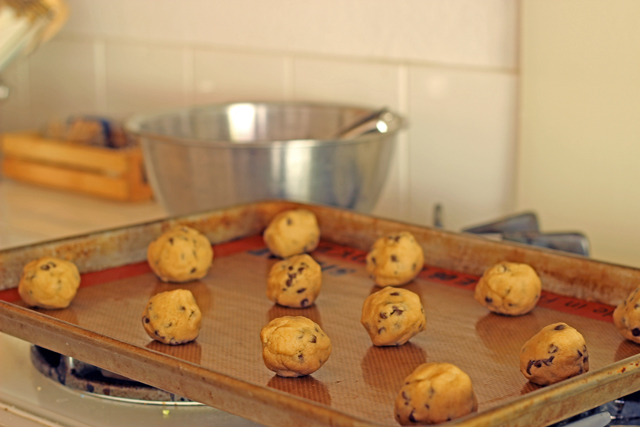 Sturdy Sheet Pans
I never loved baking until I got these sturdy sheet pans. They don't buckle in the oven and they are huge. No worries about cramped batches of granola or cookies. I love these pans. Love them.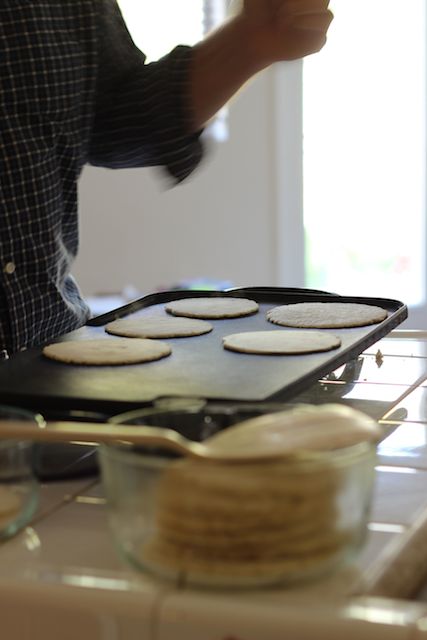 Electric griddle
For our family of 8, an electric griddle is a must. We use a few times a week to make quesadillas, chimichangas, tortillas, pancakes, and grilled cheese. My husband thought I was nuts the first time I brought one home. (I had a sale and a coupon to justify the purchase.) He was quickly won over. It cuts the time tremendously in bulk cooking. We bought this Presto Electric Griddle awhile back to replace our old one.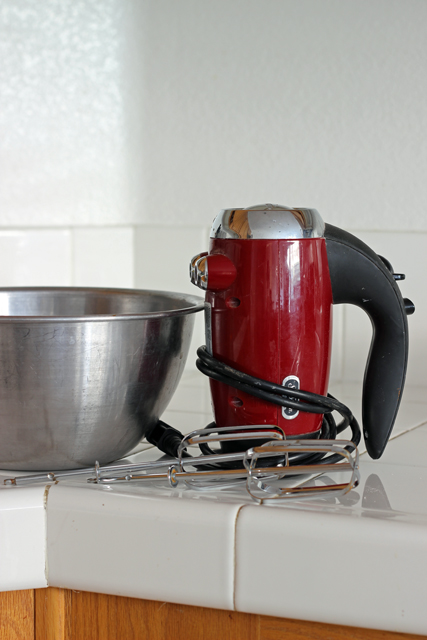 Hand Mixer and a good mixing bowl
I know that some people would opt for a stand mixer over the more traditional hand mixer-mixing bowl combo, but it's the one I prefer. I always thought I wanted a KitchenAid stand mixer — until I got one as a gift. It's bulky and heavy and not as easy to clean or store as the hand mixer. If you do get a stand mixer, choose one with a moveable head. Mine doesn't tilt back so it's a little difficult to add ingredients from a bowl.
The last hand mixer I had lasted about 18 years; I only replaced it because the beaters were falling apart and I couldn't find replacements. I bought this one on clearance at Target a few years ago. And I have two favorite stainless steel mixing bowls, like this one, that I bought at a kitchen store a million years ago.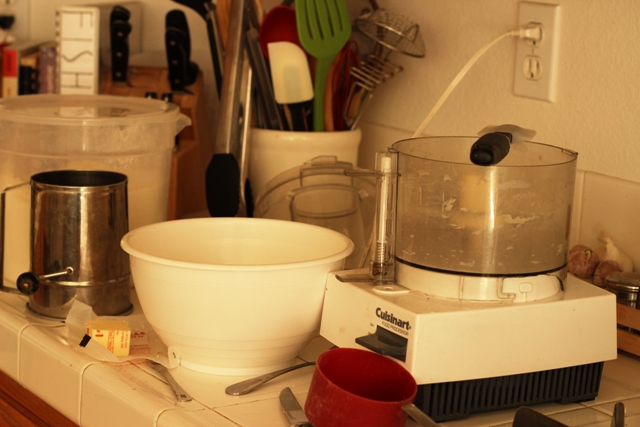 Food Processor
I love my food processor. I've had one since we got married twenty years ago. I use it for making scones, pie crust, and other pastries, shredding cheese and vegetables, blending salsa and soups. I also really love my blender and my immersion blender, but if I could only have one, the food processor would be it.
Don't spend money on the bells and whistles. The straightforward, basic Cuisinart will do you well. Yes, my bowl is broken in several places, but it's still safe to use. I have the bells and whistles on a shelf for when this one bites the dust. Which I hope is never. Worst purchase ever.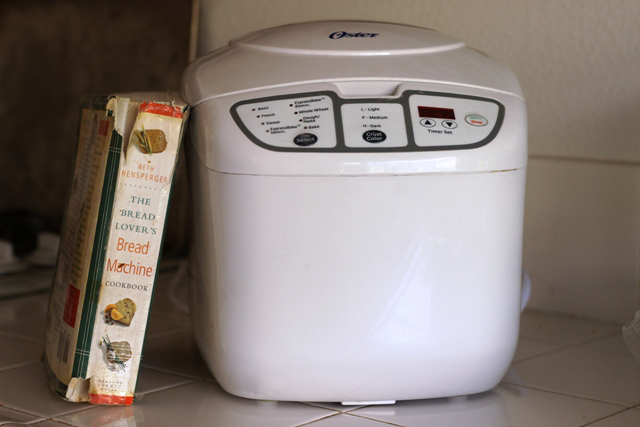 Bread Machine
I first got a bread machine about 13 years ago. I'm on my third or fourth one. They don't last terribly long, but I've also never paid more than $50 for one, so that may be why. We also use it two to three times a week to make pizza and bread and homemade hamburger buns. I'd be very sad without my bread machine. Watch for sales! This one went super cheap last Christmas.
Slow cooker
The slow cooker is the home cook's best friend. Who else can roast a chicken, simmer a vat of pasta sauce, cook tender beans or get a bowl of chili ready while you do something else somewhere else? A slow cooker is a must have, provided you make it a priority to use it.
Pictured above is the WeMo Crockpot. I can turn it off with my phone.
All this talk about kitchen tools and your comments about my kitchen clutter has me really wondering if I could cook with just these tools and be perfectly content. Could I ditch everything else? Hmmm…. I'm going to have to ponder that one.
What are YOUR must-have kitchen tools?