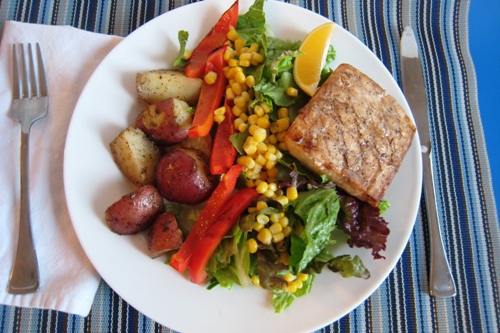 Do you find yourself spinning your wheels as meal time approaches? Do you call hubby to stop at the store again on his way home, for something you forgot to pick up? Do you spend a little too much money on fast food purchases?
Effective meal planning can do wonders for your time, your budget, and your sanity.
Save time.
If you have a plan for the meals you will prepare this week, you won't waste time wracking your brain for a dinner idea or running to the store at the last minute for ingredients you don't have.
Save money.
Planning your meals can help you use what you already have in the pantry, help you avoid the rush-hour drive-thru dash, and help you maximize on grocery store sales that come your way. Carrie points out that you can spend no money if you figure out how to cook with what you already have.
Save your sanity.
When you have tried and true meal plans that you know your family enjoys and that don't exceed your budget, you will rest easier knowing that you're eating well and not overspending.
You also won't have kids barking at your heels for something to eat. When's dinner, anyway?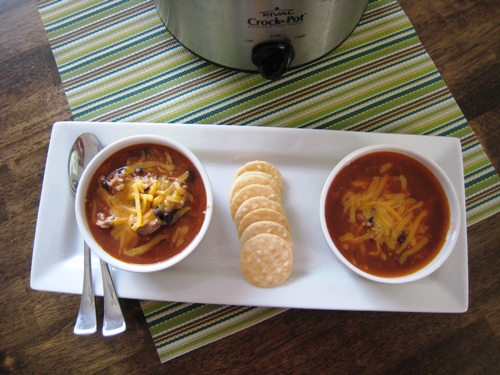 Plan meals that are easy and inexpensive.
As Alyssa pointed out last week, "Saving money in the kitchen requires more strategy that what you may see on TV." Amen, sister. You have to be intentional if you are going to win the Battle against High Grocery Bills. And one of those strategies is planning meals that you know fit the budget.
A meal plan can make your life so much less expensive, as Tammy mentioned, "Instead of wandering in the kitchen wondering what to start for dinner, you will be making it. Instead of waiting until the last minute and either opening cans of something or going out to eat, you will have started dinner in the crock pot or have planned a freezer meal."
I have a few go-to meals that my family enjoys but that don't cost a lot of money. They are simple meals that are filling when times are tight, but they can also be dressed up deliciously when the budget is a little looser.
One of the tricks that I've found to make simple, inexpensive meals more palatable is to make sure that there's a little "extra" involved to make the meal fun.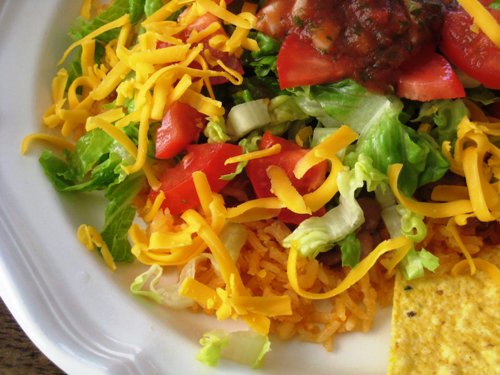 Beans and Rice
During leaner times, we had some variation of beans and rice at least twice a week. This dish is not only filling and inexpensive, but it's one that my kids really like. And it's not complicated.
I cook up about three pounds of dried pintos every 4 – 6 weeks. I freeze the Seasoned Pinto Beans in 2 or 4 cup containers to use as a side dish or as a base for a meal like this. I buy a 10 pound bag of beans which lasts quite a long time.
Feel scared to cook with dried beans? Don't be. Katie will teach you everything you need to know.
I often cook a big batch of Mexican Rice. For the last year or so, I've been using brown rice. Many in my family would prefer that I use white rice because the texture is not the same. Brown rice tends to be a little stickier and not as fluffy. But, it's better for us. If I give my pickier eater a choice, he chooses plain brown rice or rice pilaf instead of the tomato flavored.
I usually serve our beans and rice with a number of toppings, shredded lettuce, chopped tomato, sliced black olives, homemade salsa or pico de gallo, sour cream, avocado, and chips. This is usually dependent on what is on sale and what we have on hand.
Extra: According to hubs, you have to have good salsa to make Beans and Rice fly with your family.
I can easily feed my family of 8 for under $5 with this meal. If you want to dress it up, go all out with the toppings and maybe add some seasoned taco meat or shredded chicken.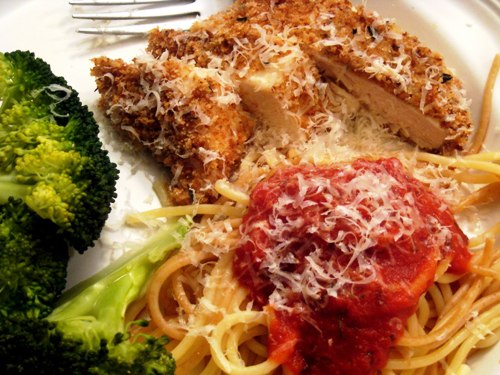 Pasta with Red Sauce
Pasta sales have been extremely plentiful lately, thereby making it a "twice a week" meal. I usually make a big pasta salad one night or lunch and then serve it hot with Crockpot Red Sauce another night. My family can eat somewhere between one and two pounds of pasta at a sitting, so finding the pasta at a low price — or free like I did lately — helps our budget immensely.
We always have at least one side dish of veggies with this meal, often broccoli or green beans. And I often serve a salad and garlic bread as well.
One obvious way to dress it up is to add a few meatballs or some Chicken Parmesan.
Extra: We use real, freshly grated Parmesan cheese. When I've priced out good Parmesan in comparison to the green can, it's not that much more to buy a huge chunk of the real stuff from Costco. You have to have a little splurge to make this frugal business work!
Roast Chicken, Mashed Potatoes, Vegetables
One of my kids' favorite dinners is Roast Chicken with all the fixin's. It's not KFC, it's better!
My grocery stores often sell whole chickens for as low as $0.59 a pound. I buy as many as the limit allows and stash them in the freezer. This is an easy meal to pull together as I often just season the chicken and cook it in the crockpot. The meat is fall off the bone tender. Roasting in the oven is a delicious method, too, resulting in a nice, crispy skin. Either way, I make a quick gravy with the drippings.
When potatoes are on sale, I buy as many as I can manage and often cook and mash them for the freezer. This makes dinner not only cheap, but easy, too. We usually round it out with biscuits and a steamed vegetable.
Extra: My kids love cranberry sauce. They could — and do — eat it all year round. I stock up on cranberries and cranberry sauce at the holidays, so we have enough to last us the entire year.

Soup from Leftovers, Bread
Shaina mentioned last week a number of great strategies for meal planning, including one of my favorites, using up your leftovers in creative ways. As she said, "The best way to use up all the vegetable odds and ends and leftover scraps that weren't accounted for is to plan a meal out of it."
That's why I plan soup for the same week that I plan a large meal with meat, like a roast chicken. The leftover gravy, vegetables, meat, and even mashed potatoes can be combined with chicken broth and additional seasonings to make an amazingly flavorful, not like the can, soup. Leftover rice and beans make a great soup. And Red Sauce is the start of a fantastic minestrone. Soup from leftovers is easy, delicious, and frugal.
Or if you want to redesign your leftovers, combine them in different ways. I've turned roast chicken, vegetables, chips and salsa into a delicious Tortilla Soup that doesn't look like it could be "leftovers."
Extra: Good bread makes any soup meal taste better. I'm delving into Artisan Bread in 5 Minutes a Day, and will be checking out these breads that Katie shared last week.

Grilled Chicken Salad
I love Mandi's idea of planning for more fresh produce in the budget. I am a salad junkie, intent on making sure my kids, boys and girls alike, enjoy eating salads. And since I can buy fresh produce at fairly low prices at Costco and our local health foods store, I'm able to make it work with our budget.
One way that we beef up salads is to add grilled chicken. We live in a fairly temperate climate that allows us to "cook out" all year long. And one meal that my family devours is salad with grilled chicken.
Extra: Good dressing will either make or break your salad. Check out this huge list of homemade dressings that Aimee compiled or test some of my family's favorites: Cilantro-Lime, Yogurt-Dill, ChiChi's Italian, and Homemade Ranch.
Now, that you've seen my five go to "frugal" meals, check out what my camrades in arms in the Battle Against High Grocery Bills are cooking up to help them eat well and spend less.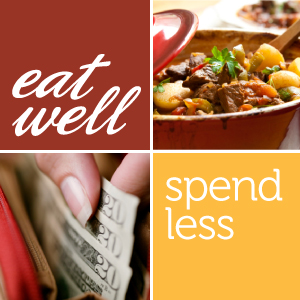 What's YOUR favorite frugal meal?
Don't forget to visit Menu Plan Monday for even more ideas about meal planning.