I love Magic Bars! And believe it or not, they are one of the most versatile cookies you could make this holiday season, especially with sweetened condensed milk on hand.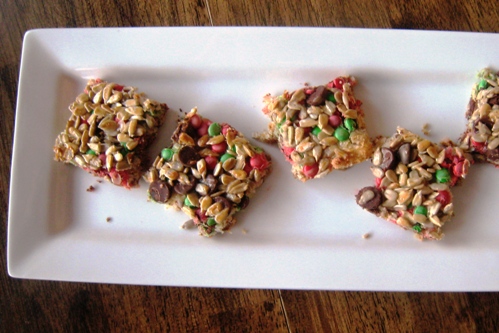 Magic Bars are definitely one of my favorite cookies. When I was pregnant with Baby #6, I ate half a pan. In one day. I also had a doctor's appointment later that afternoon. Dr. Arroyo was not pleased with me. But, when I explained which kind of cookie it was, he totally understood. Totally.
Magic Bars are addictive.
They are also very versatile. Traditionally,a graham cracker crumb and butter crust is layered with chocolate, coconut, and nuts,  and then drizzled with sweetened condensed milk. Bake it all up and what have you got? A gooey, crunchy, sweet that will disappear in a flash.
Last year I experimented with the basic recipe and came up with Double Chocolate Magic Bars. Oreo cookie crumbs, dark chocolate chips, and coconut? Yeah, baby! Those were awesome. And I wasn't the only one messing with perfection. Our Best Bites made a version with cinnamon chips and dried cranberries.
You can totally rock this recipe by changing up your flavor combinations. Here's how:
Crumb layer: choose from graham crackers, shortbread, your favorite cookie, Oreos, or even pretzels
Chocolate: try milk, white, semisweet or dark or use a baking chip like cinnamon, butterscotch, peanut butter, or mint
Goodies: traditionally, this would be coconut and chopped nuts, but you could use dried fruit, pepitas, sunflower seeds, or even small candies, like mini M&Ms. (If you use M&Ms, be sure not to drizzle the milk over them as it causes them to lose their pretty color. Add them on top, instead.)
There's really unlimited  number of combinations that you could put together to make a delicious sweet treat this holiday season.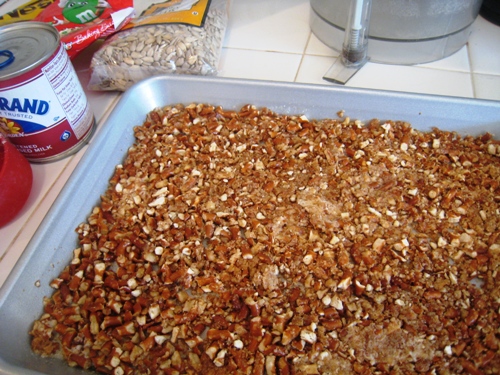 Recipe: Mix and Magic Bars
Ingredients
1/2 cup butter
1 1/2 cups cookie, cracker or pretzel crumbs (graham, shortbread, Ritz, chocolate, etc)
1 cup chocolate or other baking chips (milk, white, semisweet, dark, cinnamon, butterscotch, peanut butter, mint)
1 cup shredded coconut
1 cup dried fruit, seeds, or chopped nuts
1 can sweetened, condensed milk (fat free is fine)
Instructions
Preheat the oven to 350°.
Melt the butter in a 9×13-inch pan in the oven. Add the crumbs and combine with cookie crumbs. Press the mixture lightly into the pan. Sprinkle with the chocolate chips, then the coconut, and then the fruit, seeds, or nuts. Drizzle sweetened, condensed milk over all. Bake for 25 minutes or until golden brown. Cool completely and cut into squares.
To make ahead, store cut cookies in airtight container, separated by layers of waxed paper, and freeze.
Preparation time: 15 minute(s)
Cooking time: 25 minute(s)
Number of servings (yield): 12
Get Baking with a Great Giveaway!
This week Eagle Brand is offering one Good Cheap Eats reader a fabulous Eagle Brand Sweet Secret Recipe gift pack, valued at $100, containing:
Eagle Brand Sweetened Condensed Milk (regular, low-fat and fat-free varieties)
13 x 9-inch Baking Pan
reusable Silicone Baking Liner
a $50 Gift Card to Cooking.com
You'll have everything you need to bake up a storm.
To Enter:

Leave a comment on this post, telling us what you'll be baking this month.
This promotion is open until Sunday, December 11th, at 8 pm PST and is limited to US residents, 18 years or older. The winner will be chosen randomly and notified via email. Please respond within 48 hours to claim your prize. This post will be updated with the beginning of the winner's email addresses. The prize for this promotion is provided by and shipped by Eagle Brand and its representatives. I will not be held responsible for unclaimed or undelivered prizes.
This giveaway is now closed. Congrats to the winner: kevin_gorden61@
But, wait, there's more!
Enter the Eagle Brand Sweet Secret Recipe and Essay Contest (now through December 7, 2011) for a chance to win $10,000. The top finalist in each recipe category (fudge, cheesecake, pie, cookie bar or other) will be posted on the Eagle Brand websites for a nationwide online vote to help decide the winner in February 2012. Very cool!
Disclosure: I have received a Eagle Brand Sweet Secret Recipe gift pack. I have not been compensated to publish positive comments. All opinions are my own.