I don't know about where you live, but it's been hotter than blazes here this summer. Usually I can wear sweats through June and most of July since warmer temps don't hit until August. I think we've been sweating in shorts and tank tops since May. I know: California problems. It's the drought, I tell ya. Little rain and hot weather are not a good mix.
Our home doesn't have an air conditioner. Typically we only need it two days out of the year. I can't afford to run it as much as I'd be temped to this summer, so it's a good thing we don't have it. Ha!
Instead we're keeping cool by other means: opening windows in the early morning and evening to cool things down, preparing easy, quick no-cook meals, and mixing up cool drinks.
It's super tempting when I'm running errands to swing by Starbucks for an icy drink. But, $4 adds up quickly to a lot more than $4. I could make several gallons of homemade coffee or tea for the same price. And homemade is so much better than bottled or coffeehouse drinks. You get to control the sweetener and the contents of the brew. And you can enjoy more for the same price.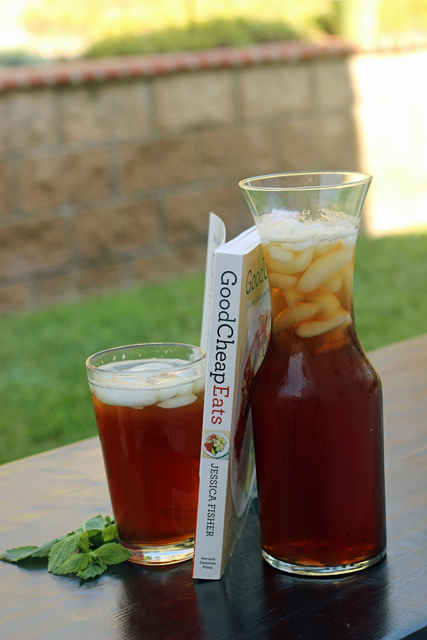 Mix up a batch of this minted ice tea for a delicious and refreshing drink that costs just pennies!
Recipe: MinTea
Ingredients
4 black tea bags
1/4 cup chopped fresh mint
2 cups boiling water
2 tablespoons honey
4 cups ice cubes
Instructions
Place the tea bags and mint leaves in a heatproof glass pitcher or bowl. Pour the boiling water over and steep for 5 minutes. Remove the tea bags and strain out the mint leaves. Stir in the honey until dissolved.
Put the ice in a large thermos. Pour the hot tea over the ice. Serve chilled.
Store the tea in the refrigerator for up to 4 days.
Preparation time: 5 minute(s)
Cooking time:5 minute(s)
Number of servings (yield): About 1 1/2 quarts
If you've been around here for any length of time, you know my heart is with homemade. Not only is it less expensive than commercially-made products, but it's generally healthier and tastier, too. I've compiled over 200 family- and budget-friendly recipes in my latest cookbook, Good Cheap Eats, including this one. You can preorder it now and Amazon (if that's where you buy it) will guarantee you the lowest pre-release price between now and shipping time. I appreciate your support.