Learn how to make these adorable mini apple pies from Life as Mom contributor Janel. What a delicious way to enjoy fall!
This post does include Amazon affiliate links. If you make a purchase through those links, this site is paid a small amount in way of advertising fees.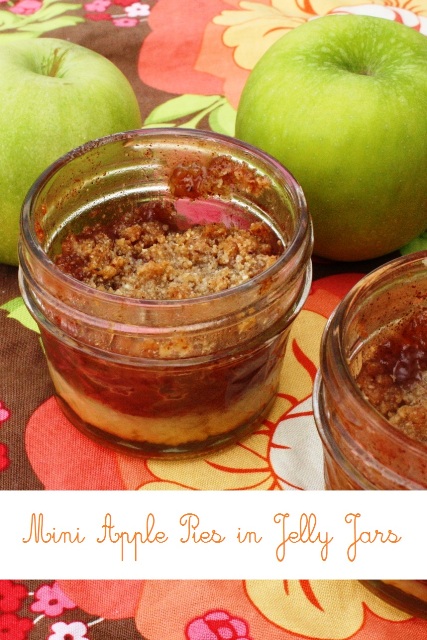 All Photos: Janel
Several months ago, I picked up a 12-pack of 4-ounce Freezer-Safe Quilted Crystal Jelly Jars by Ball at Walmart for $7 or $8. I thought they'd be cute way to package up small batches of lavender milk bath or lavender hand scrub as gifts. Well, I never got around to that and the jars just sat in my garage for months. Well, I've found a fun use for them now — Mini Apple Pies with Almond Crumb Topping!
Are you wondering why anyone would go to the trouble to bake pies in little jars anyway? Well…
They're cute! Kids will love getting their very own jar full of apple pie goodness!
They're portable — just screw on the lid and you can take apple pie with you anywhere. It's a fun way to add a little fall treat to a loved one's lunch.
They're freezer-friendly. Just gently screw on the lids and freeze. Remove the lids and bake as many as you need when you need them.
They make portion-control easier. It's much easier to limit yourself to one jar than it is to limit yourself to just one slice of pie.
They're easy to store the leftovers — just screw on the lid and refrigerate.
In my family, we always kept Apple Pie simple — Gramma John's Pat-in-Pan Crust filled with an apple mixture and finished off with a crumb topping. Simple works well with regular pie, I figured it would work well with pies in jars too. Rather than put crust on all sides of the jars, I followed Fishmama's method for Slab Apple Pie and just patted some crust dough in the bottom of each jar.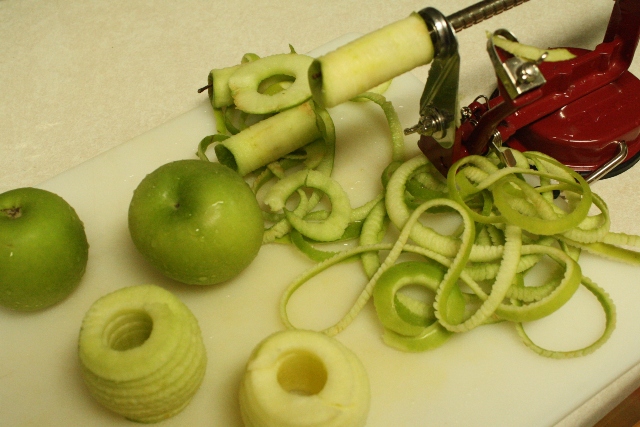 To bake in jars, you'll need to cut up your apples smaller than for a traditional apple pie. I used my Back to Basics Apple Corer / Peeler / Slicer. It cores, peels, and slices the apples quickly. Then, I just cut the apple spiral in half and then into several uniform pieces. Easy peasy.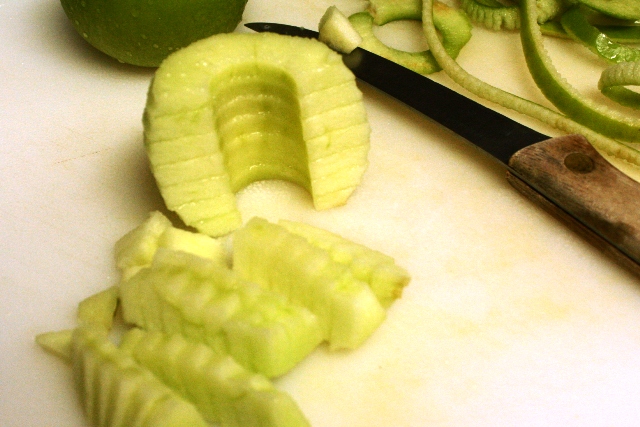 For the crumb topping, a food processor makes this very quick. You'll just want to pulse the topping ingredients together until they look like sand. If you pulse it too much, the ingredients will start to clump into large chunks and then it will be difficult to distribute amongst the jars. So, keep it sand-like.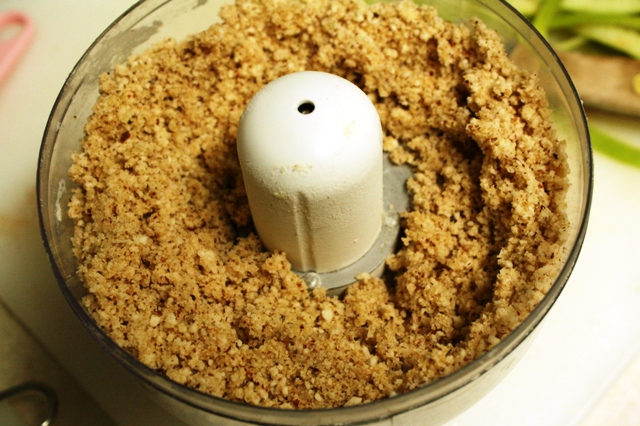 Just layer up the ingredients in the jars. Place them on a rimmed baking sheet to catch any spills while you bake them. Of course, the jars will slide around on the baking sheet so make sure that you hold the baking sheet with both hands. (I only had one oven-mitted hand and almost had a major disaster by trying to hold the baking sheet with one hand. Don't be like me. Use two hands with oven mitts!)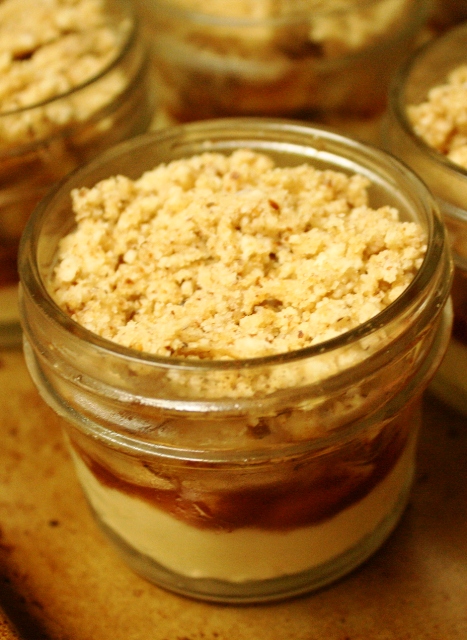 When you remove the pies from the oven, they will be beautifully full. However, as they cool, they'll collapse down a bit. Don't worry about that though — it just leaves a bit of room to add some vanilla ice cream!
Mini Apple Pies with Almond Crumb Topping
Equipment
(12) 4-oz Freezer-Safe Quilted Crystal Jelly Jars by Ball
Ingredients
1

batch

single pie crust

6

Granny Smith apple

peeled, cored, and sliced

1/2

cup

granulated sugar

1

tbsp

lemon juice

1

tbsp

ground cinnamon

1/3

cup

almond meal

or ground almonds - if there are nut allergies, replace with flour

1/3

cup

unbleached, all-purpose flour

1/3

cup

brown sugar

1/4

cup

butter

vanilla ice cream

to serve with pies
Instructions
Divide pie crust dough into 12 equal pieces. Roll each piece into a ball and press into the bottom of the mason jar to create the crust layer. Place jars on a rimmed baking sheet and put them in the refrigerator while you make the filling.

Peel, core, and slice the apples. Then, chop the slices into small, uniform pieces. An apple peeler makes this quick and easy.

Place the apples in a large bowl and mix with sugar, lemon juice, and cinnamon. Mix to coat thoroughly. Set aside.

In a food processor, combine almond meal, flour, brown sugar, and butter until it resembles sand. Set aside.

Remove jars from refrigerator and divide the apple mixture evenly amongst the jars -- about 1/4 cup per jar. Then divide the almond crumb topping evenly -- about 1 1/2 Tablespoons per jar.

To bake immediately: Place jars on rimmed baking sheet in a preheated 400 degree oven. Bake for approximately 35 minutes. After the first 20 minutes or so, you may want to place a sheet of aluminum foil over the jars to prevent the topping from burning. The filling should bubble and the crust should appear browned at the bottom. If the crust doesn't appear baked enough, keep baking until it does.

Freezer Instructions: Place the lid and screw top onto each jar and freeze. Don't tighten the lids too tightly though. When you want to bake some, remove jars from freezer while you preheat the oven. Remove the lids and place on rimmed baking sheet. Bake at 400 degrees for approximately 45 minutes or until apples are bubbly and the crust is browned on the bottom.

As the pies cool, they will sink farther into the jar. No worries -- it just leaves room for vanilla ice cream!

Note: You can also make this recipe as a regular pie. Just pat the crust into a pie pan, fill with apples, top with crumb topping, and bake at 400 degrees for 40-45 minutes, or until juice is thick and bubbly.
Notes
Nutritional values are approximate and are based on making 12 mini pies (optional vanilla ice cream not included). Refrigerate leftovers promptly and use within 4 days.
Nutrition
Calories:
169
kcal
|
Carbohydrates:
31
g
|
Protein:
1
g
|
Fat:
6
g
|
Saturated Fat:
3
g
|
Cholesterol:
10
mg
|
Sodium:
37
mg
|
Potassium:
109
mg
|
Fiber:
3
g
|
Sugar:
24
g
|
Vitamin A:
167
IU
|
Vitamin C:
5
mg
|
Calcium:
25
mg
|
Iron:
1
mg
Disclosure: if you make a purchase through that Amazon link up there, I do receive a small percentage of the sale.
–Janel is a stay-at-home mom of two daughters and a "law school wife" in Virginia. Raised in a budget-conscious and DIY-minded family, she blogs about motherhood, crafts, and living on a law school budget at Life with Lucie and Ella.
Ready to fall for fun?
This post is part of the DIY on a Dime: Falling for Fun series. Check it out for all kinds of budget-friendly, family fun ideas to celebrate one of the most beautiful seasons of the year.