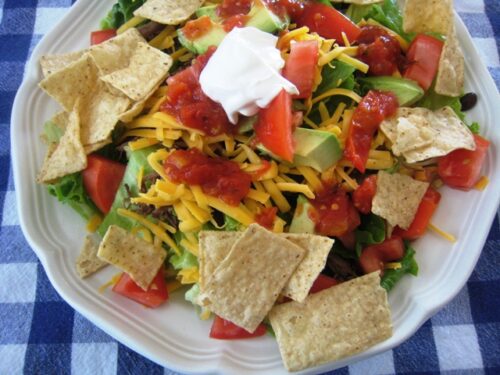 Summertime says, "Slowdown and relax," to me. It doesn't mean that we really have a slower schedule. But fewer obligations, longer days, and warmer weather suggest a vacation mentality.
Easier said than done.
While the Chief Cook and Bottle Washer can't usually take the whole summer off, there are things that we can do to make mealtime prep easier.
Make It Easy
Consider meals that don't take a lot of prep work, meals that can be cooked outside, reducing your clean-up, meals that the crockpot can handle.
Chimichangas*
Grilled, Marinated Chicken*
Salsa Verde Beef*
Chihuahua Chili*
Make It Fresh
Hot days call for cool meals. And if it's got fresh fruits and veggies, it's got great "cool" potential.
Taco Salad*
Summer Rolls*
Asian Chicken Salad with Noodles*
DIY Smoothie Bar*
Make It Ahead of Time
Cook up a bunch of meals ahead of time and stash them in the freezer. Freezer Cooking can be a great way to have economical, home-cooked meals without a lot of fuss. The items above with asterisks are freezer friendly. All or part of the meal can be made ahead and frozen. You'd be surprised at all the things you can freeze.
How do YOU make summer meals easy?