Meal planning is an integral part of a pantry challenge. You take inventory and eat out of that inventory rather than going out for more.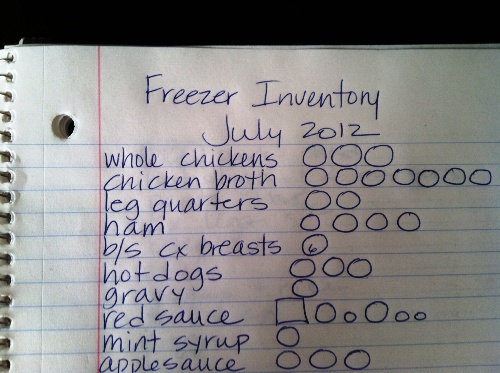 So, the game is on. Me against my pantry and my grocery budget. They are tough adversaries. We'll see how this shakes down.
If you missed yesterday's post, know that the Pantry Challenge has begun. (You can read daily updates over here.)
This month I'm focusing on using what we have in the fridge, pantry, freezer, and produce box before I head out to buy something more. And meal planning plays a huge part in this.
Here's how to meal plan during a pantry challenge:
1. Take inventory of what you have.
As I mentioned yesterday, I don't have a huge stockpile to work with. So, my first plan of attack was to inventory what we had in the freezers. While I was at it, I emptied the contents of the fridge freezer into the deep freeze, leaving only a few things behind.
One of my goals for the month is to make the fridge freezer more useful to all of us.
Reducing the visual clutter is immensely helpful to me. My kids can find all the smoothie supplies in the bottom basket, and I can work toward making this storage space work better for us.
In the process, I realized that we have only one freezer meal left (macaroni and cheese). There are a few components, like pasta sauces and gravy, and a handful of proteins, mostly whole chickens and chicken pieces and some ham.
I created the list pictured above to help me track what we use as the month goes on. Those circles indicate how many I have of each item. In some instances, I added a number or made the shape larger or smaller to give me a clue to the amount I really have.
As I use each item, I'll mark it with an X.
2. Plan meals based on what you have.
Based on what I found in the freezer and what I know is in the pantry, I have the makings of a dozen or so meals, depending on how we stretch the meat. I jotted down a quick list of the first things that came to mind.
BBQ Pork Sandwiches
Hot Dogs and Hamburgers
Pasta Bar with red and green sauces
Baked Chicken
Roast Whole Chicken
Beans and Rice
Chili
Grilled Chicken Breast
Pizza
Chicken Pot Pie
I'll be working in more meatless meals where I can as well as working to stretch what we have. Thankfully, my family doesn't balk (too much) at going meatless.
3. Get a peek at the produce box.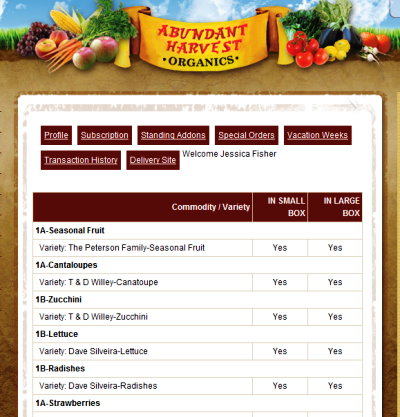 I love Abundant Harvest Organics for many reasons. The produce is organic and reasonably priced. They can deliver to my house. And they let me know a few days in advance what's going to be in the box. This week I'm expecting seasonal fruit, cantaloupe, zucchinis, lettuce, radishes, strawberries, beets, taters, cukes, squash, chives, eggplant, tomatoes, and peppers.
I know we can have salad and fruit. And I can make some Ratatouille, also.
4. Create a weekly plan for all three meals.
Rather than write out a full month's menu like I normally do, I decided to focus on one week at a time this month and see how that goes. It will help me be more intentional to check our reserves each week and stay on top of eating down the pantry.
I took some time to plan out 21 meals this week rather than just dinners. This reduces my temptation to fly by the seat of my pants for breakfast and lunch and helps me shop better rather than just buying what my whims suggest.
So, here's the meal plan for the week:

Monday
Breakfast bar: quick bread, yogurt, fresh fruit
Sunbutter sandwiches, applesauce, carrot sticks
Chili in the crockpot, Mac and Cheese (from the freezer), Green salad

Tuesday
Creamy rice with toppings
Nacho Bar featuring leftover chili, chips, and toppings
Quesadillas, Fresh fruit
Wednesday – the 4th
Red, white, and blue pancakes, ham, and eggs
Grilled Cheese Sandwiches (the pesto kind for mom!), Fruit Salad
Burgers and Dogs, Macaroni and Potato Salads, Veggie Tray, Berry Pie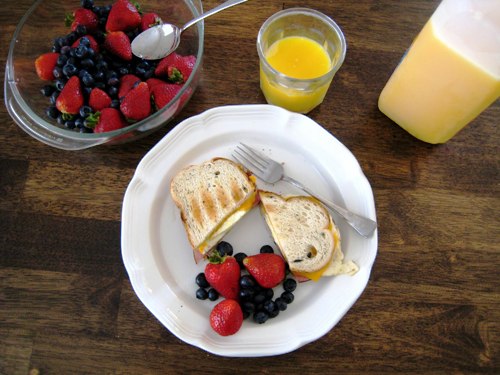 Thursday
Breakfast Sandwiches, fresh fruit
Chicken Legs, leftover salads from day before
Sandwich Bar, Chips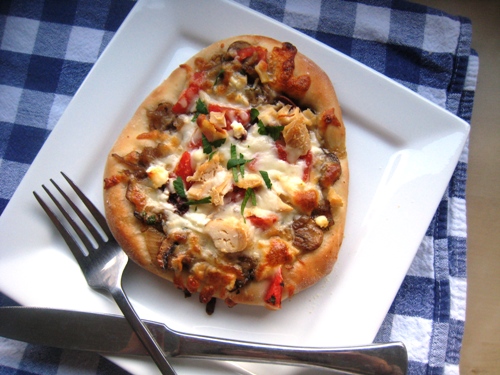 Friday
Zucchini Waffles, Fruit, and Maple Cream
Snacky Lunch
Pizza Night
Saturday
Petit Dejeuner (I have frequent buyer credit to use up at the bakery.)
BBQ Pork Sandwiches, Carrot Sticks, Pasta Salad
Dinner downtown after an airport pickup
What's cooking at your house this week/month?
For more meal planning inspiration, visit Menu Plan Monday each week. And join me for the Pantry Challenge every day to be inspired to make the most of what you have.