It can be helpful for your own grocery budget to see what others spend and what kind of tricks they use to save money. Here's what we spend on groceries in May to feed our family of 8 a mostly whole foods diet:
Meet my youngest child, born just a few months before this blog saw the light of day, and right on the heels of our debt-free journey. At age 10, she is a sparkling, creative firecracker.
Having been born just as we were getting out of debt, FishChick10 has no real recollection of those years or how much free junk food I fed my kids thanks to coupons. My regular companion on my Friday morning grocery stops, she is learning the way of the Grocery Geek. Earlier this month, she noticed Annie's Pizza Poppers in the freezer case at Sprouts.
"I've always wondered what Pizza Poppers tasted like," she murmured.
Well, baby of the family and all that…. I bought a box for her to try. Annie's tends to have better ingredients, so I figured it was "better junk food".
They were tasty, but she was disappointed because there were only ten in the package, not an easy quantity to split among yourself and three siblings. The package said there would be "about 11" which in itself was an odd number.
After her sparkling, firecracker ranting about there only being ten, I suggested she write to the folks at Annies. So, she did. In pencil on school paper.
This week she got a reply. Annie's explained that they fill boxes by weight so they hadn't been incorrect to give her ten, but because they care about customer satisfaction, they sent her a free product coupon as well as a sheet of coupons to use toward other Annie's products.
This gave us a great chance to chat about consumer and brand relations.
"Consumer means the person buying the thing, right?"
Yes. We chatted about how we don't need to whine and complain about every little thing, but as consumers it's good to voice our experiences and advocate for ourselves when things aren't what we expected. In turn, Annie's did a great job in making sure the customer was pleased.
And baby of the family and all that…. even though the store we were at didn't carry the Pizza Poppers, I made an extra stop at Sprouts so she could get her Pizza Poppers.
They're quite good actually. And there were SIXTEEN in this box. LOL.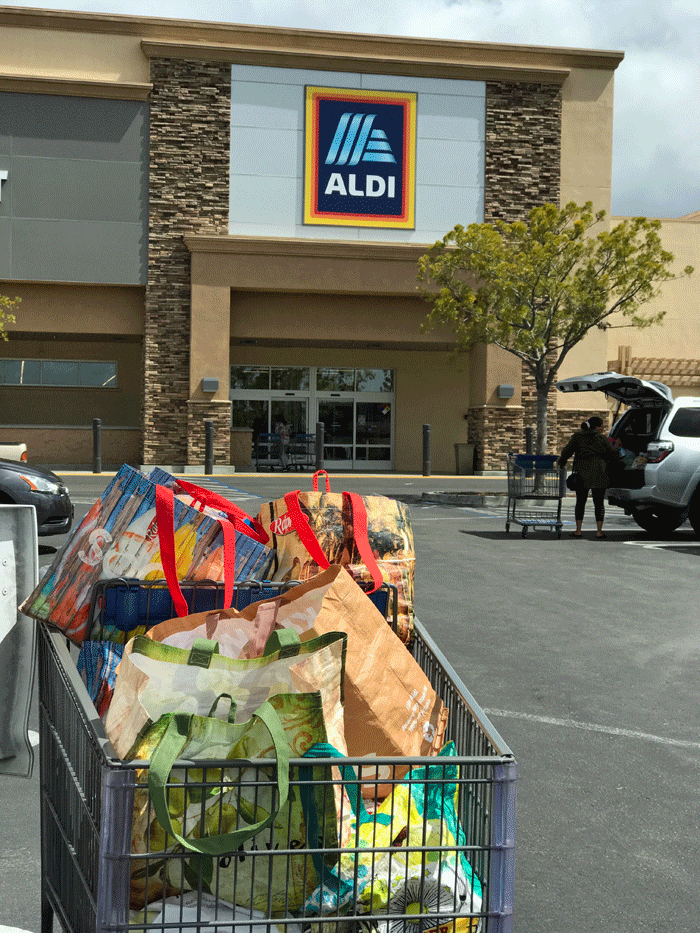 In other news, May was an exciting month for us. Bryan and I celebrated our 25th wedding anniversary, my 23rd Mother's Day — yes, I count the gestation period 😉 — and my 47th birthday, all in a 2-week time period. We also had a weekend of company and a teen birthday to celebrate.
School is now done, and I'm looking toward tackling some summer projects. Pulling together this post prompted one of those summer projects to make its way on my to-do list, but you'll have to scroll to the end. Spoiler: it's initials are P.C.
The Grocery Geek report
For those of you new here, Grocery Geek is my regular report of how I shopped for groceries, what deals I found, and my running total of how we're sticking to a budget for groceries.
Here's the rundown on my shopping this week. As you read, keep in mind who and how I'm shopping:
My grocery shopping profile
To update you on my grocery geekiness: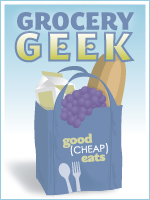 I'm feeding eight people, ages 56, 47, 21, 18, 16, 15, 12, and 10. Five of those people are males. They eat A LOT!
I'm shooting for a budget of $1000 this year, though that might change depending on how a new #veggiesmost diet pans out, either way, trying to beat what the feds think it will cost. Per the most recent USDA food cost report it should cost our family $1371.80 to eat all meals at home under the "thrifty plan" for people of our demographics. These numbers are what food stamps are based on, so I guess you could say that we eat on LESS THAN A FOOD STAMP BUDGET.
We live in Southern California where produce is cheap, but meat and dairy are not.
I'm trying to feed us mostly unprocessed foods, with a few "healthier" convenience items thrown in and a junk food splurge* here and there. Currently we're striving for half vegetables at lunch and dinner. (Yikes!)
I work at home and teach four of our kids, so I don't have as much time for fiddling in the kitchen as I would like.
I no longer use coupons on a regular basis, though I do love the coupons that Ralphs offers.
I have at least ten grocery stores within 5.5 miles of my house. It is easy (for better or for worse) to stop at several stores to get the best deals.
We mostly eat at home. My husband and college age sons pack lunch and breakfast to work, but sometimes have lunch out. My husband and I enjoy a date once a week. FishPapa takes one child out to "breakfast with B" once a week. We get take-out for the family on average once a week. That adds up to about 156 individual meals prepped at home. That's a lot!
BEFORE YOU JUDGE ME FOR EXTRAVAGANCE, please read this post.
What I spent on groceries in May
Costco
milk $4.50 – 2 gallons
organic baby carrots $4.99 – this is the huge bag
mini guacamole cups $13.89 – we freeze these to make them last
hummus singles $6.59 – the smaller cups, while more expensive per ounce, are better for reducing waste
Tillamook sharp $8.99 – our favorite cheese that is totally worth it. It's a 2.5# brick
Tillamook medium $8.49 – not our favorite, but a child thought it was his preference. He was mistaken.
real parmesan $15.06 for a ginormous wedge that lasts a few months.
basil pesto $8.49 – we use this on pizzas, sandwiches, pizzadillas – lasts quite awhile
Greek yogurt $5.49 – we go through at least 4 large tubs a week. I make this almost daily.
half and half $5.99 – 1/2 gallon size, that doesn't quite last a month
rotisserie chicken $4.99 – I like these for an easy protein, but my husband says they taste like ham.
Best Foods mayo $6.55 – ginormous container. I can make my own mayo, but BF is my BF when I don't wanna.
cheddar jack shreds $12.39 – while we prefer Tillamook, this is cheaper/ounce and already shredded, so I make the kids use it on taco night and in casseroles.
shredded mozzarella $11.79 – this is two large bags of cheese. We use one/week
Total spent: $141
ALDI
eggs $0.89/dozen – best price in town, we buy 4 to 6 dozen at a time
baby lettuce $1.99 – these are 4 packs that are super easy to prep for salads. Love them!
mushrooms $1.95
frozen green beans $1.19
grape tomatoes $1.25
boneless skinless chicken breast $1.89 – best price in town, does have a lot of water added
3-pack bell peppers $2.49
cottage cheese $2.19
cilantro $0.48
jalapeño peppers $0.25 – huge bag!
yellow onions $1.99
half and half $1.95 – someone forgot that I had already bought it at Costco
unsweetened almond milk $1.99
Total spent $56
Ralphs
mission chips $0.99 – on killer sale
tortillas $1.79 to $2.99 – not the best price, but forgot to get them elsewhere
Dole salad $1.99 – on clearance
mushrooms (large portobellos and regular) $2.19 to $2.39 on clearance
yogurt $0.79 to $1.49 – on clearance
shrimp $4.99/lb
minus $3 store coupon
Total spent $45
Sprouts
blueberries $1.66
sausage $1.36
pork shoulder roast $.99/lb
extra lean ground beef $2.99/lb
pepperoni poppers $3.99 – my youngest had never had these, so I treated her. She was unsatisfied with the experience and wrote the company who wrote back with a free product coupon. 😉
Total spent $39
Vitacost
I do all our baking for sandwich bread and pizza bread. I prefer to have good quality flour so I regularly stock up through Vitacost.
Bob's Red Mill bread flour $4.69/5# bag
Bob's Read Mill whole wheat flour $3.19/3# bag
minus $10 promotion
Total spent $53

ALDI
frozen chicken $3.99
large can crushed tomatoes $0.99
large can pinto beans $1.29
frozen orange juice $1.19
cereal $1.99
sour cream $1.29
oats $2.29
hot dog buns $0.89
3-pack bell peppers $1.50
coleslaw mix $1.49 – this turned bad really fast, but it wasn't worth the gas to take it back for $3 refund
organic black beans $0.89
10# bag white rice $4.49
pepperoni $2.19
broccoli crowns $1.25
bacon $4.99
baby lettuce $1.99
10# potatoes $1.68
honey $4.89
milk $2.25
green onions $0.48
frozen green beans $1.19
organic kale $2.95
frozen waffle fries $1.49
radishes $0.99
cauliflower $1.79
milk $2.25
fajita tortillas $1.99
white onions $0.89
bananas $0.39/lb
Total spent $77
Sprouts
cilantro $0.79
grape tomatoes $1.99
blueberries $1.66
hothouse cucumber $1.29
Total spent $8
Walmart
all-purpose, unbleached flour $5.98
Total spent $12
ALDI
kiwi $2.69
cauliflower $1.19
strawberries $0.98
eggs $1.19
milk $2.25
chili powder $0.95
boneless skinless chicken breast $1.89/lb
Total spent $41

Ralphs
Ralphs is basically my store to buy junk food and the occasional clearance item.
chips $1.88 on special
large box cheerios FREE after coupon
pasta $1.99
single serve juice for day trips $1.99 to $2.99
tortillas $1.99
ice cream $3.99
yogurt $0.70 – $3 – various sizes on clearance
snap pease $2.49 on clearance
blueberries $1.50
kids bars $2.49 on clearance with coupon
hot dogs $$3.99 after coupon
bacon $2.75 to $3.50
sausage and brats $2.49
Total spent $63
Sprouts
2# strawberries $1.98
blueberries $1.50
whipping cream $4.69
baby carrots $0.99
sweet mini peppers $2.99
nut-safe granola snacks $2.99 – $5.24 – for day trips
popcakes $3.50 – for day trips
water bottles $2.97
Total spent $31

Trader Joe's
many day trip items included to offset costs of eating out
Ak-mak $1.99
seltzer $3.19
drinking yogurts $3.79
potstickers $2.99
orange chicken $4.99
baby carrots $1.49
hot sauce $2.29
mashed cauliflower $2.99
frozen chicken tenders $7.99
almond butter $5.99
sunflower seed butter $4.99
Dijon $1.69
spinach dip $3.99
string cheese $2.99
cucumbers $2.29
kale $1.69
caesar kit $3.49
olive oil spray $2.99
fire roasted peppers $1.99
ketchup $1.99
vinegars $1.99
3-pack peppers $3.29
grape tomatoes $2.49
baby zucchini $2.29
shredded carrots $0.99
mushrooms $1.79
soy sauce $2.99
sesame oil $2.69
cocoa powder $2.49
sparkling water $1.09
waffles cones $2.79
fudge sauce $3.49
Total $118

Costco
pork tenderloin $16.65 (for 4)
tilapia filets $17.86
canned tuna $13.99
nut-safe granola snacks $9.89
sparkling apple juice $5.00/3 bottles
frozen chicken $10.99
apple cider vinegar $6.99
Greek yogurt $5.89
organic baby carrots $4.99
raspberry jam $6.99 – our fave that is being discontinued
tomato paste $5.99
broccoli florets $4.99
laughing cow $7.99/4-pack
6-pack bell peppers $5.99
mediterranean salad kit $5.49 – not that amazing
Late July chia/quinoa chips $6.59
shredded mozzarella $11.79
Tillamook sharp $8.99
Total spent $204
Sprouts
baby lettuce $2.49
apples $0.98/lb
grape tomatoes $1.99
blueberries $0.98
hothouse cucumbers $0.98
organic romaine hearts $2.50
grapes $0.88/lb
yams $1.29/lb
tomatoes $1.29/lb
shallots $2.99/lb
sweet onions $0.88/lb
mushrooms $3.99
frozen ice creams $1.99 to $2.49 on clearance
Total spent $37

Ralphs
ice cream $2.49 after savings event
butter $2.49 after savings event
buttermilk $3.19
cookie kit $1.99 on clearance – purchased for ingredients more than for the "kit"
mustard $0.77
mushrooms $2.29 to $2.49 on clearance
arrowroot powder $5.02 – my daughter wanted to experiment with some healthier baking recipes
organic ground turkey breast $1.75 on clearance
ground lean pork $2.68 to $2.76 on clearance
organic and extra lean ground beef $1.49 to $2.49 on clearance
organic ground lam $4.15 on clearance
Total spent $71
ALDI
frozen chicken breakfast sausage$5.99 – this turned out not to be good, but because I used it in freezer cooking, couldn't return it.
sour cream $1.29
oats $2.29
puta bread $1.89
pot stickers $2.99
ricotta cheese $1.79
organic unsweetened almond milk $2.69
salami $5.99
milk $2.25
cauliflower $1.49
applesauce cups $1.79
tortillas $1.59
fire roasted tomatoes $0.75
broccoli crowns $1.25
pepperoni $2.19
mustard $0.75
frozen shredded hash browns $1.69
canned pineapple $0.89
hamburger buns $0.89
English muffins $0.99
naan $3.49
frozen green beans $1.19
riced cauliflower $1.89
coconut milk $1.59
chili powder $0.95
taco shells $0.99
pecan halves $5.29
dry black beans $2.39
mushrooms $1.95
crushed tomatoes $0.99
enchilada sauce $1.79
bananas $0.39/lb
diced green chiles $0.59
raisins $1.49
organic celery hearts 41.99
cottage cheese $2.19
cilantro $0.48
sliced turkey $2.99
eggs $0.99
sparkling water $0.65
10# potatoes $1.68
green onions $0.48
zucchini $0.95/lb
baby lettuce $1.99
Total spent $135
Trader Joe's
cookies $3.99
milk $2.99
milk chocolate $0.99
shishito peppers $1.99
jalapeños $1.49
spinach dip $3.99
portabella mushrooms $3.49
red bell peppers $0.99
cucumbers $2.29
Total spent $24
Sprouts
tomatoes $0.88/lb
cucumbers $0.98
red onions $3.99/3#
sliced mushrooms $3.99
sliced swiss cheese $3.99
grass fed ground beef $2.99/lb
pork sausage $2.99/lb
hamburger and hot dog buns $2.50
Total spent $50
Trader Joe's
frozen chicken tenders $7.99
greek yogurt $4.99
frozen broccoli $1.69
frozen green beans $2.29
romaine hearts $2.49
baby spinach $1.99
shredded cabbage $1.29
milk $2.99
eggs $1.19/dozen
Total spent $36
Ralphs
milk $2.79
water chestnuts $0.89
orange juice $1.29 on clearance
mini peppers $2.50
Fage cups $1.99 on clearance
protein bars $1.37 to $1.67 on clearance
Annie's mac and cheese $0.50 after coupon
Total spent $21
Sprouts
bulk portabella $4.99/lb
red bell peppers $0.50 each
xtra lean ground beef $2.99/lb
chicken sausage $3.99/lb
pepperoni poppers FREE after coupon
Total spent $22
Total spent in May: $1284
January: $634
February: $1147
March: $1264
April: $1090
May: $1284
Total spent YTD: $5419
Average YTD: $1084
So, I'm not quite able to squeak in under the $1000 goal. It's close, and it's certainly on par with last year's monthly average, even when we were eating more carbs and less veg/protein. And don't get me wrong, it's pretty amazing to feed a family of 8 a pretty healthy, diet on a food stamp budget. I'm pleased, but I still think we could do better.
How will we pivot going forward?
I'd like to see if I can get June's grocery spending closer to $1k. Currently, I'm thinking of approaching it in one of a few different ways.
Time for a mini pantry challenge? The pantry itself is not that full, but the freezers are a motley hodge-podge. I have a small freezer attached to my fridge and then a largish freezer in the garage. Both need to be cleaned and reorganized, especially in advance of back to school season when I do most of my stocking up.
Be more intentional with my meal planning. Since I'm on this "weight loss journey", I've been trying to appease my taste buds a little more often in exchange for not getting to eat everything in sight I want. I could definitely step it up with the meal planning and making sure that I am more intentional in following my plans.
Shop more at ALDI. Over the last few months, I've gotten a little lackadaisical about my weekly stops at ALDI. Bryan has stepped into the gap for me, stopping on his way home from work. He is an excellent shopper, but I know that he'll enjoy his experience more if there are 10 things on the list instead of 50. I know from experience that if I focus most of my shopping at ALDI, that we will save more money.
I'll let you know next month at this time! You can follow along as we go on Instagram @jessicagfisher.
How is your grocery spending going?