It can be helpful for your own grocery budget to see what others spend and what kind of tricks they use to save money. Here's what we spend on groceries in March to feed our family of 8.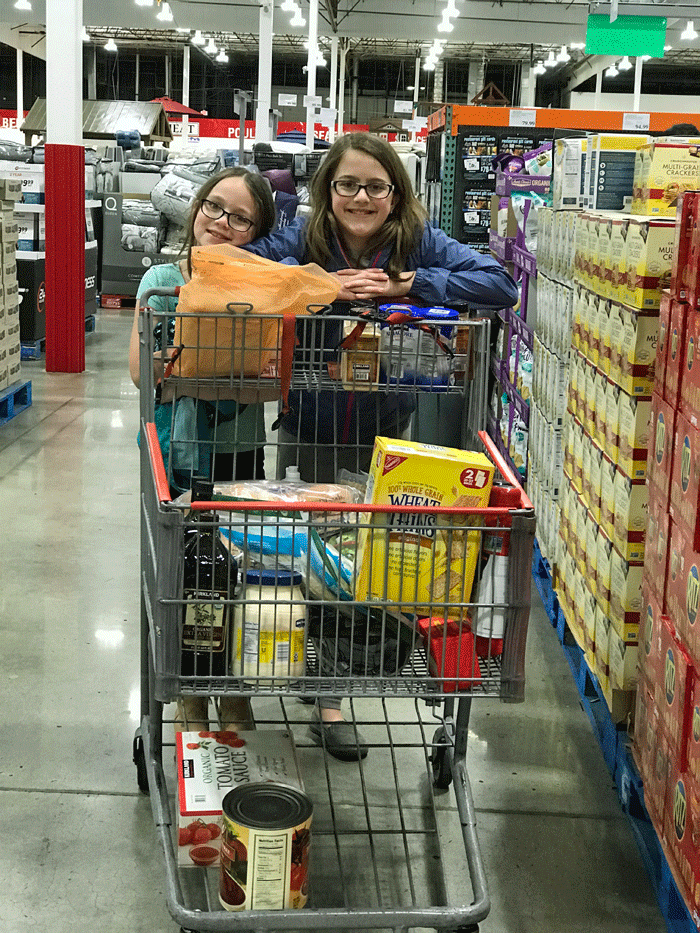 Grocery shopping took a slightly unexpected turn for me in March. While I was all set in January to slash our spending and go bare bones, by the end of February and a full six weeks of illness, I decided we needed to up our vegetable intake in a big way.
And we did!
You'll notice that the bulk of my shopping this month was veggies! I'm pleased to report that very little went to waste, proving the old adage, If you build the veggie tray, your children will devour it.
In addition to getting the whole fam on the Vegetable Wagon, I also turned my personal diet toward lean proteins. You'll notice a lot more turkey, chicken, and Greek yogurt than past months. I've also lost ten pounds!
I was a little dismayed that our nutrition changes necessitated spending over my allotted $1000, but my husband spoke some sense into me.
Would you like to trade that money for the ten pounds back?
No, siree! I'll count any extra that we go over this year as my weight loss investment.
(Honestly, I'm thinking that we won't be able to get it under $1000/month, so I'll be okay if we stay under what the feds recommend for our family on the thrifty plans, which is $1373.)
Another change in March was that I signed up for Imperfect Produce. They are a produce co-op that specializes in getting surplus and imperfect (too big, too small, blemished) produce from the field to your table. They deliver right to your door on a weekly basis, supposedly at a reduced cost.
I'm going to withhold judgement until we've had a couple more deliveries. At the moment, I'll say, your mileage may vary. I haven't seen killer prices but that may be because I already get really great prices on produce at ALDI and Sprouts. They are tough to beat. Stay tuned.
If you want to try Imperfect Produce for yourself, you can get a $10 credit when you use my referral link.
The Grocery Geek report
For those of you new here, Grocery Geek is my regular report of how I shopped for groceries, what deals I found, and my running total of how we're sticking to a budget for groceries.
Here's the rundown on my shopping this week. As you read, keep in mind who and how I'm shopping:
My grocery shopping profile
To update you on my grocery geekiness: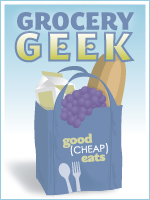 I'm feeding

eight people, ages 56, 46, 21, 18, 16, 14, 12, and 10. Five of those people are males. They eat A LOT!
I'm shooting for a budget of

$1000 this year, trying to beat what the feds think it will cost. Per the most recent

USDA food cost reports it should cost our family $1373.30 to eat all meals at home under the "thrifty plan" for people of our demographics.
We live in Southern California where produce is cheap, but meat and dairy are not.
I'm trying to feed us

mostly unprocessed foods, with a few "healthier" convenience items thrown in and

a junk food splurge* here and there. Currently we're striving for half vegetables at lunch and dinner. (Yikes!)
I

work at home and teach four of our kids, so I don't have as much time for fiddling in the kitchen as I would like.
I

no longer use coupons on a regular basis, though I do love

the coupons that Ralphs offers.
I have at least

ten grocery stores within 5.5 miles of my house. It is easy (for better or for worse) to stop at several stores to get the best deals.
We

mostly eat at home. My husband and college age sons pack lunch and breakfast to work, but sometimes have lunch out. My husband and I enjoy a date once a week. FishPapa takes one child out to "breakfast with B" once a week. We get take-out for the family on average once a week. That adds up to about 156 individual meals prepped at home. That's a lot!
BEFORE YOU JUDGE ME FOR EXTRAVAGANCE,

please read this post.
What I spent on groceries in March: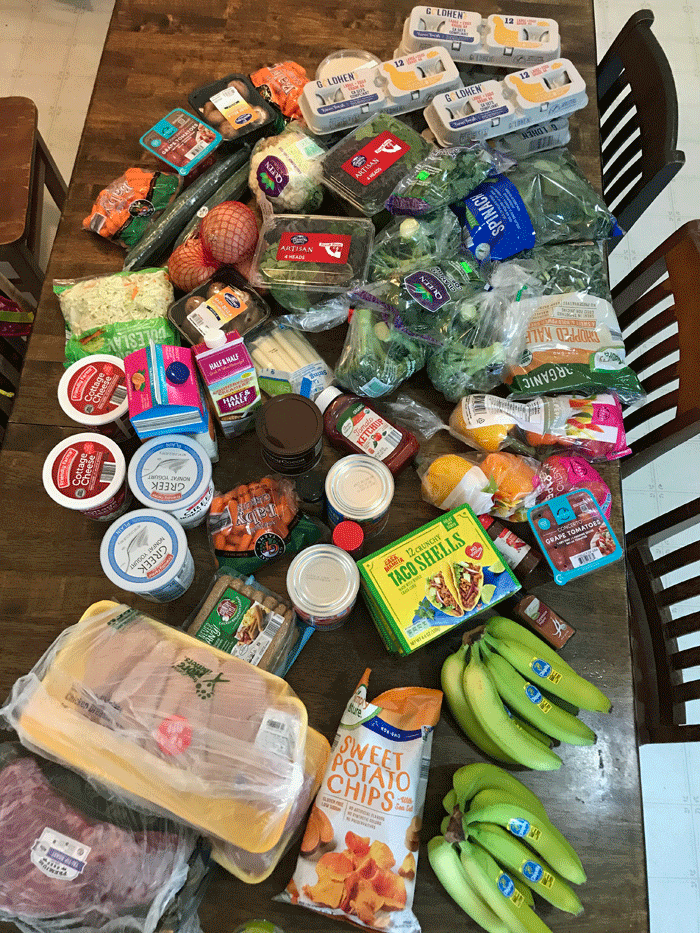 ALDI
eggs $0.84/dozen
frozen Asian stir-fry vegetables $1.59
riced cauliflower $1.89
frozen green beans $1.19
cottage cheese $1.99
Greek yogurt $3.69
half and half $1.95
almond milk $1.99
grab tomatoes $0.98
broccoli crowns $1.45
string cheese $2.79
bananas $0.39/lb
coleslaw mix $1.29
spices $2.29
chili powder $0.95
mushrooms $1.95
baby carrots $0.95
baby lettuce heads $1.99
sweet potato chips $1.89
taco shells $0.99
cilantro $0.38
baking cocoa $1.79
organic ketchup $1.49
crushed tomatoes $0.99
3-pack bell peppers $2.89
sparkling water $0.65 after CRV
yellow onions $1.49
spinach $1.39
spinach feta sausage $2.99
breakfast sausage $2.99
hummus $2.29
cauliflower $1.79
organic kale $3.19
seedless cucumbers $1.39
tri-tip roast $3.99/lb
b/s chicken breasts $1.89/lb
minus $4 coupons for chicken near its date
Total spent $140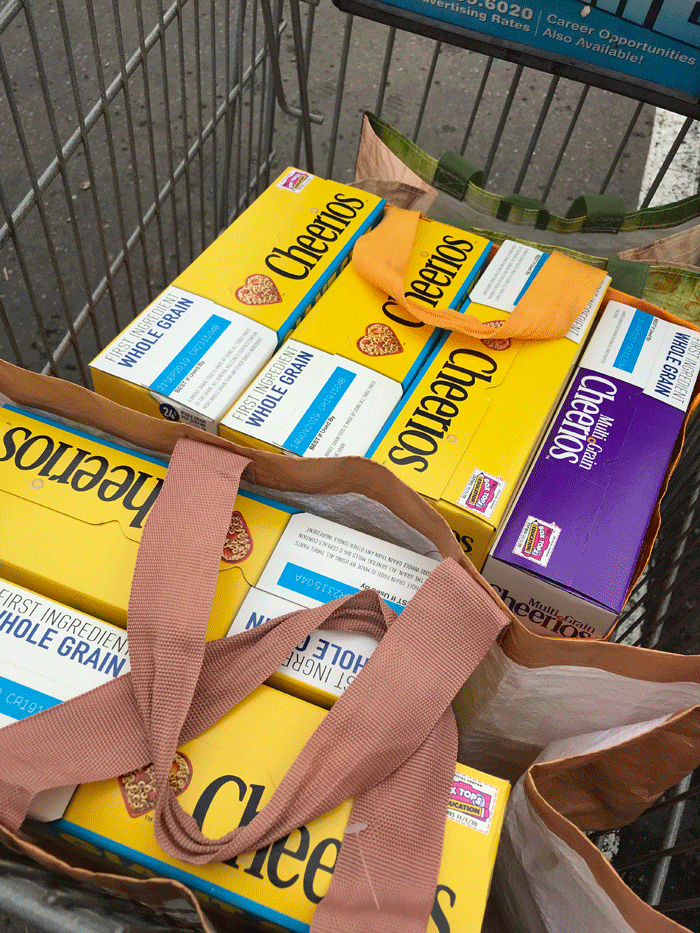 Ralphs
giant multigrain Cheerios free after coupon
giant plain Cheerios $0.99 to $1.99 after digital coupons
mushrooms $1.99
dole salad kits $1.49 manager specials
blueberries $2.99
dill weed $3.49
ground turkey $2.99
feta cheese $4.99
minus $2 digital coupon
Total spent $44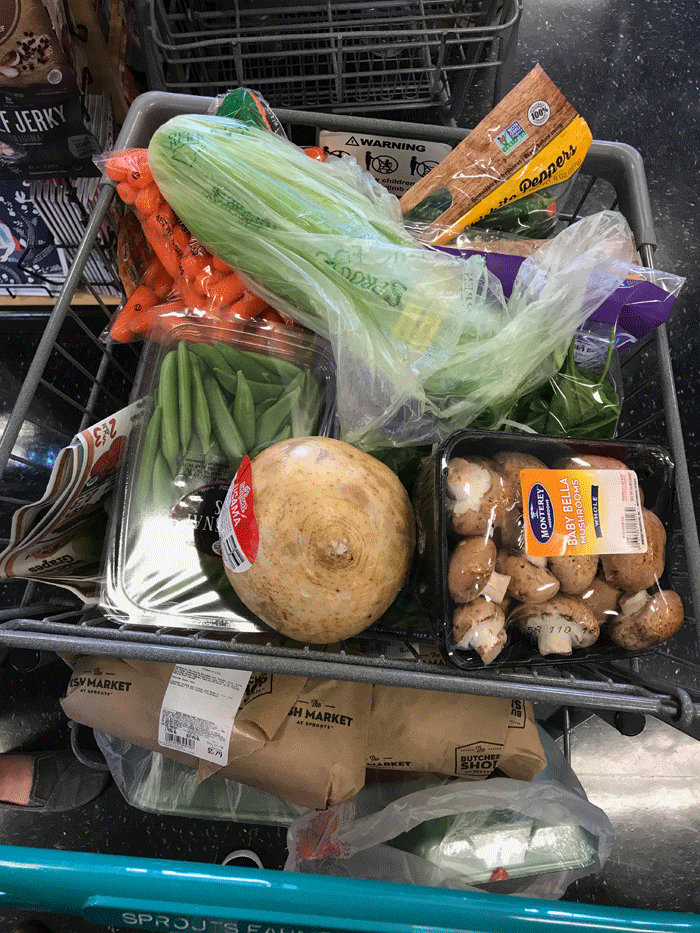 Sprouts
baby carrots $1.29
baby cucumbers $2.99
blackberries $1.50
cauliflower $0.98/lb
jicama $0.99/lb
snap peas $2.99
bell peppers $1.25
shishito peppers $1.99
spinach $1.99
large box grape tomatoes $4.99
mushrooms $3.99
Kind protein bars $1.25
large Greek yogurt $6.99
grass fed beef $3.99/lb
pork sausage $2.99/lb
Total spent $96
ALDI
b/s chicken breasts $1.89/lb
milk $2.25
frozen green beans $1.19
sriracha sauce $2.59
Total spent $28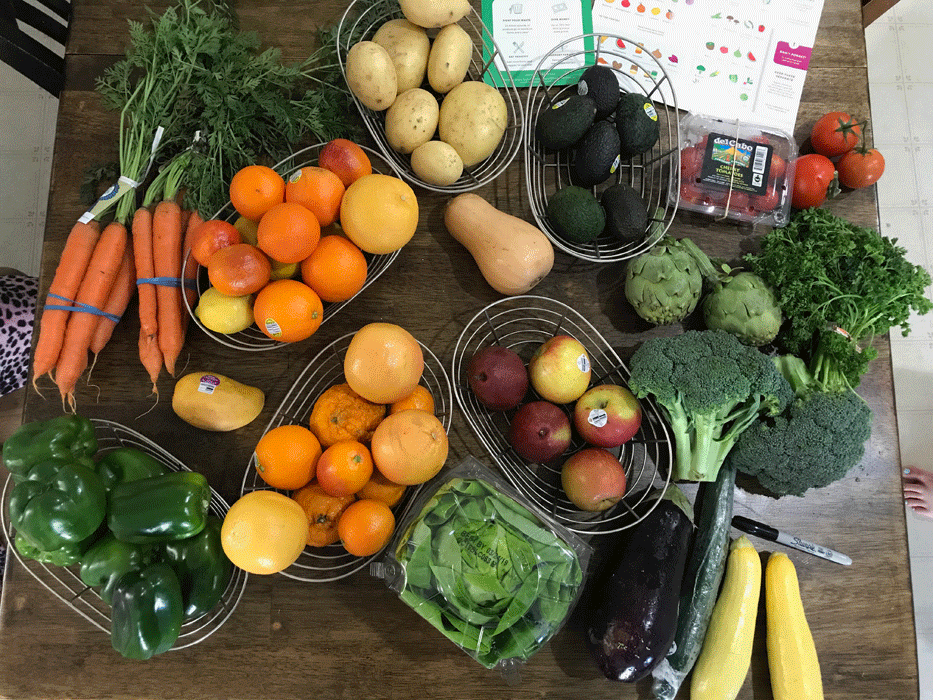 Imperfect Produce
organic butternut squash $0.99
organic grape tomatoes $1.89
organic avocados $2.79/3
organic zucchini $1.49
grapefruit $1.78/4
eggplant $1.39
cara cara oranges $0.99/3
mandarins $0.79/4
carrots $0.98/bunch
butter lettuce $2.59
tomatoes on the vine $2.39/3
bell peppers $0.98/2 – they turned out to be green 🙁
parsley $0.69
apples $1.49/3
blood oranges $2.38/8
mango $1.39
potatoes $1.18/2#
lemons $0.99/5
cucumber $1.29
pears $0.79/2
avocados $1.69/3
artichoke $1.69/2
broccoli crowns $2.89/2
plus $4.99 delivery fee
minus $20 promotional credit
Total spent $25
Costco
Tillamook $8.99
mayonnaise $6.55
riced cauliflower $6.59
Greek yogurt $5.89
shredded mozzarella $10.49
6-pack bell peppers $6.79
laughing cow cheese 4-pack $7.99
grape tomatoes $6.49
mushrooms $5.99
tomato puree $3.39
tomato sauce $7.79
tuna $13.99
garlic powder $5.99
minced onions $3.59
everything bagel seasoning $4.49 (I can make my own, but it was cheaper to buy the mix!)
organic cinnamon $2.99
hamburger buns $2.59
tortillas $3.69
ground beef $3.99
wheat thins 4-pack $7.79
cheddar jack shreds $10.99
cooking spray $4.99
frozen stir-fry vegetables $7.99
avocado oil $9.69
raspberry jam $6.99
olive oil $13.49
Total spent $245
Smart & Final
spaghetti squash $1.29
strawberries 3/$5
whole oregano $3.99
dried parsley $3.29
onion powder $4.99
Total spent $21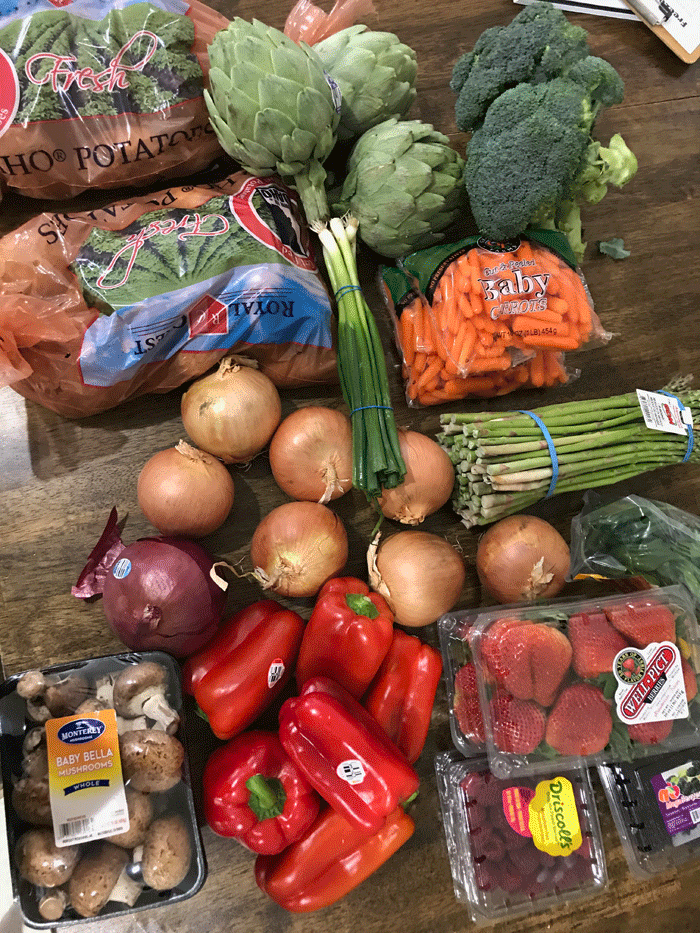 Sprouts
baby carrots $1.29
berries $1.66
5# russet potatoes $1.99
artichokes $1.66
asparagus $0.98
green onions $0.77
organic broccoli $1.48
bell peppers $0.98
red onion $1.29/lb
shishito peppers $1.99
mushrooms $3.99
yellow onions $0.50/lb
Total spent $41
ALDI
green onions $0.65
cilantro $0.38
chicken sausage $2.99
sparkling water $0.65 after CRV
Total spent $24
Costco
laughing cow cheese 4-pack $7.99
organic hummus $6.59
broccoli $4.99
6-pack bell peppers $6.99
Dubliner cheese $10.31
Late July whole grain chips $4.39
jam $5.99
Greek yogurt $5.89
spring mix $3.99
rotisserie chicken $4.99
Toal spent $74
Ralphs
buttermilk $3.19
Dole salad kits $1.69 manager specials
clearance mushrooms $0.99
jalapeño bacon $1.95
chuck roast $3.99
Total $22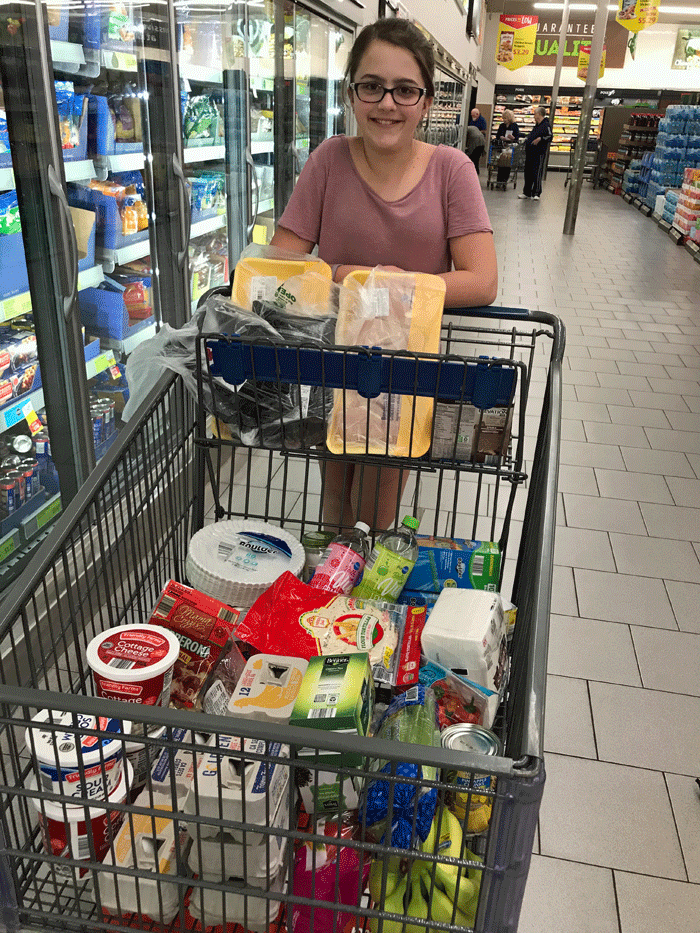 ALDI
3-pack bell peppers $2.95
tea $0.99 to $1.89
cream cheese $0.99
canned pineapple $0.89
organic celery hearts $1.99
canned tomatoes $0.75
mini bell peppers $1.95
bananas $0.39
pepperoni $2.19
eggs $1.39
cottage cheese $2.19
crushed tomatoes $0.99
sour cream $1.29
sparkling water $0.65 after CRV
garlic $2.99
coconut oil $3.99
protein bars $5.99
sugar $1.89
chuck roast $3.99
tortillas $1.99
b/s chicken breasts $1.89/lb
Total spent $88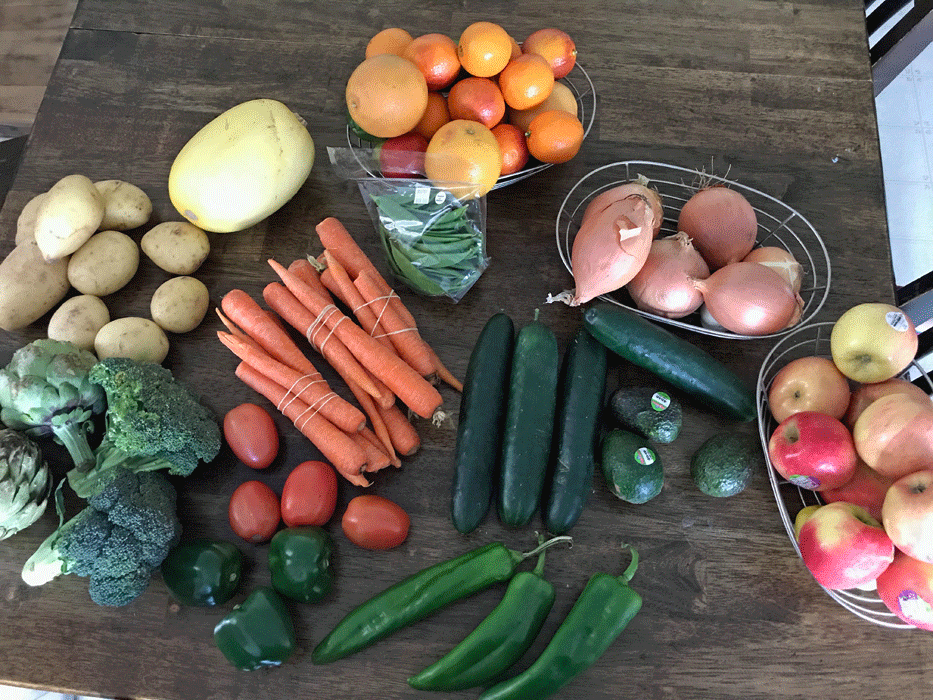 Imperfect Produce
grapefruit 4/$1.58
cara cara oranges 2/$0.79
carrots $1.47/3 bunches
bell peppers $1.49/2
roma tomatoes $0.99/3
apples $1.49/3
blood oranges $2.58/8
potatoes $1.77/3 pounds
broccoli crowns $2.89/2
cucumber $2.38/4
onions $1.58/4
anaheim peppers $1.09/.5#
avocados $1.89/3
artichoke $4.47/3
organic snow peas $3.49
spaghetti squash $1.99
limes $0.99/4
organic apples $3.78/6
plus delivery charge $4.99
Total spent $42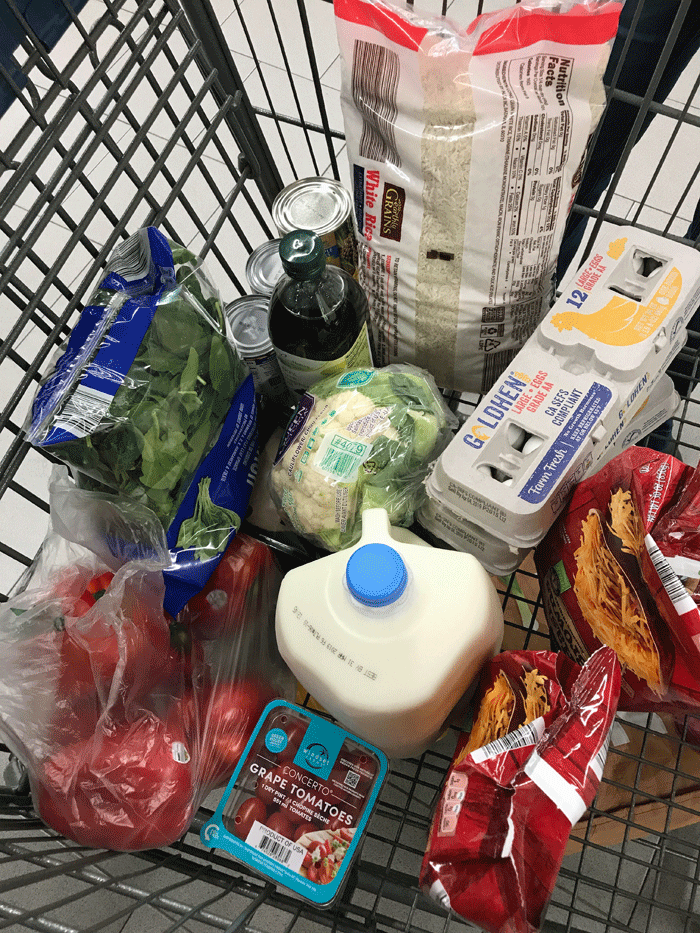 ALDI
canned pineapple $0.89
garbanzo beans $0.69
shredded hashbrowns $1.69
milk $2.25
eggs $1.39
10# white rice $4.9
cauliflower $1.89
ham $2.99
spinach $1.49
bell peppers $0.89
grapeseed oil $5.49
chuck roast $2.99
2# ground turkey $5.99
b/s chicken breasts $1.89/lb
Total spent $76
Trader Joe's
cereal $1.99
corn tortillas $0.99
almond milk $2.69
dijon mustard $1.69
sesame oil $2.69
frozen broccoli $4.48
string cheese $2.99
butter $2.99
half and half $2.69
sour cream $1.99
chicken broth $1.99
kefir $2.99
panko bread crumbs $1.79
soy sauce $2.99
roasted chiles $0.89
garlic cloves $1.39
spices $1.99
jalapeños $1.49
rice vinegar $1.99
onions $0.59
bell peppers $0.99
ginger $1.99
Total spent $55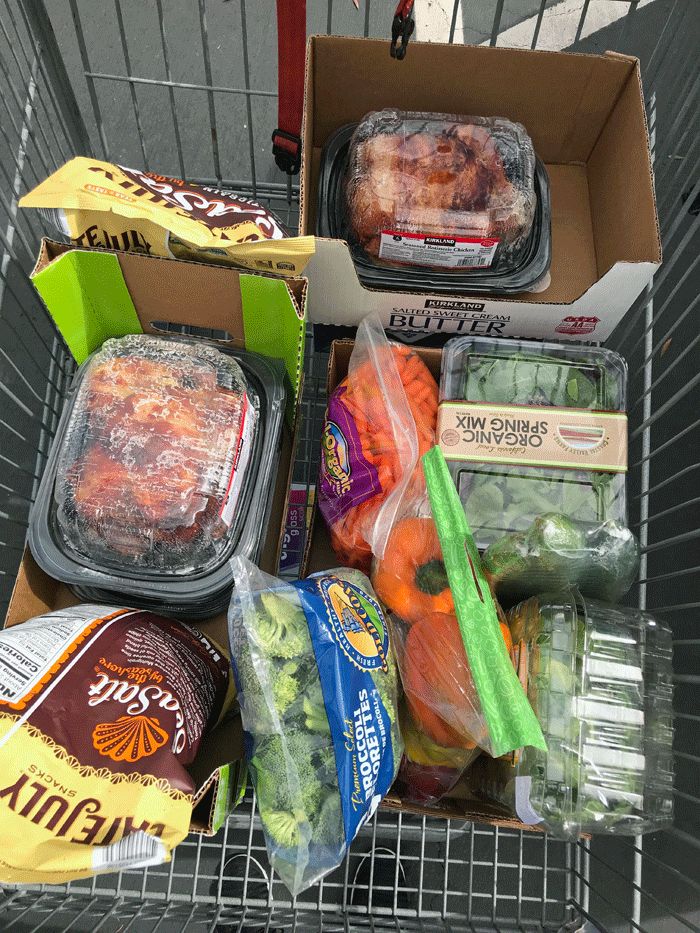 Costco
milk $4.50
broccoli $4.99
6-pack bell pepper $6.99
organic spinach $3.99
spring mix $3.99
whole grain chips $4.39
baby carrots $3.99
english cucumbers $3.99
rotisserie chickens $4.99
Total spent $90
Sprouts
blackberries $0.77
mushrooms $3.99/lb
cilantro $0.77
blueberries $0.98
grape tomatoes $3.98
portobello mushrooms $3.99
Wasa crackers $1.99 clearance
Total spent $18
ALDI
cucumbers $0.95
b/s chicken breasts $1.89/lb
tortillas $1.99
eggs $0.99
Greek yogurt $3.69
tomato paste $0.39
baby lettuce $1.99
coleslaw mix $1.49
3-pack bell peppers $2.95
Total spent $47
Sprouts
cauliflower $1.49
spaghetti squash $0.99/lb
ginger root $2.69/lb
apples $0.98/lb
raspberries $1.50
water chestnuts $1.49
strawberries $2.50
baby lettuce $2.49
cucumbers $0.50
squash $0.98
baby carrots $0.98
red bell peppers $0.88
red onions $1.29/lb
mushrooms $3.99
ground beef $3.99
Total spent $53
ALDI
broccoli crowns $1.45
frozen green beans $1.19
veggie bites $3.49
3-pack bell peppers $2.95
cauliflower $1.79
eggs $0.99
b/s chicken breasts $1.89/lb
almond milk $1.99
baby lettuce $1.99
peppercorns $2.49
Total spent $40
Total spent MTD $1264
January: $634
February: $1147
March: $1264
Average YTD: $1015